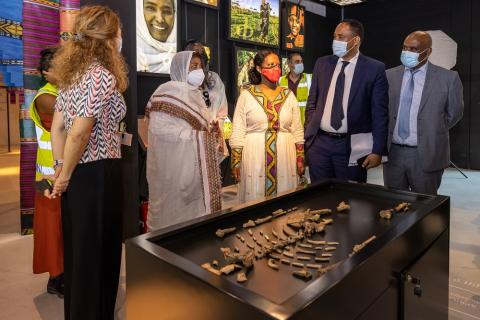 Replica of the 3.2 million-year-old 'Lucy' at Expo 2020 will transport visitors back to the evolution of humankind.
The Ethiopia Pavilion at Expo 2020 Dubai has successfully installed its star attraction — a replica of the oldest human fossil ever discovered, part of a display that highlights Ethiopia's ongoing role as a living hub driving and facilitating connections between Africa and the world.
The discovery of the 3.2-million-year-old skeleton of Lucy – locally named "Dinknesh" meaning "you are amazing" in Amharic language – in north-eastern Ethiopia in 1974, rewrote the history of human evolution and earned the country the reputation of being the "cradle of humanity".
Throughout its history, Ethiopia has successfully maintained its originality, culture and values – all qualities that will be on display at the country's Pavilion during the 182 days of Expo.
Visitors to the Ethiopia Pavilion will begin their journey— as humankind did — in a dimly lit cave, before being taken through the country's pre-historic history and finishing in a modern factory that underlines its manufacturing successes.
The replica is an exciting addition to the array of cultural highlights that many of the event's 191 participating nations are set to showcase during Expo 2020 when it opens to the world on 1 October 2021.
Other unmissable attractions at Expo 2020 include a spectacular 3D replica of Michelangelo's David at the Italy Pavilion. Produced using one of the world's largest 3D printers, the life-size display is the most exact replica of the original 16th-century marble artwork ever displayed.
Visitors will also see a real-time display of ancient Incan bridge-weaving in the Peru Pavilion and digitised pages of Timbuktu's ancient manuscripts at the Mali Pavilion, while the Syria Pavilion will feature a replica of Ugaritic alphabet, widely believed to be the first alphabet in history, dating back to around 1,400 BC.
 
Source: www.expo2020dubai.com