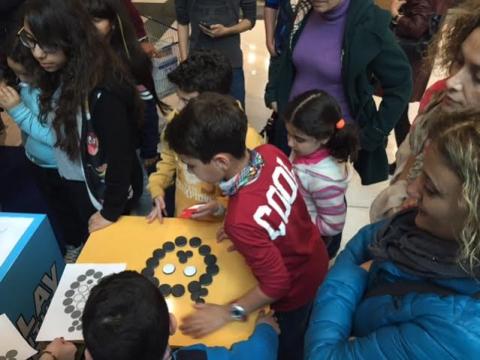 Constantly coming up with new ways to entertain their fans, and taking imagination and wonder to the next level, Cadbury Adams Middle East s.a.l., part of Mondelēz International, launched the global "Play with Oreo" campaign, inviting all Oreo lovers in Lebanon to make their own, innovative Oreo-based shapes and desserts. The activity, initiated for both children and adults, took place in City Mall in Beirut, on April 11 and 12 respectively, from 1 p.m. until 9 p.m.
Following the success of the "Twist, Lick and Dunk" ritual, the "Play with Oreo" campaign adds a new, playful twist to Oreo's fun side, allowing fans to experience a one on one, real life feel of the world's no. 1 biscuit brand, and encouraging them to demonstrate unique ways of getting creative with Oreo. An online activation consisting of three time-lapse videos on how to cook, draw and play with an Oreo was also initiated along the "Play with Oreo" campaign, demonstrating the endless and creative ways of playing with an Oreo.
Ms. Ola Loutfi – Corporate Affairs Manager at Mondelez International, commented on the occasion, saying, "The "Play with Oreo" campaign allows Oreo fans to find out their playful spirit by discovering their own, distinctive ways of playing with the world's most delicious biscuit. As we evolve Oreo's creative side, the brand is on a mission to inspire imagination in consumers' everyday lives, showcasing playfulness in more creative ways."
The "Play with Oreo" mall booth consisted of three stations, including drawing, cooking and building with Oreo biscuits, where Oreo lovers from all ages enjoyed satisfying their taste buds by using Chef Richard's secret Oreo recipes as well as their imagination to create an unforgettable, Oreo-filled experience.
Categories