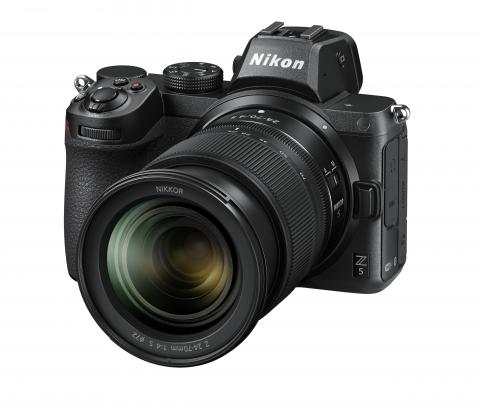 A series of online events, attended by a host of the region's most talented content creators, top distributors, dealers, and tech and lifestyle press took place from Monday, 17th August to Wednesday 19th August, to mark Nikon Middle East FZE's highly anticipated launch of the new Nikon Z 5 in the region. The latest addition to the brand's mirrorless range, the Nikon Z 5 has been designed with creators, who seek to push their creative boundaries in photography and videography, in mind.
From its superb depiction of details to great low-light shooting capability and flexibility in bokeh expression, to its fast-focusing reaction and portable, tough and easy-to-handle body – the Nikon Z 5 provides a whole range of possibilities, which were introduced to excited attendees at Nikon's online launch showcases.
"Whether you're a creator that's just starting out or seeking an upgrade to pursue your creative vision, this full-frame format mirrorless camera is the perfect companion for self-expression. The Nikon Z 5 features outstanding expressive imaging performance and reliability without any compromise and at an accessible price point," said Narendra Menon, Managing Director, Nikon Middle East FZE.
Horie Masahiro, Marketing and Planning Director at Nikon Corporation, comments, "The Nikon Z 5 is perfectly attuned to modern content creators' desire for a compact, capable and connected camera. We all eagerly await the wealth of brand-new stories to be told using this new piece of technology especially from this region which continues to produce some of the most creative talents and disruptors the world has seen."
Nikon Z 5's Primary Features
Catching Inspiration When It Strikes.
With the Nikon Z 5, you can capture stills and videos beautifully in lowlight scenes and render details sharply. Even with handheld shooting, camera shake is accurately detected and compensated for to provide optimal effect with the 5-axis in-camera Vibration Reduction (VR) of up to 5.0 stops . Two VR mode options are available to meet your shooting needs: NORMAL mode for still subjects and SPORT mode for moving subjects. Additionally, the VR unit is designed with a lock structure feature to prevent the image sensor from being damaged as a result of shaking.
Featuring a 273-point hybrid autofocus (AF) system that automatically changes
between focal-plane phase-detection AF, fast and accurate focusing on subjects is made possible. For pet owners and lovers, the Animal-Detection AF3 ensures you have one less thing to worry about with your occasionally fussy furry friends, as the automated focusing helps to keep shots in clarity, and a manual selection of the eye to focus is available as well.
When it comes to portraiture or candid captures, or even model subjects, the Eye-Detection AF comes in handy, even in continuous tracking. AF-C mode and confirmation of detection is available both on the electronic viewfinder and the touch screen monitor, which features approximately 1040 dot resolution.
Clarity and details of creations are rendered to their best depictions with the NIKKOR Z lenses' performance, to reproduce dynamic expressions, beautiful smooth bokeh and sharp images, even at wide apertures. For those seeking high-sensitivity image quality, especially in crowds at night festival scenes where handheld shooting is required, or even during light painting occasions, the Nikon Z 5, with its ISO of 512004, effectively reduces noise and realises high resolution at an advanced level.
Expressive Video Performance
Deliver cinematic movies, be they in-camera or through post-production, with helpful features that include Creative Picture Control. For lighting adjustments, when, at times, shadows and highlights may prove tricky in certain environments, the Active D-Lighting feature helps to optimise the scenes for a natural-looking setting, while the focus peaking mode assists to identify the elements of a scene that are in focus.
For a more creative visual expression, creators can also play around with the camera's simultaneous creation of time-lapse movies during interval-timer photography. Contrary to some creators' concerns that time-lapse productions might quickly wear out the shutter, the Nikon Z 5's silent shooting mode helps minimise such risks and prevents mechanical blur.
Built for Creativity, Anytime, Anywhere
The Nikon Z 5 is easy to handle as it features intuitive operation via a touch screen, and its customisable 'i-Menu' provides shortcuts to frequently used settings in one interface. This camera is versatile and can store creations more effectively with its double SD memory card slots. Also, you can customise your settings with your own effects! The Nikon Z 5 has 20 different types of Creative Picture Control, which work like your favourite app filters and apply to both stills and movies, so your creations get an immediate uplift.
Easily upload your photos on social media with #NikonSnapBridge. You can ease the process of a quick transfer from camera to mobile device, for fast edits from a third-party software of choice, then pop the caption in and upload the marvellous creation to your social media. The SnapBridge app simplifies the process of transferring those high-quality shots from your camera to smart device5.
Compact and lightweight, the Nikon Z5 enables you to move about freely as it only weighs approximately 675g. With a robust and durable body, it features dust-and-drip resistance, useful for whenever and wherever inspiration happens, in any scenario. This trusty camera supports long hours, thanks to its battery's new increased capacity. For those who never leave home without having their devices fully charged, the camera can be charged on the go, as it allows for USB charging and linking the USB connectivity to a power bank6 as a continuous power supply.
Access A Wide Lens Selection
Leave your FOMO (fear of missing out) behind and be a part of the NIKKOR family. Those delving into the expansive world of photography and videography will appreciate the Z mount system with Nikon's wide selection of high-performance NIKKOR Z lenses. The Nikon Z 5 comes in a compact kit, with the new NIKKOR Z 24-50mm f/4-6.3, and is also available with the NIKKOR Z 24-70mm f/4 S and the NIKKOR Z 24-200mm f/4-6.3 VR respectively7 – all designed to help creators expand their creativity.
The NIKKOR Z 24-50mm f/4-6.3, in particular, is a portable and lightweight kit lens that is great for first-time full-frame users. Its versatile focal length range covers a wide variety of scenes and is optimal for street photography, which makes it a great addition for those who love to capture the beauty of their travels.
Highly sought-after pro photographer and videographer, Kelvin Montalbo states during the launch, "The Nikon Z 5 is in that very elusive tech sweet spot of having advanced features that even the pro's would appreciate, at a price that is very approachable and inclusive." Ellaine Fatima, pro photographer and hair and make-up stylist, adds "I particularly love how ergonomic and handy the Nikon Z 5 is despite its robust built, and how I need not worry about battery life as it has a USB type-C charging port that can be powered on the go."
Pre-order your Nikon Z 5 now.
Visit www.nikon-mea/NikonSchool to connect to an official Nikon distributor in your area.
Categories