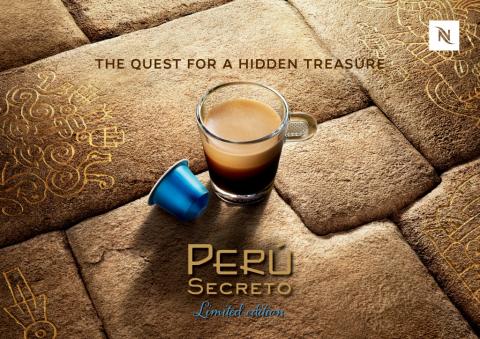 An exceptional Grand Cru treasure is revealed
With the goal to continuously surprise and delight coffee lovers around the world, Nespresso, the worldwide pioneer and reference in premium portioned coffee reveals its latest exclusive Limited Edition Grand Cru. Nespresso invites coffee lovers to discover an extraordinary hidden gem, through a remarkable journey into the Peruvian Andes. Perú Secreto, a Limited Edition Pure Origin Grand Cru, is a unique coffee sourced from the remote coffee farms that cling to the spectacular Andean hillsides and valleys of Peru.
"We know that our Club Members enjoy discovering new tastes, aromas and experiences through our Limited Edition Grands Crus," says Karsten Ranitzsch, Head of Coffee at Nestlé Nespresso S.A.. "Our Coffee Experts are excited to take them on a new sensory journey to reveal a well-kept secret in the coffee world – Peru and the exceptional coffee the region produces."
Perú Secreto will join the Pure Origin range of Grands Crus for a limited time, which includes Indriya from India, Rosabaya de Colombia, Dulsão do Brasil and Bukeela ka Ethiopia. Nespresso Coffee Experts choose the most iconic coffee-growing countries in the world to create the Pure Origin Grands Crus. Each of these coffees is exclusively sourced from a single country of origin and reflects the regions' unique flavour profiles. These Nespresso Coffee Experts have both the knowledge and experience to find the highest quality coffees around the world. Therefore, they have searched deep into the Central Andean valleys to reveal the extraordinary fruits of a remote coffee region.
There are various factors that make this region and the coffee it produces so unique. First, the sub-tropical climate provides optimal cultivation conditions, with alternating wet and dry seasons. Second, the altitude approaches 1500 m and the soil receives just the right amount of sunlight for quality coffee to flourish. Finally, the local farmers are passionate about their land and dedicated to it, allowing them to obtain the very best from the terroir. This unique alchemy is the hidden secret behind Perú Secreto.
Perú Secreto is an intense, sweet and round espresso with roasted and cocoa notes. With an intensity of 8, this complex yet smooth Pure Origin espresso is paired well with milk, as it develops a round and creamy texture with sweet notes reminiscent of "banana flambé". A silky texture and a pleasant, long-lasting finish will complete your journey to the remote Peruvian Andes.
A selection of delicious recipes based on this Limited Edition coffee will be made available on the website www.nespresso.com/peru-secreto/recipes.
The packaging design of Perú Secreto represents a "stone" which is reminiscent of the place in which this coffee grows: the amazing Andes Mountains. A touch of abstract "Inca-like" pattern decors the sleeve, to convey the legacy of the omnipresent influence that ancient civilizations had on this country. The deep bright blue metallic capsule refers to the rich microclimate and natural environment that contribute to growing this fine coffee.
Nespresso welcomes coffee lovers to discover their Peruvian treasure, Perú Secreto, as well as a new and delicious region of coffee. The Limited Edition Perú Secreto is available for just a very limited period of time. Find this hidden treasure at Nespresso boutiques in ABC Achrafieh (L0) and ABC Dbayeh (L3), as well as through orders from the Nespresso Customer Care Center on (+961) 5 953 700 and online at www.nespresso.com.
Categories