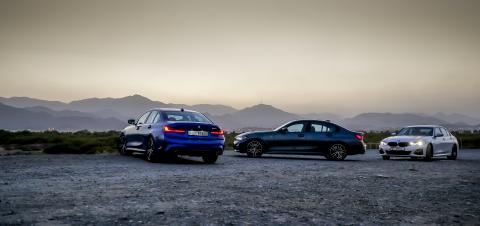 AGMC, the official importer of BMW Group for Dubai, Sharjah and the Northern Emirates, has shared a stunning selection of images showing the all-new BMW 3 Series on location in the emirate of Sharjah.
The photographs feature a selection of BMW 3 Series models in amazing landscapes around Kalba in Sharjah.
The 2019 edition of the BMW 3 Series combines enhanced sporting prowess with a refined interior ambience, eye-catching design and state-of-the-art driver assistance systems, control, and connectivity technologies.
The new BMW 3 series:
BMW's new powertrain technology provides BMW 3 series with higher output, better traction and optimized efficiency through its four-cylinder petrol engine.
BMW's innovative driver assistance systems have been expanded for the all-new 3 Series Sedan to include Reversing Assistant, Collision and Pedestrian Warning with Braking Function, Lane Departure Warning, Steering and Lane Control Assistant.
Upgraded chassis technology, stiffer body structure, wider tracks, a low vehicle center of gravity and 50:50 weight distribution give it sharper driving dynamics
An expansive range of chassis options adds to the sporting ability and driving performance of the new 3 Series Sedan, with lowered M Sport suspension, M Sport brakes, and up to 19-inch light-alloy wheels.
Categories