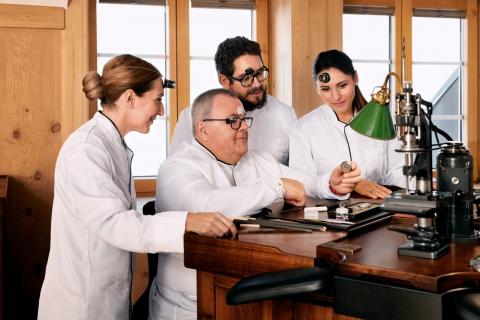 Swiss Haute Horlogerie manufacturer Audemars Piguet is delighted to announce the launch of its very first public and immersive Masterclass entitled Crack History's Code. This four-and-a-half-hour experience, which combines a guided visit to the Musée Atelier and the Masterclass itself, will send visitors on an exclusive journey to decode Haute Horlogerie's secrets. By diving into Audemars Piguet's universe, guests will discover how infinite details can transform a functional object into a work of art.

The Musée Atelier Audemars Piguet was designed by BIG (Bjarke Ingels Group) and unifies the original workshop, established by Audemars Piguet's founders in 1875, with a new all-glass structure, made up of two spirals that seamlessly integrate into the existing landscape. Opened to the public since June 2020, the Musée Atelier gives a unique perspective on the Vallée de Joux and its watchmaking history with a display of some 300 timepieces spanning over two centuries of exceptional craftsmanship. In-situ production workshops are also interwoven with the museum's spatial experience to bring visitors in close contact with the Manufacture's craftspeople at work.
Pushing the envelope further, Audemars Piguet now offers visitors an exclusive opportunity to walk a few miles in watchmakers' shoes. Limited to 4 participants and available by reservation only, its "Crack History's Code" Masterclass will enable guests of all backgrounds to assemble one of the Manufacture's historic watch movements under the guidance of an expert. Participants will also try their hand at refined decorations on a piece specifically designed for the occasion, which they will be able to take home as a souvenir. Watchmaking decorations embody a little-known art, often hidden at the heart of the watch. Numerous skills are required to achieve such a meticulous work, where horological expertise and artisanship combine in aesthetic harmony. For more than two centuries, this seamless balance has been perfected by watchmakers of the Vallée de Joux to create beautiful objects, inside and out. 

This immersive journey into the heart of Haute Horlogerie will thus enable guests to crack the code of a complex savoir-faire that Audemars Piguet has handed down across generations. And this is just the beginning, as other themed Masterclasses will follow soon. Stay tuned!

"Born in Le Brassus, raised around the world."