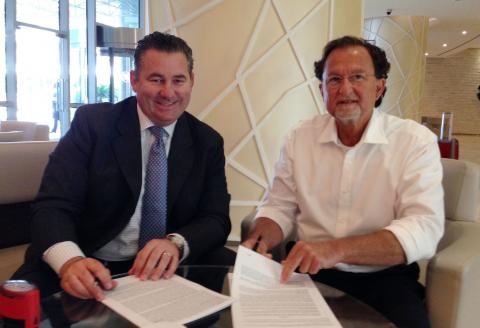 United Arab Emirates – June 9, 2014 – Cerner Corp. today announced that Mobile Doctors (MD 24-7), a physician helpline service headquartered in Dubai, will implement mobility solutions from Cerner to enable MD 24-7's subscribers to access their electronic health record (EHR), schedule appointments and message with a doctor.
"Cerner was chosen as our partner of choice given their unmatched EHR and population health solutions that support the physician workflow and enhance our ability to engage with our consumers," said Raouf Khalil, founder and chief executive officer, Mobile Doctors. "By working with Cerner, we consolidate medicine and technology for a true doctor driven, 24-7 patient advocate delivery service. Jointly, we will transform the relationship between patients and physicians by allowing the patient to have access to their medical records and physicians' schedules, resulting in better clinical outcomes."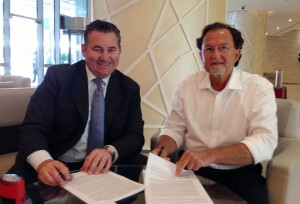 MD 24-7 empowers consumers to speak to a doctor 24 hours a day for medical consultations, triage and care coordination, as well as receive assessments based on evidence-based medicine. In addition to the patient portal, MD 24-7 will implement Cerner's ambulatory EHR and practice management solutions, as well as Cerner PureWellness and others.
"Given the UAE government's strong initiatives around development and digitization of the health care industry, we are honored to support Mobile Doctors as they enhance their patient advocate system to offer world-class services for the community," said Michael Pomerance, vice president and managing director, Cerner Middle East and Africa. "This agreement will enable the UAE communities improve their health and wellness using the latest mobile information technology. MD 24-7 is our first relationship in the UAE's private health care sector and we look forward to other collaborations."
About Mobile Doctors
Mobile Doctors 24-7 is a Physician Helpline Service that is staffed by Western trained General Practitioners, Pediatricians, Pharmacists, Wellness Consultants and Nurses, providing appropriate triage and care coordination of the subscribed citizens in the Middle East. Mobile Doctors is currently located in UAE, Qatar and Saudi Arabia, with plans to expand in the rest of the GCC, Middle East and Africa.
MD 24-7's core services are combined with value added services such as video conferencing and the highest level of expertise to provide a solution suite that empowers patients to manage their own health care. Easy access to all of these services comes in the form of a mobile application called 'Hello Doctor' that  enhances the quality of patient care by providing 24 hours a day throughout the year a single patient record accessible to all subscribed patient members and Mobile Doctors' care providers.
About Cerner
Cerner's health information technologies connect people, information, and systems, at approximately 14,000 facilities worldwide. Recognized for innovation, Cerner solutions assist clinicians in making care decisions and enable organizations to manage the health of populations. The company provides clients with a wide range of in-house services, as well as an integrated clinical and financial system to help organizations manage revenue. Cerner's mission is to contribute to the systemic improvement of health care delivery and the health of communities. Nasdaq: CERN. For more information about Cerner, please visit www.cerner.com, check out our blog at www.cerner.com/blog,  connect with us on Twitter at www.twitter.com/cerner and on Facebook at www.facebook.com/cerner.
Cerner Middle East has been transforming healthcare in the Middle East region for more than 20 years and currently staffs more than 200 associates in United Arab Emirates, Saudi Arabia, Egypt and Qatar. Cerner Middle East works with more than 190 client facilities, including more than 7,500 physicians and 19,000 nurses. For more information, please visit www.cerner-me.com and connect with us on Twitter at www.twitter.com/cernerme.
Certain trademarks, service marks and logos set forth herein are property of Cerner Corporation and/or its subsidiaries. All other non-Cerner marks are the property of their respective owners.
Categories