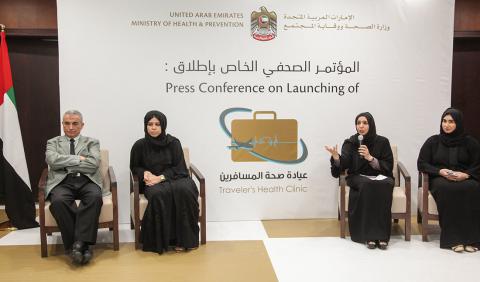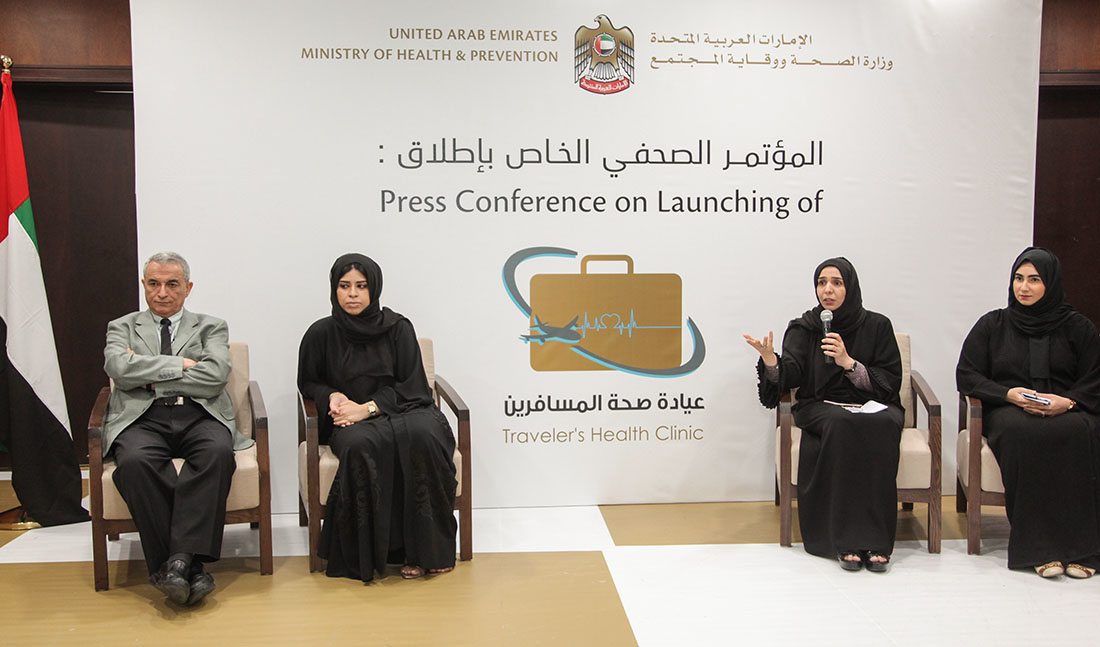 The UAE Ministry of Health and Prevention (MOHAP) organized on (28 May,2017) a press conference regarding travel health clinics and the preventative health services they provide, in adherence with the best international practices. The press conference was attended by Dr.Aisha Suhail director of primary health care, and Dr. Fatima Al Attar, Head of International Health Regulations, in addition to a number of department managers, specialists, nurses and technical staff who specialize in preventative medicine and immunization. The press conference took place at the Ministry's office in Dubai.
Dr. Aisha Suhail emphasized - in a speech on behalf of H.E. Dr. Hussein Abdel-Rahman Al Rand, Assistant Undersecretary of MOHAP's Health Centers and Clinics Sector -  the Ministry's keenness to enhance the health of the community in the UAE, by providing world-class health services in a healthy and sustainable environment. Dr. Al Rand said: "as part of the Ministry's strategic efforts to develop a preventative healthcare system in the UAE, to ensure protection from infectious diseases, the Ministry has worked to equip travel health clinics with vaccines for infectious diseases, similar to those offered at preventative medical centers associated with the Primary Health Care Center. MOHAP has also worked to raise community awareness regarding health and nutrition, and the best practices when handling patients with chronic diseases such as diabetes, heart conditions, and others.
Dr.Aisha noted that travel health clinics are available at Preventive Centers of the ministry. New clinics have recently opened at Al Muhaisnah Health Centre, Al Ittihad Health Centre, and the Preventative Medicine Centre in Fujairah. All health centres are provided by new staff and fully prepared to provide patients with medical advice and vaccines, ensuring all travellers the right to the best preventative and curative services, whether staying in the UAE, or in transit. Dr. Aisha emphasized that MOHAP is always eager to keep pace with global developments, and remains committed to recommendations by the World Health Organization, to raise the level of health of every individual, and prevent disease. This contributes to the Ministry's efforts to provide holistic and integrated services, in addition to effective vaccinations.
Al Attar said: "MOHAP keeps permanent contact with the Centres for Disease Control and Prevention (CDC) and the WHO, to keep pace with the latest developments and global epidemics, to take necessary precautions, and notify travellers, to avoid catching diseases. MOHAP provides travellers all required vaccinations, and received all necessary certifications from government health centres."
Dr. Al Attar noted the services provided in health clinics involve assessing health risks associated with travel and the status of the traveler's health. The clinics conduct tests to establish the status of the traveler's health, before informing the traveler about the vaccines they may require. The clinics provide travelers with a health information card featuring their basic data, chronic diseases, blood type, and contact number. Travelers are also provided with private consulting in the case the case of a pregnancy or kids. All patients are provided with health insurance, to guarantee their care in case of an emergency, especially the elderly and pregnant women.
The information provided to travelers also included how to handle a disrupted biological clock, travel sickness, vasculature or circulatory issues from sitting for extended periods of time, health problems associated with high altitudes, heat stroke, exhaustion, water safety, and diseases caused by mosquito bites and other insects.
Categories