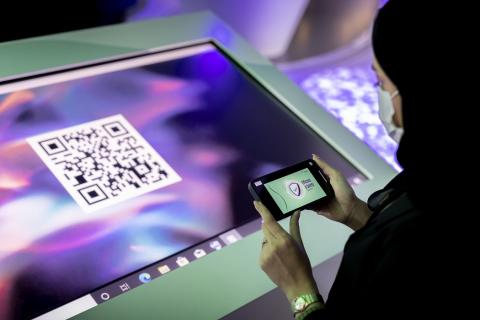 The Ministry of Health and Prevention (MoHAP) has launched an AR-powered paperless drug packs project, by linking the entire drug information to an electronic source on the Internet.
The new project aims to enhance access to drug-related information in an easy and innovative way, improve treatment outcomes and avoid medication errors.
The move would help cement the ministry's competitiveness as a paperless digital health government entity and a sustainable model for developing services to ensure the happiness of customers.
The launch comes on the sidelines of the ministry's participation in Arab Health, the largest exhibition of its kind in the Middle East and North Africa taking place at the Dubai World Trade Centre, 24 - 27 January.

Innovative project
"The project would help facilitate patients' access to medicines to ensure their adherence to treatment plans. This is part of the UAE government's directions to ensure their rights and provide all appropriate services to support their capabilities and integrate them into society and secure a decent life for them," said HE Dr. Amin Hussein Al Amiri, Assistant Undersecretary for the Health Regulation Sector, MoHAP.
Al Amiri highlighted the importance of the project in leveraging innovative technologies such as augmented reality and QR Code, which constitutes a development and support for innovation in the pharmaceutical field in the UAE and the region.

QR Code
In cooperation with Ferring Pharmaceuticals, MoHAP is showcasing an innovative project of adding QR Code to the medicine package to enable patients to interactively read the drug information via AR technology.
The project aims to develop and apply modern technologies in the health sector and the pharmaceutical field, by linking the entire drug information to an electronic source on the Internet to provide complete data about the drug upon scanning the code, using smartphones, thus facilitating access to the drug information in an interactive way.
When reading the QR code through the use of artificial intelligence, an interactive service is obtained, where the virtual assistant appears in a three-dimensional form and provides the patient with all information about the drug class. This technology will be applied in the first half of the current year 2022 on the pharmaceutical packages produced by Ferring Company.