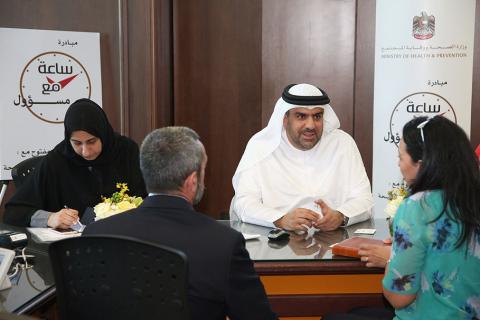 Dr. Al Olama: 'We aim to encourage applicants and cultivate participation from the field to further develop the Ministry's work'
H.E. Dr. Mohamed Salim Al Olama, Undersecretary of the UAE Ministry of Health and Prevention, met with a number of applicants in the office of the Ministry as part of the 'An hour with an official' initiative. The program aims to establish transparency in institutional work and enhance communication channels by creating an avenue for the exchange of suggestions and comments on the quality of services. This will speed up the completion of the objectives set forth within the framework established by the Deputy Minister regarding the implementation of Charter guidelines to ensure the well-being of the applicants.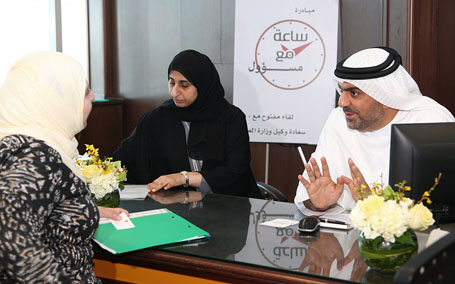 H.E. the Undersecretary confirmed that the Ministry's active efforts to meet personally with the applicants is part of the directives of H.H. Sheikh Mohammed bin Rashid Al Maktoum, UAE Vice President and Prime Minister and Ruler of Dubai, to discuss challenges and develop solutions that will further enhance government work. This initiative also reflects the Ministry's strategic objectives to satisfy customers through the quality of work systems and ensure easy access to it in accordance with international standards as well as ensure the provision of all administrative services in accordance with the standards of quality, efficiency and transparency and raise the strategic indicators to ensure the happiness of applicants.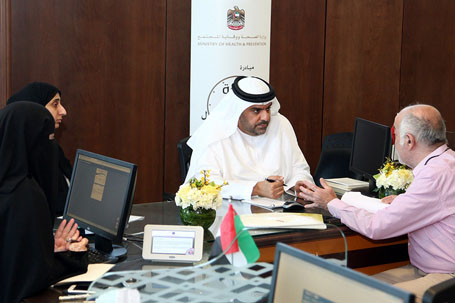 During the meeting, Dr. Al Olama graciously received the suggestions and recommendations of the applicants. He added that they are important partners of the Ministry in its effort to further develop its service and that they are grateful to gain actionable insights regarding the customer system within the ministry. He noted the Ministry's commitment to provide happiness to dealers and boost their confidence through the quality of services provided to them. He further emphasized that the UAE Government's main objective is to provide happiness to strengthen the culture of joy and promote a positive way of life in the state, according to a set of performance indicators to ensure monitoring, review and development to align their services with the expectations of the dealers to pave the road for innovation. Highlighting that the UAE remains wholly dedicated towards ensuring the quality of health services, the Undersecretary noted that this will serve to strengthen relations between the Ministry and the applicants.
Categories