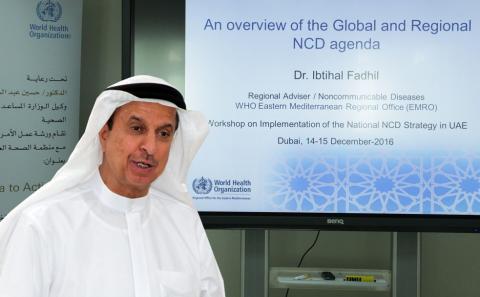 Workshop attended by representatives of World Health Organization
The Ministry of Health and Prevention organized a workshop on the nationwide implementation of the National Strategy for non-communicable diseases at the Sharjah Training and Development Center. The workshop was attended by Dr. Hussein Abdel-Rahman Al Rand, Assistant Undersecretary of the Ministry's Health and Prevention Assistant Sector - Health Centers and Clinics; World Health Organization representatives specializing in primary health care and tertiary care; the Dubai Health Authority's non-communicable diseases team; the Abu Dhabi Health Authority; as well as representatives from the Ministry of Education, academic institutions, the National Media Council, and the Friends of Cancer Patients.
The workshop focused on identifying the main causes of chronic diseases such as heart disease and vascular disease, diabetes, cancer as well as respiratory diseases that may be causing these afflictions. It also reviewed the strategy being implemented to provide people at high risk of these diseases with relevant medical information that will help them adopt an exercise routine and a balanced diet to prevent the onset of the diseases.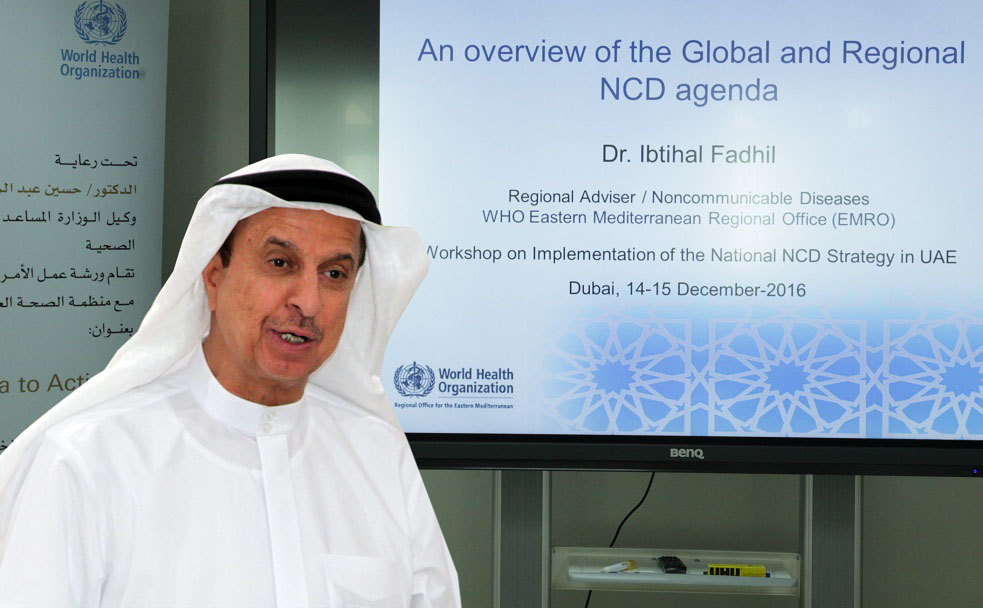 Dr. Hussein Al Rand said: "This workshop was organized in collaboration with the World Health Organization in line with the efforts of the Ministry along with its partners in the UAE to implement the National Strategy to combat non-communicable diseases over the next five years (2017 - 2021). It reflects the Ministry's commitment to promote healthy lifestyle choices in the UAE in line with the National Agenda for UAE Vision 2021 which aims to apply a health system in accordance with the highest international standards."
Dr. Hussein Al Rand also added: "The National Strategy to combat non-communicable diseases is based on four major pillars: leadership and governance; prevention through the reduction of risk factors; observation and monitoring; and, finally, evaluation and research and development to further understand the root causes of these diseases in order enhance the quality of healthcare."
Dr. Buthaina Abdullah bin Balila, President of the Non-Communicable Diseases Division, highlighted the main topics tackled by the workshop which focused on the prevalence of the discussed diseases and their associated risk factors. Participants were also updated on the national program for observing the development and occurrence of these disease and ensuring the collection of relevant statistical data for analysis in order to better understand key health indicators. In addition, they discussed preventive medical policies and potential cures following the knowledgeable input of many regional and international specialists. These activities aim to ensure the creation of a road map that will address the priorities of the National Agenda, which was developed in response to the World Health Organization's goal of reducing the rate of deaths associated with these diseases to 25 per cent by 2025.
Categories