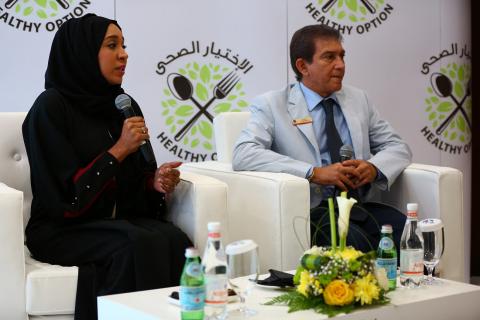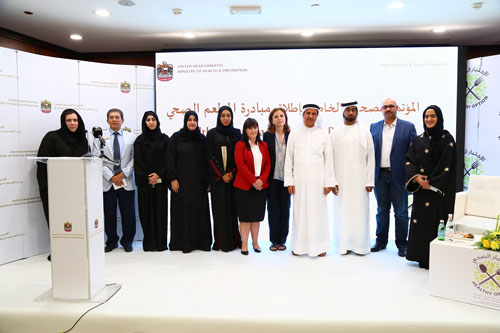 As part of the ongoing national initiative to promote awareness of healthy lifestyle in the community, the Ministry of Health and Prevention represented by the Health Education and Promotion Department in the Health Centers and Clinics Sector has launched in a press conference the 'Healthy Restaurant' initiative in different emirates. The press conference was attended by H.E. Dr. Hussein Abdul Rahman Al Rand, Assistant Undersecretary for the Health Centers and Clinics Sector; Dr. Fadila Sharif, Director of Health Education and; Nouf Khamis Al Ali, Head of Section for Health Promotion Program and Tobacco Control and representatives from economic and municipal departments and restaurants involved in the initiative.
Dr. Al Rand said the initiative is in line with the Ministry's strategic objectives to promote healthy lifestyles in the UAE. The Ministry aims to promote healthy eating habits among members of the community through the development of related legislations and laws to decrease the prevalence of non-communicable diseases.
In line with the initiative, the Ministry is also encouraging restaurant owners to provide healthy options to their consumers to increase access to healthy food, and empower them to make healthy choices. H.E. also thanked all local and national authorities and organizations supporting the initiative such as the economic departments, various municipalities, and participating restaurants.
For her part, Dr. Sharif emphasized that the initiative's goals are to empower individuals to make healthy food choices and encourage restaurants to provide healthy meals by improving the nutritional value of their food options through adhering to a number of mandatory and optional criteria. This includes offering at least two healthy meals and a separate healthy food menu for children.
According to Dr. Sharif, the Ministry conducted three workshops with restaurants in April 2015 to inform them about the initiative and its features. Upon the adoption of the initiative, the affiliated establishments will be certified as healthy restaurants by the Ministry of Health and Prevention. The Ministry will launch a media campaign in the middle of this month, which includes radio ads and promotional messages via social media and other online platforms to promote the initiative and the list of healthy restaurants in the country.
Nouf Khamis Ali added that the Ministry will provide free consultations through a nutrition specialists who will conduct food analysis. Hence, assist the participating restaurants to offer healthy food items. The Ministry will also provide training and education for cooks and service providers. Further, there is a set follow-up mechanism to ensure compliance of the accredited establishments. The mechanism is threefold; it will include random inspections, clients' evaluation, and regular data submission by the participating restaurants.
Categories