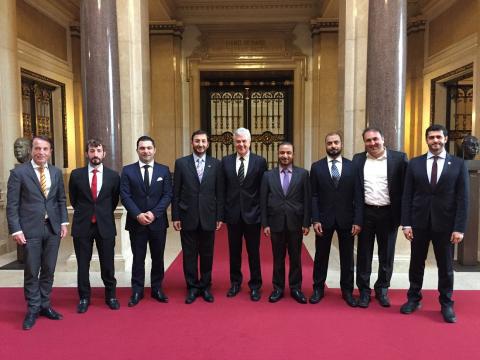 Al Saleh: 'Transport, industry & innovation are priority sectors of mutual economic interest'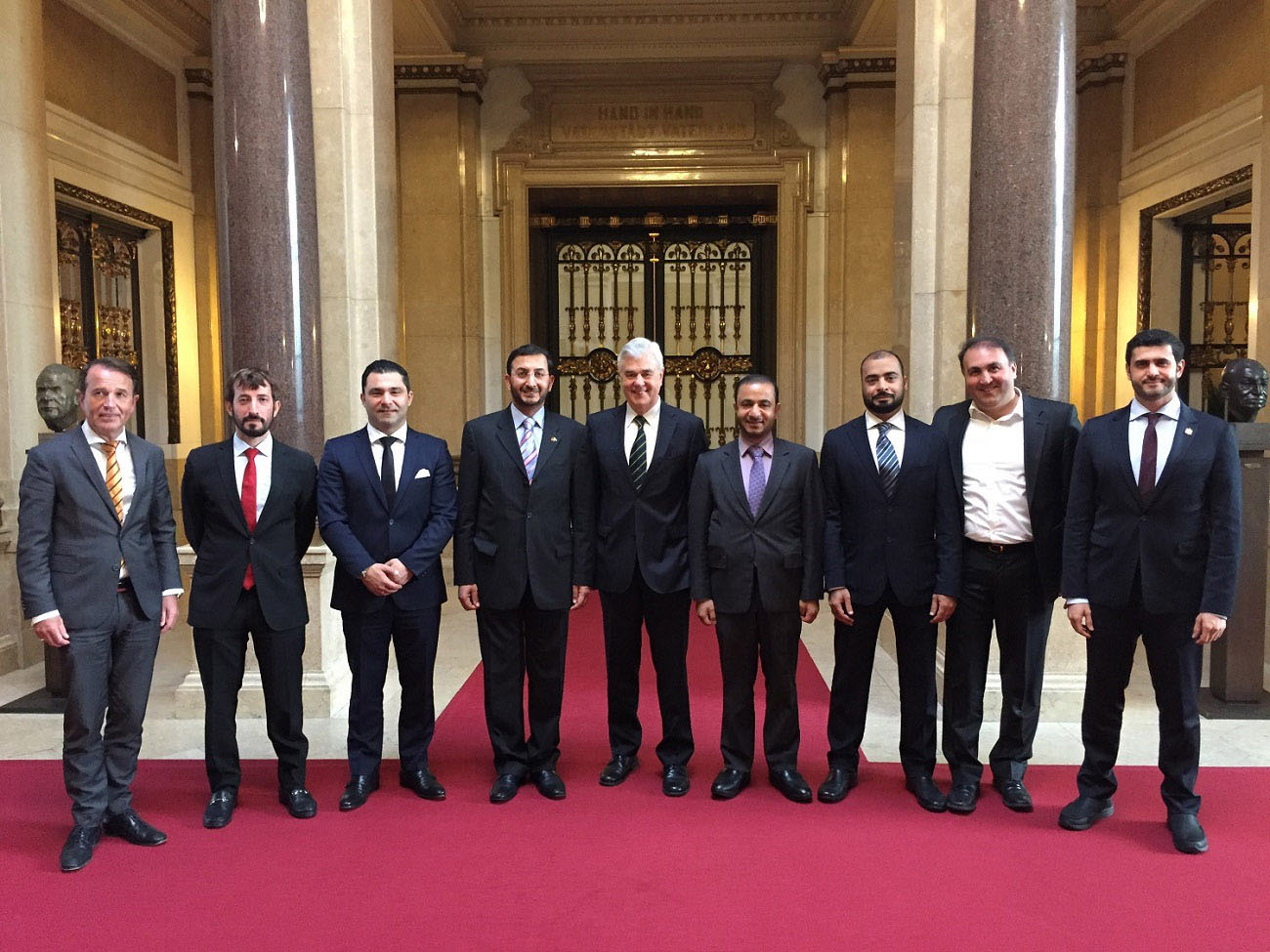 H.E. Abdullah Al Saleh, Undersecretary of the Ministry of Economy for Foreign Trade and Industry, discussed ways to further develop economic and trade relations with Germany during a meeting with H.E. Frank Horch, Minister of Economy, Transport and Innovation of the Government of Hamburg, Germany, on the sidelines of the 2017 Hannover Messe International Industrial exhibition in Germany.
The meeting was attended by H.E. Abdullah Al Mandoos, the UAE's Deputy Ambassador in Germany; H.E. Mr. David Arc Lab, Chairman of the Economic Committee of Hamburg; Mr. Mohammed Nasser Al Zaabi, Director of the Trade Promotion and Investment Department at the Ministry of Economy; Mr. Ahmed Bin Ghannam, Executive Director of International Relations at the Abu Dhabi Department of Economic Development; Mr. Ahmed Al Blushi, Director General of the Abu Dhabi Industrial Development Bureau; and members of the Hamburg City Council.
The group reviewed cooperation between the UAE and the city of Hamburg in the areas of trade, business creation and investment exchange, with a focus on available opportunities for enhancing cooperative frameworks in transport, aviation and ports, and industrial activities. The two sides also emphasized their common desire to develop mechanisms for deepening the exchange of experiences in innovation, scientific research and entrepreneurship.
H.E. Al Saleh, said that the UAE and the Republic of Germany enjoy growing bilateral relations at all levels. He noted that the UAE is Germany's top trading partner in the region,
with their total trade volume reaching USD 15.5 billion in 2015 and nearly USD 11 billion by the end of the third quarter of 2016.
The Undersecretary added that as the UAE develops key economic sectors in line with UAE Vision 2021, there will be many opportunities to advance economic and trade relations between the two countries, particularly in terms of cooperation in the fields of transport and renewable energy.
For his part, H.E. Horch affirmed that the UAE is Germany's largest trading partner in the region and represents one of the largest trade allies of Hamburg. He expressed the desire to strengthen cooperation in vital economic fields – including tourism cooperation which he said should be taken mutual advantage of considering how their countries are regarded among the world's best tourist destinations.
H.E. Horch added that Hamburg is one of the largest logistics centers in Europe, boasting a well-developed infrastructure and strategic geographic location. This, he said, opens areas for enhancing trade and economic cooperation with the UAE and attracting more UAE investments into the city which serves as a gateway to other lucrative European markets.
Categories