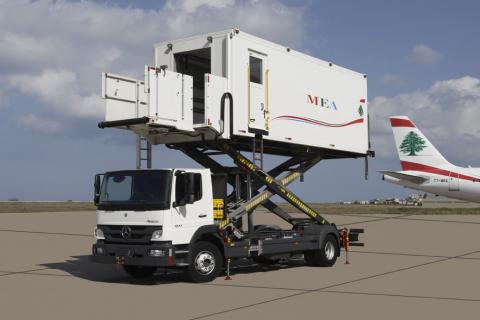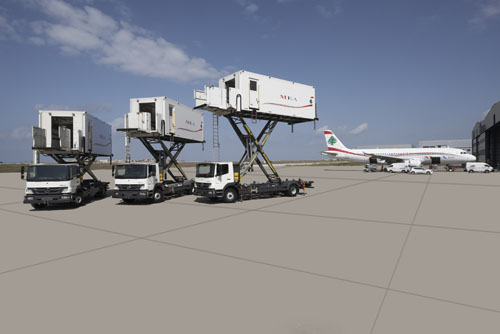 T. Gargour & Fils, the exclusive & sole agent for Mercedes-Benz in Lebanon, recently supplied Middle East Airlines with a fleet of Atego trucks for its catering unit. Six units of the Mercedes-Benz Atego 1617 trucks are operating on the airport runway. The company joined forces with Mallaghan, one of the leading aviation industry suppliers in the manufacture of Airport Ground Support Equipment, to provide Middle East Airlines with the most robust and advanced scissor-lift catering service trucks.
 "We are committed to providing our customers unparalleled satisfaction when they choose the Mercedes-Benz brand. The sustained efforts of our company, in tandem with the superb capabilities of every Mercedes-Benz vehicle, has created a steady demand in the enterprise sector. Our trucks have gained prominence in the eyes of our customers over the years for their proficiency, safety and cost-effectiveness," says Mr. Cesar Aoun, General Manager of Mercedes-Benz and smart at T. Gargour & Fils.
T. Gargour & Fils Commercial Vehicles and After-Sales departments offered Middle East Airlines key solutions in terms of full maintenance from truck to van body, as well as long-term warranty, which is considered the highest in its class.
The Atego sets a new standard in distribution transportation offering attributes that suit the business requirements with a level of quality and comfort.
Mercedes-Benz has been firmly established in Lebanon for several decades, as T. Gargour & Fils introduced this global brand to the Lebanese market in the early 1950s. Since its founding,
T. Gargour & Fils has sought to bring the latest global innovations to Lebanon, showing unparalleled commitment to providing excellent services that aim to constantly offer an ideal experience for each customer. Thanks to its endless efforts, it has succeeded to gain the trust of its customers year after year.
Categories