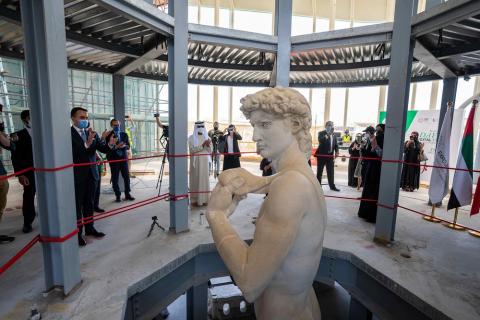 The five-meter twin of the world-famous statue has been unveiled as the stunning centerpiece at the Italy Pavilion at Expo 2020.
A spectacular 3D replica of Michelangelo's David has been revealed at the Italy Pavilion, as a tantalising taster of the many rich cultural experiences visitors will be able to enjoy at Expo 2020 Dubai.
David's "twin", which unites history and innovation, was revealed in a ceremony to mark the completion of the Italy Pavilion's exterior that also premiered three overturned ship hulls that form Italy's tricolour flag.
The unveiling of the statue follows months of painstaking work by artists and innovators. The full process included 40 hours of digital scanning of the original 16th-century marble artwork in Florence, the creation of a three-dimensional digital model with a resolution of 146 thousandths of a millimetre, and production by one of the world's largest 3D printers, with hours of finishing touches completed by hand.
Based on the theme 'Beauty connects people', the Italy Pavilion is located in Expo's Opportunity District. From 1 October 2021 to 31 March 2022, Expo 2020 will invite visitors from across the world to discover an engaging story that touches upon the Italy's achievements in diverse fields including art, technology, engineering and sustainability.
The David replica represents an exciting addition to the UAE's vibrant and thriving artistic scene, and is set to be one of the cultural highlights that Expo 2020 and its 190-plus participating countries will showcase during the six-month celebration of human creativity, innovation and ingenuity.
 
Source: www.expo2020dubai.com