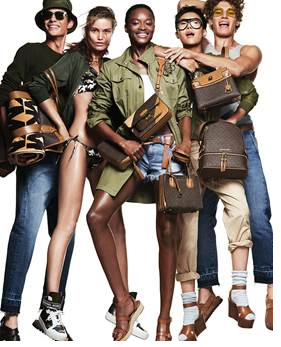 NEW YORK February 4, 2019 — Michael Kors announces the launch of his new Spring 2019 MICHAEL Michael Kors ad campaign starring supermodel Bella Hadid shot by the legendary photographer David Sims. Heralding a bold new direction for the iconic luxury fashion brand, the campaign and collection - shot in a studio in Kors' pulsating birthplace of New York - is inspired by the speed, energy and optimism of today's global lifestyle.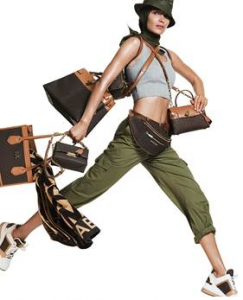 Starring supermodel of the moment Bella Hadid the campaign takes the timeless allure of the brands' DNA and translates it into a dynamic, highly-contemporary, street-inspired, fast moving visual feast for the modern jet-setter. "Bella Hadid is the quintessential modern jet-setter," says Michael Kors. "She is plugged-in, adventurous and on the go 24/7." Offering a fresh take on the 21
st
century wardrobe the ready to wear collection reflects the lighting fast pace of life and newfound desire for an arsenal that is elevated yet totally versatile.  Juxtaposing masculine and feminine, high glamour with a street edge, camo printed dresses and anoraks, chic black athleisure teamed with sneakers, utilitarian khaki cargos, sexy bodysuits and bikinis and dramatic denim on denim capture the jet setting spirit. While lashings of gold plated bracelets from the Michael Kors Mercer Link collection and the latest Michael Kors Access Smartwatch add to the IT factor. Complementing the take-you-anywhere energy of the collection, classic totes, backpacks and shoulder bags featuring the iconic Michael Kors signature have been reimagined in cool contemporary shapes. And meet Cece.  Making her debut for Spring 2019, and destined to be the hero accessory of the season, the structured rectangle handbag features chic curved flap closure and heritage hardware including trunk-inspired pinch lock, leather-wrapped key charm, chain-link handle and detachable chain-and-leather strap to add that all important touch of glamour to the street-inspired styles. The global campaign will debut in February, with print ads running in spring issues worldwide. The images will also appear in digital outlets, as well as on social media platforms and in traditional outdoor media placements.
About Michael Kors
Michael Kors is a world-renowned, award-winning designer of luxury accessories and ready-to-wear. His namesake company, established in 1981, currently produces a range of products under Michael Kors Collection, MICHAEL Michael Kors and Michael Kors Mens, including accessories, ready-to-wear, footwear, wearable technology, watches, and a full line of fragrance products. Michael Kors stores are operated in the most prestigious cities in the world. In addition, Michael Kors operates digital flagships across North America, Europe and Asia, offering customers a seamless omni-channel experience.
Forward-Looking Statements
This press release contains forward-looking statements. You should not place undue reliance on such statements because they are subject to numerous uncertainties and factors relating to the operations and business environment of the Company, all of which are difficult to predict and many of which are beyond the Company's control. Forward-looking statements include information concerning the Company's possible or assumed future results of operations, including descriptions of its business strategy.  These statements often include words such as "may," "will," "should," "believe," "expect," "anticipate," "intend," "plan," "estimate" or similar expressions.  The forward-looking statements contained in this press release are based on assumptions that the Company has made in light of management's experience in the industry as well as its perceptions of historical trends, current conditions, expected future developments and other factors that it believes are appropriate under the circumstances.  You should understand that these statements are not guarantees of performance or results. They involve known and unknown risks, uncertainties and assumptions. Although the Company believes that these forward-looking statements are based on reasonable assumptions, you should be aware that many factors could affect its actual financial results or results of operations and could cause actual results to differ materially from those in these forward-looking statements.
Categories