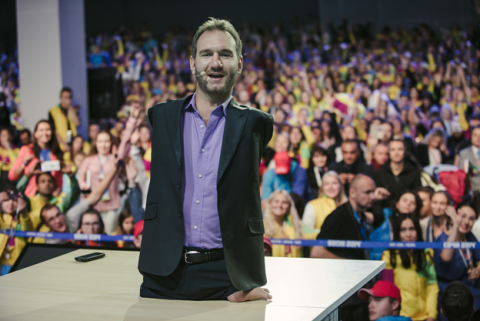 Najahi Events, the Middle East's edutainment leader, has completed its line-up for 'Achieve the Unimaginable' on September 3 at the Coca-Cola Arena with the addition of international motivational speaker, New York Times best-selling author and person of determination, Nick Vujicic. Nick will be joining headliners Tony Robbins and Alicia Keys as well as guest speaker Prince EA on stage in this non-stop learning and entertainment event, unlike anything ever produced in the region before. 
Without any medical explanation or warning, Nick came into the world with neither arms nor legs. Throughout his childhood, Nick dealt with the challenges of school and adolescence, such as bullying, self-esteem issues, depression and loneliness as he questioned why he was different from all other kids. As he grew up, he learned to deal with his disability and by 19, started to fulfill his dream of encouraging other people through their struggles. Nick is now a highly sought-after motivational speaker. He has visited over 65 countries, met with 16 presidents, addressed 9 governments and spoken to over 6.5 million people live. He is an accomplished author with five titles including a New York Times best-seller "Unstoppable," published in over 30 languages.
'Achieve the Unimaginable' with Tony Robbins is designed to help participants unlock and unleash the forces inside them that can help in breaking through any limit and creating the quality of life they desire. 
For more updates on the upcoming Tony Robbins 'Achieve the Unimaginable' event, check out Najahi Events on www.tonyrobbinsdxb.com. Join the ongoing social media conversations via Facebook @Najahi.Org and Instagram on @Najahi_Events.
Categories