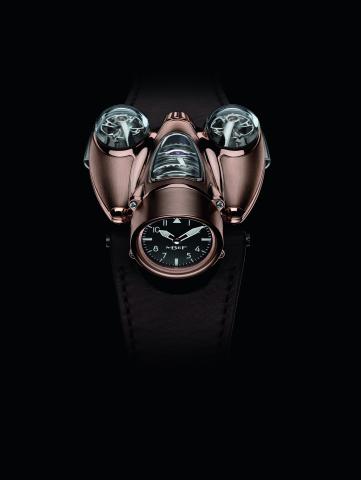 In the post-war years of the late 1940s and 1950s, aerodynamic principles were just beginning to take root in the field of automotive design. The boxy, carriage-like shapes of previous decades were melting into something more streamlined. At the same time, curvilinear forms became more prominent, carrying the immediate promise of power and speed. The sophisticated computer modelling and wind-tunnel technology we have today were far-off dreams at that time – designers were guided more by their aesthetic sense than by any scientific precepts.
The result was some of the most beautiful man-made objects ever created, epitomised by automobiles like the Mercedes-Benz W196 and 1948 Buick Streamliner. Other industries followed, notably that of aviation, producing aircraft such as the sleek-bodied, snub-nosed De Havilland Venom that patrolled Swiss airspace for 30 years.
Presenting Horological Machine N°9 'Flow', inspired by the dynamic profiles of automotive and aviation mid-century design.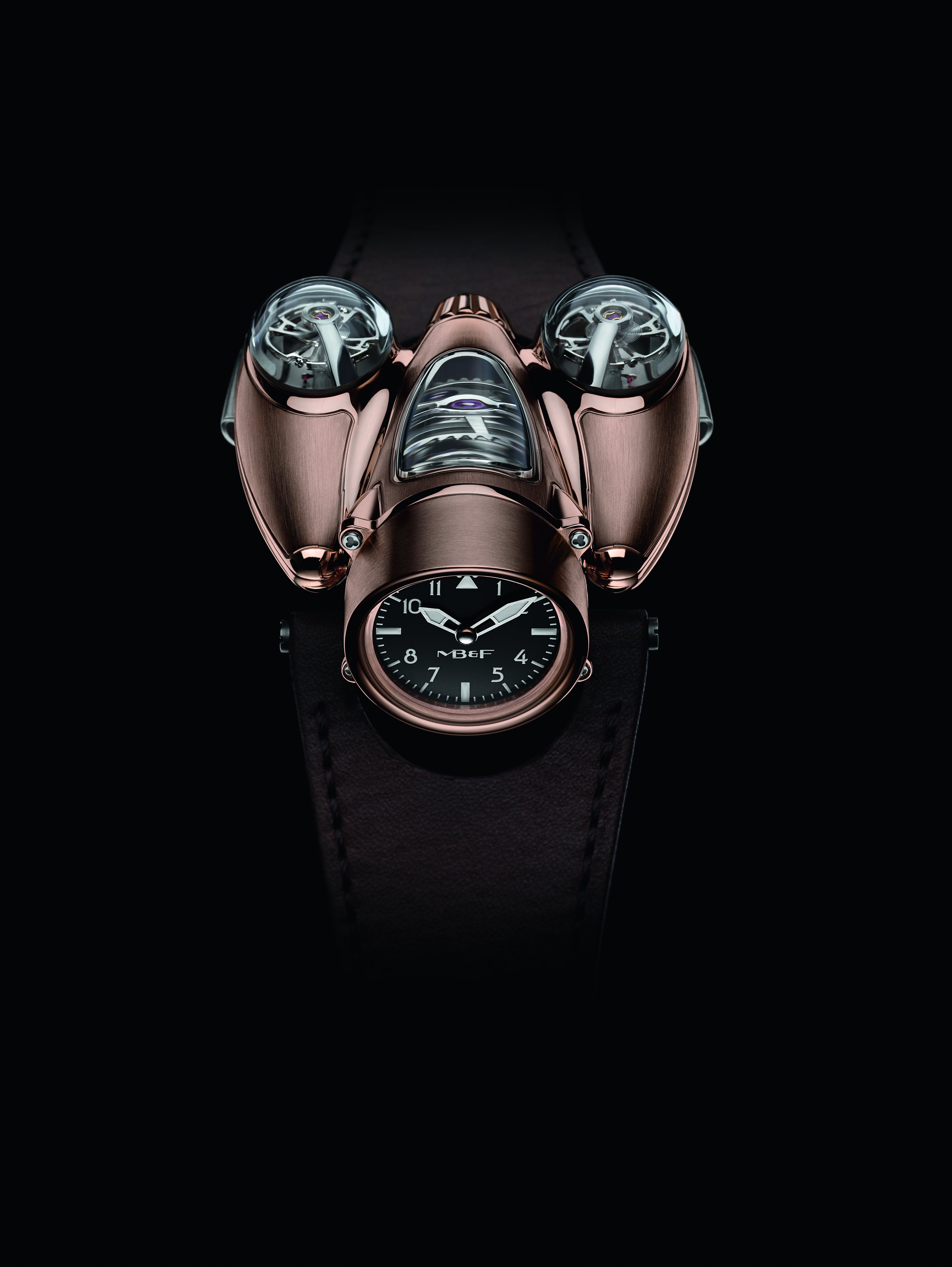 Reminiscent of a jet engine, a highly complex case in alternating polished and satin finishes encloses an equally complex manual winding movement, developed fully in house. Independent twin balance wheels beat at a leisurely 2.5Hz (18,000bph) on each flank of Horological Machine N°9, visible under elongated domes of sapphire crystal. A third pane of sapphire crystal on the central body reveals the gearbox of the HM9 engine: a planetary differential that averages the output of both balance wheels to provide one stable reading of the time.
Sitting perpendicular to the rest of the HM9 engine is the dial indicating hours and minutes, driven by conical gears that ensure precise engagement even when motion is put through a 90° planar translation. The winding and setting crown is located on the rear of the central body, its deep fluting providing ergonomic grip as well as aesthetic coherence with the overall design.
Two satin-finished air scoops are mounted alongside the pods containing the oscillating balance wheels, evoking the raised vents that allow continuous airflow to high-performance motor engines.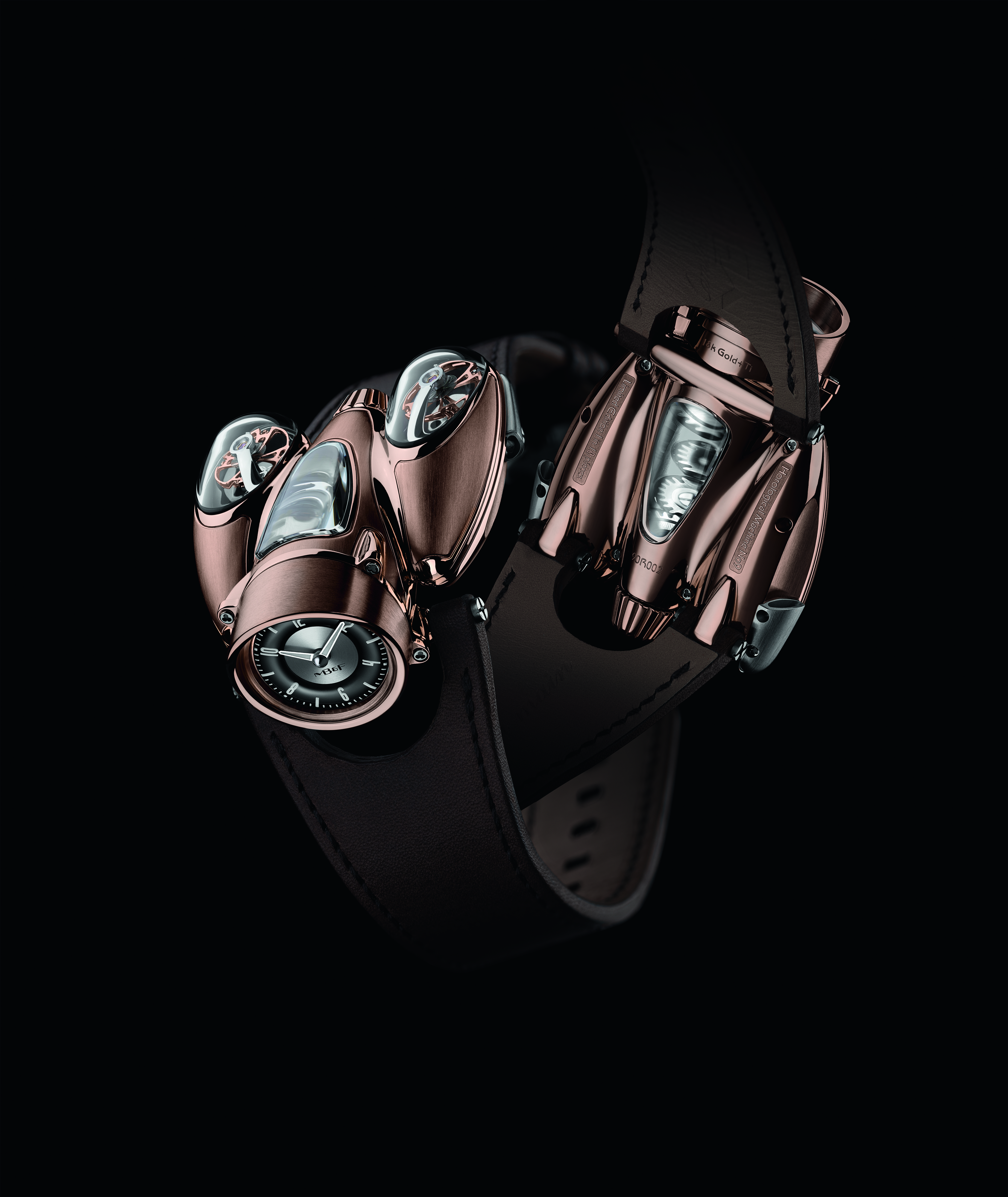 HM9 Flow treads the path first opened by the HM4 Thunderbolt and subsequently by the HM6 Space Pirate, utilising a geometrically complex combination of milled case elements in both sapphire crystal and metal (grade 5 titanium and 18k red gold). However, HM9 goes beyond its predecessors, redefining what was thought to be possible in case design – illustrated for example by a patented three-dimensional gasket ensuring water resistance.
Quite naturally, HM9 Flow was therefore declined in two versions, drawing their inspiration from the two main sources: A "Road" version with a speedometer-style dial; an "Air" version with an aviator-style dial.
The Horological Machine N°9'Flow' was launched in 2018 in two limited titanium editions of 33 pieces each: the "Air" version with darkened movement; the "Road" version with pink gold treated movement.
In 2019, MB&F presents two new limited editions in 5N+ red gold with 18 pieces each: the "Air" version with blackened movement and rhodium-plated balance wheels; the "Road" version with rhodium-plated movement and red gold balance wheels.