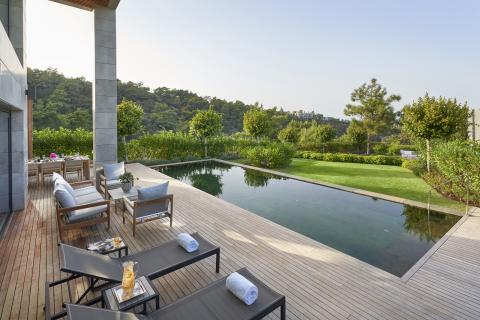 Winner of Best Spa Resort in Turkey at the 2018 Haute Grandeur Global Hotel Awards, The Spa at Mandarin Oriental, uses nature's bounty to create inspired, signature treatments.
Steered by the hotel group's Asian heritage and influenced by its lush, verdant surroundings, The Spa at Mandarin Oriental, Bodrum offers the region's most extensive wellness and beauty treatments in a luxurious setting.
Guests from the GCC who are looking for a luxurious break with pampering high on agenda, are invited to embark on a holistic journey that transforms the body, mind and soul.
Therapies featured on the extensive spa menu range from Mandarin Oriental's award-winning signature treatments to one-of-a-kind local therapies and centuries-old hammam experiences. Olive oil, sage and lavender from the resort's own gardens, along with an array of other natural ingredients, are incorporated into its rejuvenating treatments – to remarkable effect.
Surrounded by the Aegean Sea, enjoy the Spa's aroma-infused therapies, with treatments tailor-made according to your needs. The Mediterranean Journey will afford guests a true taste of the essence of Bodrum. A deliciously indulgent treatment, it starts with a finely-ground olive seed body scrub in order to prepare your body for a hydrating body envelopment of local pine-flower and honey. During this time you will experience a head or foot massage with nourishing pressed almond oil, followed by a blissful foam massage with heady aromatherapy oils, for a wonderfully relaxing and de-stressing treatment.
The Spa also invites guests to try the age-old Turkish bath tradition at its sleek hammam, for an authentic treatment that is both relaxing and detoxifying. A wellbeing ritual that has been around since the Ottoman days, the hammam treatments are designed in three different time options so guests can choose according to their needs.
Having re-opened for the 2019 holiday season on 1 April, the five-star property, already a choice destination for GCC travellers, is upping the hospitality ante further with new accommodation offers, fresh menus and a host of tempting treats. Its restorative spa is not to be missed.
Categories