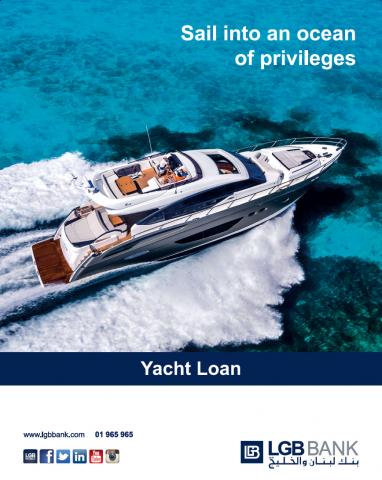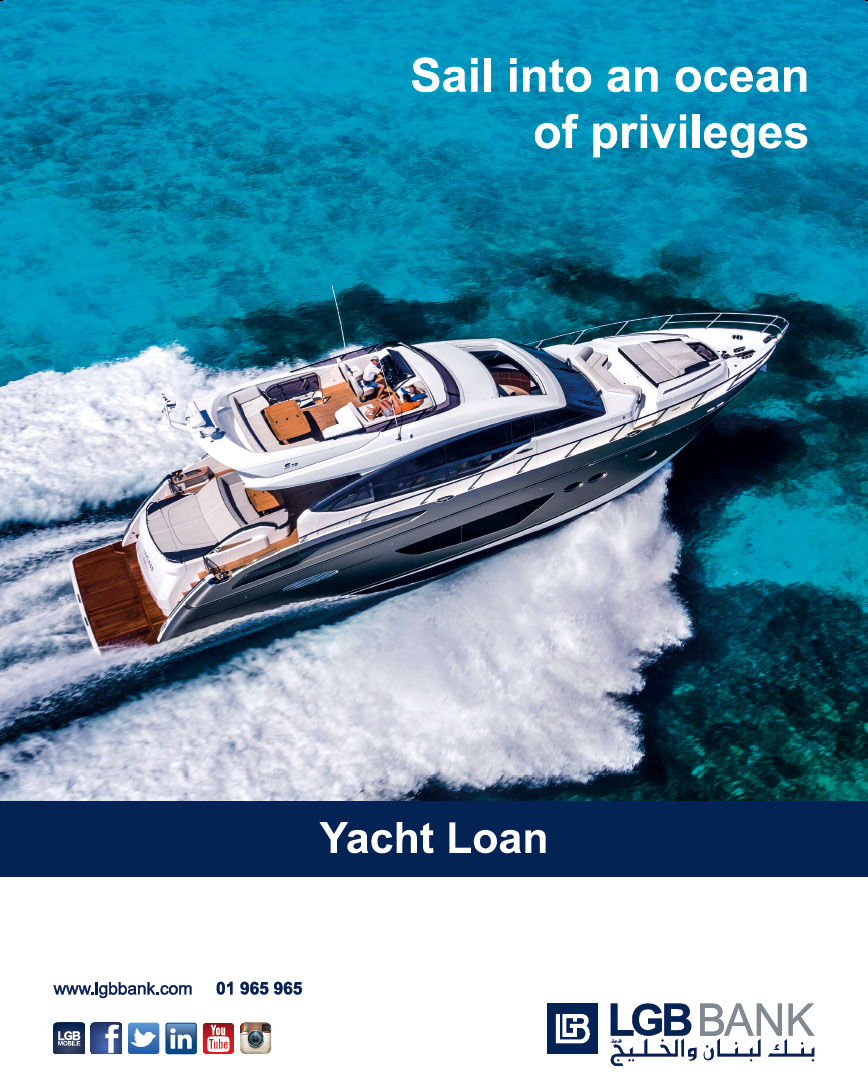 In recognition to its customers and in line with a series of unique services, LGB BANK s.a.l launched the Yacht Loan that could reach up to US $ 1,500,000 with a loan period of up to 5 years, thus financing of up to 70% of the boat value. As for the Yacht Card, it offers a new and unique experience.
Yacht Loan and Yacht Card beneficiaries can enjoy a wide range of water sports benefits. Moreover, the cardholder can benefit from the Loyalty Program rewards, by earning 1.5 miles or 1 point for every dollar spent on the card.  In addition to numerous advantages such as airport lounge access to more than 500 airport lounges in more than 300 cities around the world with no previous registration needed, the cardholder can get the chance to visit more than 55 destinations on most of the international airlines, and can also redeem his accumulated points with Cash Back or many gifts. With the Yacht Card, he can also benefit from protection services encompassing travel and medical insurance, multi-trip travel insurance, free proof of travel insurance letter, fraud protection services, MasterCard offers and shipping discounts.
The Vice Chairman CEO of LGB BANK s.a.l, Mr. Samer Itani, commented: "We are honored to contribute in achieving the wishes of our customers to live in the world of luxury thanks to the Yacht Card and Yacht Loan".
Following its recent pioneering achievements among the Lebanese Banking Group "Alpha" on the audited financial results, where the bank was ranked first in the asset growth rate of 12.44%, ranked second in the deposit growth of 10.9%, ranked third in the growth of private capital that increased by 17.10%, ranked fourth in the growth of loans that increased by 8.43%, fifth place in the net profit growth rate of 13.14%, and received the MEFTECH award for the best retail bank of the year, LGB BANK s.a.l. seeks to acquire various awards that showcases its successes through its innovative and modern financial products offered in its 18 branches in Lebanon, a branch in Cyprus, and a representative office in Dubai, and through its highly secured and safe online banking services on mobile and web, in addition to a range of social media channels. Moreover, the bank customer's benefit from an unprecedented services such as advanced loyalty program and night banking services, in addition to quality products such as foreign currency cards in UAE Dirhams, Turkish Lira, Saudi Riyal and Sterling Pound, as well as elite cards such as Black Card, Porsche Club Card. In recognition of the efforts exerted by LGB BANK s.a.l. to establish a distinct position among the biggest Lebanese banks, the World Arab Bankers granted the bank the Banking Executive Award 2016 for the best bank card in the Arab world.
Categories