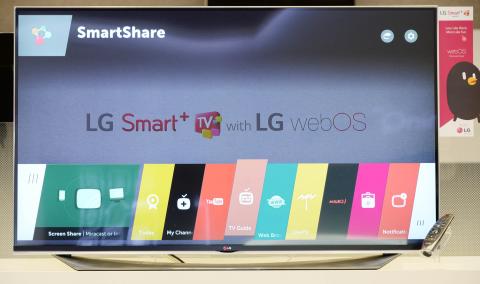 With Over 5 Million web OS TVs in Family Living Rooms,
web OS 2.0OffersEven More Simplicity and Expanded 4K Content
BEIRUT,Dec. 30, 2014
―At the 2015 International CES
®
from Jan. 6-9 in Las Vegas,LG Electronics (LG) will be unveiling an impressive TV lineup featuring the company's newest web OS 2.0 Smart TV platform.LG's web OS 2.0 is specifically designed to enhance the key features found in the current generation of Smart TVs, resulting in an outstanding user experience unmatched by any competing system. What's more, LG is working with content providers such as Amazon and Net flix to ensure that LG TV owners are guaranteed a wide range of viewing options in brilliant 4K resolution.   Initially designed to "Make TV Simple Again",web OS TV was originally developed to address the growing frustration with overly complex smart TVs. With a focus on three overarching features ―
Simple Connection
,
Simple Switching
and
Simple Discovery
―web OS made navigating today's state-of-the-art TV systems easier than ever. Consumers embraced LG's efforts with web OS Smart TV stopping 1 million mark in unit sales in the first two months after its introduction earlier this year and recording more than 5 million unit sales within eight months.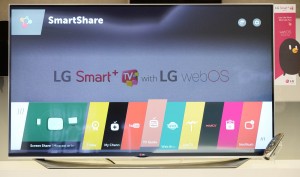 LG's web OS 2.0 takes simplicity and convenience to a whole new leveleven while managing more content options than ever before. web OS 2.0 offers a long list of improvements and impressive features. Boot time has been reduced by up to60 percent and accessing content has been made significantly smoother and faster.When switching from the Smart TV Home Screen to YouTube, for example, users will see an improvement in loading time of up to 70 percent.   Also new to web OS 2.0 is My Channels, which allows users to customize their favorite live TV channels or set-top box channels on the Launcher Bar for greater convenience. Quick Settings lets viewers adjust their TV without interrupting the program they're watching and Input Picker allows connected devicesto be recognized instantly for immediate use.   Through partnerships with major content providers, web OS TV owners can access a huge selection of Ultra HD content via services such as Amazon and Netflix.LG we bOS-enabled Smart TV shave access to4K resolution content on Netflix, including highly-rated programs such as
House of Cards
and
Marco Polo
in 2015.Ultra HD content on Amazon includes movies such as
After Earth
,
Elysium
,
The Amazing Spider Man 2
and
The Da Vinci Code
.   "With the newest features introduced in web OS 2.0, the overall user experience has become even simpler, easier and more intuitive,"said In-kyu Lee, senior vice president and head of the TV and monitor division at the LG Electronics Home Entertainment Company. "The web OS platform is a great example of our commitment to taking a leadership role in the next generation TV market with a truly innovative Smart TV solution."   Visitors to LG's CES booth at the Las Vegas Convention Center (Central Hall #8204) will be able to experience the full range of new web OS 2.0 TV products.
Categories