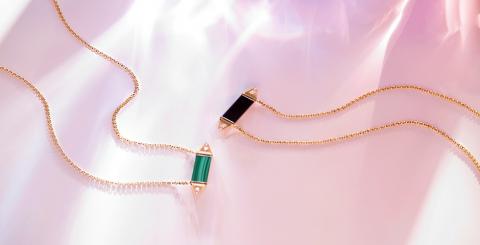 CLASHING COLOURS, GEOMETRY OF STYLE AND CONSTANT ENERGY.
A rectangle of precious stone framed by two studs: the carefully-constructed design of Berlingots jewellery is perfectly in line with the Maison's stylistic vocabulary. A geometric vision of jewellery In which colour creates a new, joyful and irresistible spectrum.
RADIANT, TRANSPARENT, MATTE.
With Les Berlingots, Cartier creates contrasting sensations by using intense and unique materials, like diamonds, onyx, rose, blue and malachite chalcedony, garnet, snakewood…
CARTIER'S COLOURFUL REPERTOIRE EXPANDS TO INCLUDE NEW COMBINATIONS.
In keeping with Cartier's great jewellery making tradition, these unprecedented combinations cultivate striking contrasts and monochromatic designs.
A REINVENTED, L IVELY AND ZESTY PALETTE FOR A COLLECTION MADE UP OF PENDANTS, NECKLACES AND RINGS.
JEWELLERY WITH A STRONG POWER OF ATTRACTION.
THE COLLECTION
Les Berlingots de Cartier medium model ring
Pink gold, pink chalcedony, garnet
Les Berlingots de Cartier medium model ring
Yellow gold, malachite, diamonds
Les Berlingots de Cartier medium model ring
White gold, blue chalcedony, diamonds
Les Berlingots de Cartier medium model ring
Yellow gold, onyx, diamonds
Les Berlingots de Cartier medium model necklace
Pink gold, pink chalcedony, garnet
Les Berlingots de Cartier medium model necklace
Yellow gold, malachite, diamonds
Les Berlingots de Cartier medium model necklace
White gold, blue chalcedony, diamonds
Les Berlingots de Cartier medium model necklace
Yellow gold, onyx, diamonds
Les Berlingots de Cartier large model necklace
Yellow gold, snakewood
Les Berlingots de Cartier large model necklace
White gold, onyx, diamonds