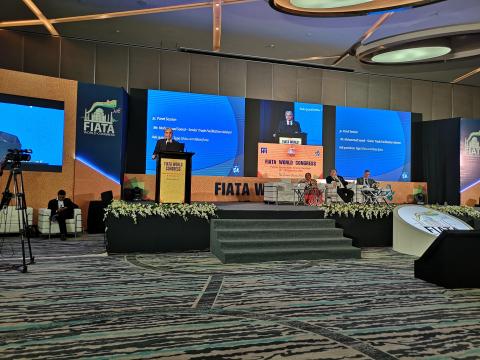 The Lebanese Forwarders Syndicate (LFS) has won the trust of the international community to host the FIATA RAME conference (International Federation of Freight Forwarders Associations in the Region of Africa and Middle East), in Beirut for the first time, after a thorough voting process held during the International Conference of FIATA in India in October, 2018.
The conference will be held under the patronage of His Excellency Mr. Saad Hariri, in collaboration with the Ministry of Public Works and Transport and the chamber of commerce industry and agriculture in Beirut and Mount Lebanon and with the support of the Port of Beirut and the Beirut Container Terminal Consortium and the private sector. The conference will be entitled "Towards 2025: emerging trends and initiatives vitalizing the freight & logistics sector in the MENA region" and will be held from June 24 till 26, 2019 at Phoenicia Hotel, Beirut.
Through this conference, the LFS will host governmental, diplomatic and political personalities, as well as freight forwarding and logistics companies from the whole Middle Eastern and African region.
RAME 2019 will be hosting international and local speakers to discuss and debate the logistics and freight forwarding business, the digitalization and future of smart shipping which Lebanon aims to achieve. RAME Beirut 2019 will be the perfect meeting point and an inestimable opportunity to exchange knowledge and promote alliances between The Middle East and Africa.
In this context, the President of LFS Mr. Amer Al-Kaissi says, "Believing in the power to surpass all impasses and challenges, the LFS grants the success of hosting this regional conference, to Lebanon in general and to the freight and logistics sector in particular. RAME 2019 is a humble step towards relocating Lebanon on the international map and recognizing its role as an important gateway in the region." He added, "From my position and through this conference together with a number of initiatives we are aiming to achieve at the Syndicate, to develop the sector". "skills development, the exchange of knowledge and experiences, networking, partnerships, encouraging creativity, activating efficiency and attracting investments, are just some of our core strategic practices moving forward as a syndicate.
Highlighting the importance of the freight and logistics sector as a key contributor to the economic and social development in Lebanon, the LFS strives to work on a high level of professionalism, stimulating partnership between public and private sectors and the various partners working towards the success of the conference, with the aim of developing this vital sector in Lebanon.
Categories