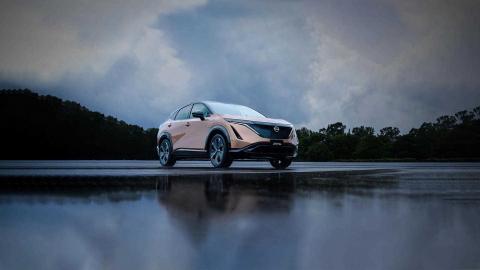 The 100 per cent electric Nissan Ariya, the brand's most technologically advanced car to date, will enjoy its regional debut during Expo.
The all-new Nissan Ariya, a 100 per cent electric crossover SUV, will make its Middle East bow at Expo 2020 Dubai, offering millions of visitors a glimpse into how the Japanese carmaker plans to drive the future of mobility.
The Ariya represents Nissan's most technologically advanced car to date, and will be central to the offering from Expo 2020's Official Automotive Partner at the first World Expo in the Arab world.
Boasting Nissan's envelope-pushing new design theme, dubbed 'Timeless Japanese Futurism' – which provides the electric vehicle (EV) with a sleek exterior and a spacious, lounge-like interior – the Ariya features autonomous driving technology and an all-electric drivetrain.
The EV's raft of exciting features also includes a human-machine interface that allows natural speech to adjust car settings; concierge-level on- and off-board assistance; and a number of active safety and assistance features.
The Ariya heralds the beginning of the Nissan NEXT transformation journey, a forward-looking plan building on the brand's reputation for innovation, craftsmanship, customer focus and quality.
Throughout the six months of Expo 2020, Nissan will showcase the future of mobility, drawing on expertise in sustainable transportation and smart-city solutions to raise awareness about how our choices affect the environment and the importance of collective action to tackle the greatest challenges facing our planet today.
As part of its Expo partnership, Nissan will also supply the event's vehicle fleet, comprising more than 600 cars from across its product line.
Expo 2020 Dubai – which runs from 1 October 2021 to 31 March 2022 – will coincide with the UAE's Golden Jubilee, and will act as a platform for global collaboration. It will bring together some of the world's brightest minds to celebrate advancements in innovation, mobility and connectivity, while working towards making a lasting positive impact on the world.
Source: www.expo2020dubai.com