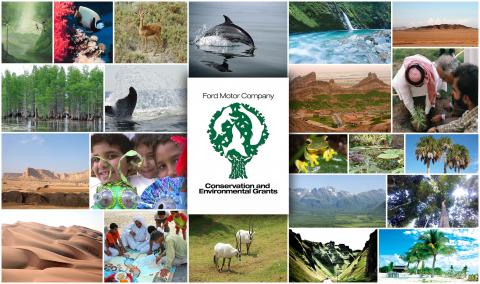 Final Deadline to submit applications is on 14 September, 2014
Accepting applications from Saudi Arabia, UAE, Qatar, Kuwait, Oman, Bahrain, Lebanon, Jordan, Iraq and Yemen for the first time
USD100,000 available to deserving projects
DUBAI, UAE, September 10, 2014 – Individuals, community groups and NGO's with on-going environmental projects who need extra funding to expand the scope of their initiative have until September 14, 2014 to submit their request for funding from the Ford Motor Company Conservation and Environmental Grants.
One of the largest corporate initiatives of its kind in the region, the Ford Grants edition for this year has made a total of USD100,000 available in grants to help fund existing environmental and conservation projects in the Middle East region. This year, the programme is also extended to Yemen in addition to the GCC, Lebanon, Jordan and Iraq.
"We are receiving great feedback and applications from the entire region including Yemen where we just launched the programme," said Kalyana Sivagnanam, director of Ford Middle East & North Africa." We are looking forward to contributing to the success of this year's recipients as they get selected by the independent jury panel in October. As we near the 15 anniversary milestone next year, we couldn't be prouder of the Ford Grants initiative in this region and of all the projects it has helped go further."
Over USD1 million has been granted to more than 150 projects since the initiative first started in 2000 and Ford's green initiative has helped support projects to study and conserve the region's rich biodiversity, support recycling schemes and green building initiatives, as well as raise conservation and sustainability awareness. In terms of monetary contributions, the Ford Grants have had a significant impact in Lebanon, where a total of 37 projects received grants worth US$322,500 to date. In the Gulf, green projects from Saudi Arabia received the largest amount of support with a total of US$193,000 given to organisations in the Kingdom since 2000. Environmental projects in Oman received nearly US$160,000 in funding, while UAE-based projects were given US$149,500.
Individuals, community and non-profit groups that have projects currently running in the areas of preservation of the natural environment, environmental education or conservation engineering can apply via the online form (http://fordmegrants.com/en) until September 14, 2014, for a chance to share the total grants of USD100,000. Eligible countries include: Saudi Arabia, United Arab Emirates, Qatar, Kuwait, Oman, Bahrain, Lebanon, Jordan, Iraq and Yemen. The Ford Motor Company Conservation & Environmental Grants has seen support from various governmental and non-governmental environmental authorities from around the Middle East, including the World Wide Fund for Nature, the Emirates Wildlife Society, the Arab Forum for Environment & Development (AFED) and UNESCO Doha.
Winners are chosen by an independent panel of jurors consisting of academics, as well as experts from environmental organisations. The judges – who are carefully selected in association with UNESCO Doha, based on geographical coverage, age and gender equality – look for initiatives that demonstrate a well-defined sense of purpose, a commitment to maximizing available resources, and a reputation for meeting objectives and delivering planned programmes and services.
For more information about the Ford Motor Company Conservation & Environmental Grants, please visit http://me.ford.com or write to fmegrant@ford.com.
About Ford Motor Company
Ford Motor Company, a global automotive industry leader based in Dearborn, Mich., manufactures or distributes automobiles across six continents. With about 186,000 employees and 65 plants worldwide, the company's automotive brands include Ford and Lincoln. The company provides financial services through Ford Motor Credit Company. For more information about Ford and its products worldwide please visit www.corporate.ford.com.
Ford's history in the Middle East goes back more than 60 years. The company's local importer-dealers operate more than 155 facilities in the region and directly employ more than 7,000 people, the majority of whom are Arab Nationals. For more information on Ford Middle East, please visit www.me.ford.com
Ford Middle East is also a responsible corporate citizen with currently three CSR initiatives running in the region including the Ford Motor Company Conservation & Environmental Grants, Ford Warriors in Pink® breast cancer awareness campaign and Ford Driving Skills for Life safe driving awareness programme for young drivers and teens.
The Ford Grants is a grass-root level initiative that has offered US$1.4million in grants to more than 150 Middle Eastern environmental projects since 2000. Ford Warriors in Pink® is a breast cancer community-based awareness initiative recognising the strength and courage it takes to deal with the everyday challenges of battling breast cancer throughout the year.  Ford Driving Skills for Life is a free programme designed to impart safe driving practices to students to help improve their road safety record.
Categories