Partnership Aims to Inspire MENA Talent in Regional Jaguar XE Competition
Beirut, November 11, 2014: Bernard Khoury, award winning architect, curator, and visiting lecturer at prestigious academic institutions around the world, has been named the fourth and final judge for the Jaguar MENA Design XE Competition.

Khoury is co-founder of the Arab Centre for Architecture and a visiting lecturer at the Ecole Polytechnique Federale de Lausanne, the L'Ecole Speciale d'Architecture in Paris and the American University of Beirut.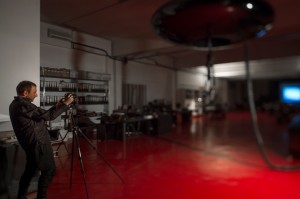 Khoury has exhibited his work in prestigious institutions in Europe and the U.S.A including a solo show of his work given by the International Forum for Contemporary Architecture at the Aedes gallery in Berlin (2003), numerous group shows including YOUprison at the Fondazione Sandretto in Torino (2008), and SPACE at the opening show of the MAXXI museum in Rome (2010).  He is also currently the co-curator and architect for the Kingdom of Bahrain's national pavilion at the 2014 Venice Biennale's International Architecture Exhibition.
Design XE is a unique competition created to challenge university students to unleash their creativity by designing their own piece of art inspired by the stunning new Jaguar XE. Redefining the mid-size sports saloon, the new Jaguar XE is a true driver's car that brings levels of innovation never before seen in the segment. Built exclusively in the UK, the Jaguar XE combines thrilling performance, class-leading design, intelligent technology features and Jaguar's all-new aluminium architecture.
Julian Thomson, Advanced Global Design Director for Jaguar said of the partnership: "We are privileged to have Bernard Khoury among our judging panel. Bernard has an outstanding international reputation and his extensive academic experience will contribute greatly to our understanding and evaluation of design talent across the MENA region."
The Design XE competition was launched in September 2014 and challenges university students in the MENA region to unleash their creativity by designing their own piece of art inspired by the new Jaguar XE.
In January 2015, Bernard Khoury will be joined by Julian Thomson, Advanced Global Design Director for Jaguar, Bruce Robertson, Managing Director for Jaguar Land Rover MENA, and Harald Wittig, Creative Director of Spark44 - Jaguar's creative agency – to select one winner from each of the five participating markets (UAE, Kuwait, Saudi Arabia, Lebanon and Morocco). The top five creators will win an all-expenses paid trip to the UK to visit the renowned Jaguar factory and the Jaguar design studio, as well as a two day Jaguar XE drive experience.
Entries for the MENA Design XE Competition are now open to all students above the age of 18 studying courses in art, fashion, textiles, architecture and design in the five selected markets, at www.JaguarDesignXE.com.
To enter Jaguar's Design XE competition please visit: www.JaguarDesignXE.com. Entries must be submitted before 31st December 2014.
For further information log onto newsroom.jaguarlandrover.com, www.jaguarmena.com Visit the Jaguar social channels:
Jaguar MENA  https://www.facebook.com/JaguarMENA
  https://twitter.com/JaguarMENA
  http://www.youtube.com/JaguarMENA
  http://instagram.com/JaguarMENA
   http://www.flickr.com/photos/JaguarCarsMENA/
Hashtag: #JaguarMENA
Categories