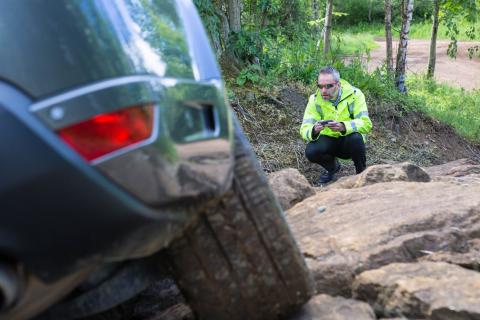 JAGUAR LAND ROVER SHOWCASE A REMOTE CONTROL RANGE ROVER SPORT, CONTROLLED BY THE DRIVER ON A SMARTPHONE OUTSIDE THE VEHICLE
• Jaguar Land Rover researchers developing new sensing technologies that will work in all weathers and in all environments – so any future autonomous car can go anywhere • Autonomous driving prototypes revealed include the 'Multi-Point Turn' Range Rover Sport, which will perform an autonomous 180-degree turn in the road • Jaguar Land Rover's vision is to create driver-focussed autonomous technologies to enhance the driving experience
22 July 2015, Dubai: Jaguar Land Rover has revealed some of the prototype technologies that its UK-based research team are developing to deliver autonomous driving in the future.
A Remote Control Range Rover Sport research vehicle demonstrates how a driver could drive the vehicle from outside the car via their smartphone. The smartphone app includes control of steering, accelerator and brakes as well as changing from high and low range. This would allow the driver to walk alongside the car, at a maximum speed of 4mph, to manoeuvre their car out of challenging situations safely, or even to negotiate difficult off-road terrain.
The driver could use the smartphone to reverse the car out of a parking space if someone has parked too close for them to open the door, or allow the driver to become their own off-road spotter, to guide the car over off-road obstacles from outside the vehicle.
By walking alongside the car, the driver could continually check ramp, approach and departure angles and allow precise positioning of the vehicle when rock crawling. It could also be an invaluable aid when the vehicle is fording a stream or traversing sections made slippery by mud or snow. The remote control function will only operate if the user is within 10 metres of the car and if the smart key can be detected. The system will stop the vehicle if the driver moves out of range or gets too close.
Future possibilities for this technology could include more autonomous functionality where the driver gives a simple command from the handset to traverse an obstacle or exit a parking space, and the car does the rest.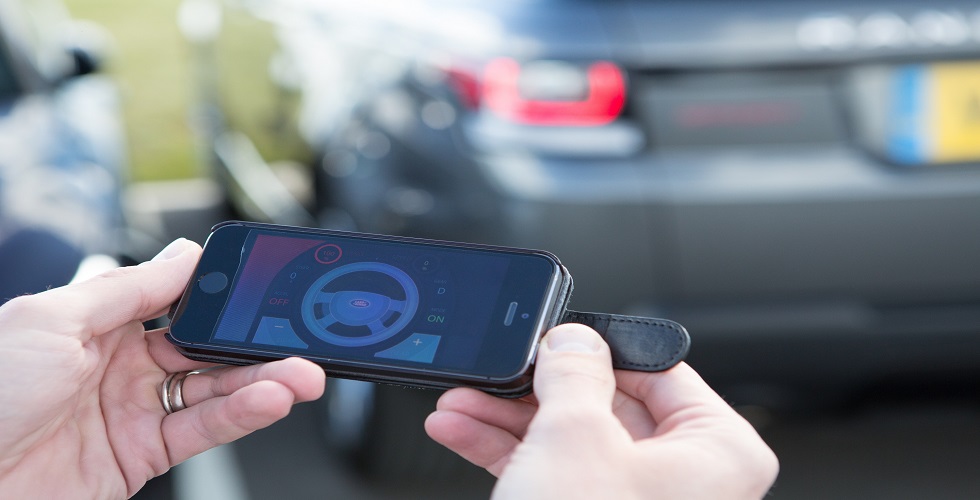 MULTI-POINT TURN CAR
Jaguar Land Rover's 'Multi-Point Turn' Range Rover Sport is capable of autonomously manoeuvring through 180 degrees to turn the car in the road and point the car in the opposite direction. This autonomous vehicle could extricate itself from the most difficult situations, such as a dead-end roads or congested car parks, as well as performing many drivers' least favourite manoeuvre – the three-point turn in a busy street or car park.
The system uses sensors to assess available space and to avoid pedestrians, vehicles and other objects. The system takes over gear selection, steering, braking and acceleration to make as many forward and backwards movements as necessary to achieve the manoeuvre.
The research team is working on a system to scan the environment around the car and inform the driver whether it is safe to perform the turning manoeuvre. The driver then confirms the manoeuvre and the car would move forward until its path is blocked. It then selects reverse and uses the steering, throttle and brakes to do the same again. It repeats this as many times as required until it is facing in the opposite direction.
Dr Wolfgang Epple, Director of Research and Technology, Jaguar Land Rover, said: "Getting a car out of a tricky parking manoeuvre can be a stressful experience for any driver. A Remote Control car, or a vehicle that can autonomously turn in the road, demonstrates how we could use these new technologies to reduce the tedious parts of driving and improve road safety.
"Research into technologies like these won't only help us deliver an autonomous car. They will help make real driving safer and more enjoyable. The same sensors and systems that will help an autonomous car make the right decisions, will assist the driver and enhance the experience to help prevent accidents. Autonomous car technologies will not take away the fun of driving."
Jaguar Land Rover's vision is to offer a choice of an engaged or autonomous drive. This means the car will be able to drive itself if the driver chooses, or offer systems that can be adjusted for a more engaging and involved drive.
"Because our customers drive in all terrains and in all weathers, any future autonomous Jaguar or Land Rover must be as capable on rough tracks and unpaved roads as it would be on city streets," added Dr Epple.
"We know our customers drive in heavy rain, and snow, and bright desert sunshine every day. We are working on an array of new sensors that would enable a car to operate in any environment, without any outside intervention or input from lane markings or roadside infrastructure like traffic lights. Our research engineers have a nickname for a car with this level of capability: the 'Solo Car'."
'SOLO CAR' ENHANCED SENSING
Jaguar Land Rover has an advanced research programme underway to enhance the car's sensing capability. This project is developing a range of sophisticated sensors to make autonomous cars viable in a range of driving environments and weather conditions.
Creating a car capable of functioning autonomously in all situations requires a fusion of sensors with different attributes including radar, LIDAR, cameras, ultrasonics and structured light technology. Each of these is needed to enable an autonomous car to function in the real world and to ensure the car can make safe and accurate decisions anywhere.
Categories