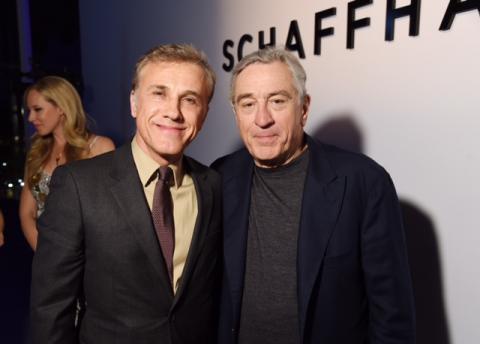 At the Tribeca Film Festival®  in New York, IWC Schaffhausen toasted the art of filmmaking and  showcased their  support for emerging artists at the  third  annual "For the  Love of Cinema" gala  dinner. IWC CEO Georges Kern  cohosted the  evening with  Tribeca Film Festival® founders Jane Rosenthal, Robert De Niro, and  Craig Hatkoff.  The luxury watch manufacturer delighted the  250 notable guests with the  presentation of the  IWC Filmmaker Award,  which  went  to this  year's honoree, Deb Shoval. IWC brand ambassador Christoph Waltz and  the  host, comedian Joel McHale, entertained the   star-studded  crowd before an  exclusive performance  by  famous singer Sarah McLachlan closed the  evening's event.
The picturesque "For the Love of Cinema" dinner was held at the popular Tribeca venue Spring Studios, where guests were greeted by the comedic relief of McHale's perform- ance. IWC CEO Georges Kern welcomed esteemed IWC brand ambassador Christoph Waltz, Tribeca Film Festival judges Gloria Steinem, Christine Lahti, Rachael Harris, and Michael Rapaport, and Tribeca Film Festival cofounders Jane Rosenthal, Robert De Niro, and Craig Hatkoff to the "For the Love of Cinema" dinner. The hilarious McHale started off the night with laughs from the crowd when he said "I'm honored to be hosting an event that brings to- gether New York City's cultural elite. Whether you're a lover of fine cinema,  an aficionado of luxury timepieces, or just a weirdo who likes to watch others eat appetizers – we have something for everyone tonight." His repertoire enter- tained the star-studded room as the evening continued. Aside from McHale's humorous number, a true highlight of the celebratory evening was the presentation of the IWC Filmmaker Award to Deb Shoval. Her film project "AWOL" left a profound impression on jury members Georges Kern, CEO of IWC Schaffhausen, Ryan Harrington, Vice President of Artist Programs at Tribeca Film Institute, Paula Weinstein, Executive Vice President of the Tribeca Film Festival, and last year's award winner, Jay Dockendorf. It tells the story of Joey, 18, who falls in love with Rayna, 27, a married mother  of two. Threatened by Rayna's  husband and  fired from her job at the local dairy, Joey must make some choices about her future in a postindustrial area with little to offer, and she reluctantly joins the Army. Days before deployment to Afghanistan and still wildly in love, Joey re- turns home to rural Pennsylvania and plans to go AWOL with Rayna and her kids. "AWOL was the standout film from this year's selection; Deb Shoval is very forward think- ing with the use of story and education and has clearly left her mark on this film," said  Georges Kern, explaining the jury's choice.
The Swiss luxury watch manufacturer founded its IWC Filmmaker Award several years ago to support emerging filmmakers on their path of innovation and creation. IWC presents the award  as  part  of its commitment to the film festivals of Beijing, Zurich, London, and Dubai, and now for the third time in its role as Official 'Festival-Time'  Partner of the Tribeca Film Festival in New York City. The nonprofit affiliate Tribeca  Film Institute,  which supports both  new and  established filmmakers with grants  and  professional development, invited filmmakers to submit their scripts  for the IWC Filmmaker Award in advance. Those whose in- novative artistic approach impressed the jury made it to the short list. Jay Dockendorf, who won last year's IWC Filmmaker Award for his documentary "Naz and Maalik," had this to say: "Winning the IWC Filmmaker Award has helped  me continue  to create  new films and  allowed me to spend more  time developing  'Naz and  Maalik.' It is a privilege to have the ability to create new content without having to limit myself, as a result of this generous award."
A  V A L U A B L E  CO N T R I B U T I O N T O  T H E  F U T U R E  O F  F I L M
IWC CEO Georges Kern presented this year's award winner Deb Shoval with the $25,000 film grant as well as a  Portofino  Hand-Wound Eight Days  Edition "TRIBECA FILM FESTIVAL 2015" (Ref. IW510111). IWC created this special timepiece – limited to just 100 watches – in honor of its partnership with the Tribeca Film Festival. Apart from this,  the  brand  auctioned off the  Portofino  Monopusher Edition "TRIBECA  FILM FESTIVAL 2015" Unique Piece (Ref. IW515105) in 18-carat white gold at an online-only auction through Christie's, the world's leading art business, that garnered $50,000, with the entire proceeds support- ing Tribeca Film Institute. "IWC's generous contribution has allowed us to continue  to support the filmmaking industry and these new artists," said Ryan Harrington, Vice Presi- dent of Artist Programs at Tribeca Film Institute. "We are touched by their attention to the arts and are honored to continue our partnership." "Filmmakers tell us stories, bring history and current events to life, and provide us with a better understanding of the world around us," added IWC CEO Georges Kern. "Our goal is to encourage this passion by giving emerging artists with exciting ideas the chance to realize their projects and make them accessible to the world. Technology and creativ- ity play as important  a role in filmmaking as they do in the design and manufacturing of watches. It is this balance of both art and imagination along with technique and atten- tion to detail that allows us to create masterpieces, whether it's on screen or in the fine watchmaking industry." After the presentation of the IWC Filmmaker Award came the second highlight of the evening: a private performance by well-known singer Sarah McLachlan, whose musical talents were enjoyed by the star-studded crowd.
I W C  S C HAF F HA U S E N
With a clear focus on technology and development, the Swiss watch manufacturer IWC Schaffhausen has been producing timepieces of lasting value since 1868. The com- pany has gained an international reputation based on a passion for innovative solutions and technical ingenuity. One of the world's leading brands in the luxury watch segment, IWC crafts masterpieces of haute horlogerie at their finest, combining supreme precision with exclusive design. As an ecologically and socially responsible company, IWC is committed to sustainable production, supports institutions around the globe in their work with children and young people, and maintains partnerships with organizations dedicated to climate and environmental protection.
Categories