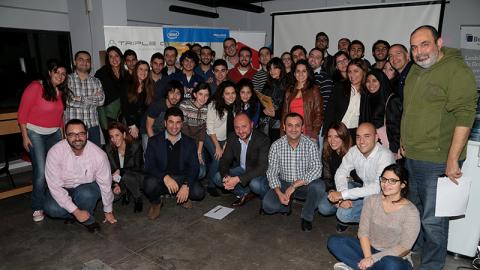 Beirut, 04 December, 2014 – Intel, in partnership with Berytech, launched the first ever Intel Youth Ideation Camp in Lebanon, at the Berytech Digital Park, BDD 1294, where over 45 students and fresh graduates, from different Lebanese universities and regions, were gathered to be part of a unique experience, in collaboration with experts from the entrepreneurial ecosystem in Lebanon.
The Intel Youth Ideation Camp is an intense two-day simulation of the entrepreneur's journey - all the way from problem identification to business pitch. Throughout the development of the ideas, professionals in different fields provided the participants with mentorship while working on their ideas in addition to exposing Intel latest technologies backing up their work.
Two winning teams were announced at the end of the second day of the program:
Team "Stack Over Flow" presenting a pioneer application for time management
Team "Vison-Era" showcasing the concept of a disposable battery for mobile phones.
"Our corporate social responsibility programs are under our Intel Innovation Initiative for Middle East which is aiming to enable knowledge based economy in the region thru education, entrepreneurship, and science and technology" explained Ferruh Gurtas, Corporate Affairs Director for META region at Intel Corporation. "The Intel Ideation Camp is a transformational hands-on training model designed to help young people experience and develop skills in the art of ideation, entrepreneurship and customer driven innovation. It aims to develop these skills among the participants by giving them an opportunity to work on real local challenges and build successful proof of concepts that creates innovative solutions to these challenges; hence creates employment opportunities and have a positive impact on society"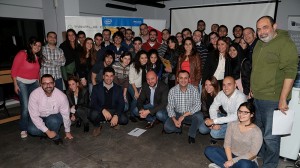 The framework is a four step approach to innovation where the participants learn how to identify and select a specific user need, do research to find and screen relevant technologies, generate and conceptualize a brilliant solution, use visual communication and prototyping to pitch the idea to the jury.
"This event is in line with Berytech strategy to inspire young talents and drive them to entrepreneurship. What made this experience unique is the enthusiasm of all the participants and partners who shared great ideas and exchanged their expertise to solve community major challenges and make Lebanon a better place. We believe in this program and aim to develop it further with Intel, to provide a complete support track for young and aspiring entrepreneurs" said Ramy Boujawdeh- Berytech Deputy General Manager
The goal of the Innovation Camp is to train the participant's creative mindset and inspire them to become great entrepreneurs. They learn how to identify problems, look at these problems as opportunities, and gain the confidence to become the innovators of tomorrow.
Following the pitching of their ideas, the participants received valuable information and support on how to continue to evolve their ideas, to connect with those who set the challenges and to bring their ideas forward into reality.
Several partners from the entrepreneurial and technology ecosystem collaborated to make this event a success bringing their passion and expertise for the support of applicants including:  Khoury Home, Triple C, Booz Allen Hamilton, Digital Opportunities Trust (DOT), National Instruments (NI), Excellence First and Beirut Digital District.
Notes to the Editor:
About Intel:
For decades, Intel Corporation has developed technology enabling the computer and Internet revolution that has changed the world. Founded in 1968 to build semiconductor memory products, Intel introduced the world's first microprocessor in 1971. Today, with more than 90,000 employees in more than 200 offices and facilities worldwide, Intel is a world leader in computing innovation. The company designs and builds the essential technologies that serve as the foundation for the world's computing devices.
Intel has a long-term commitment to the region, part of which is the "Intel Digital Transformation Initiative for the Middle East," a comprehensive, multi-year program that will expand Intel's economic, educational and technology-related support throughout the region. Under this program, Intel will increase its investment in three key areas –enhancing education, fostering innovation and promoting research – to help promote technology skills, knowledge transfer and jobs creation in the region.
Additional information about Intel is available at www.intel.com.
About Berytech
Turning innovative ideas into successful businesses requires a powerful blend of skills, environment, entrepreneurial culture and imagination. Founded in 2001 by Saint-Joseph University, and being the first in the region to receive EU accreditation as a Business Innovation Center, Berytech offers the right and adapted environment for the creation and development of innovative startups and SMEs, supporting and stimulating entrepreneurship, through incubation, business support, hosting in high-tech infrastructure and funding solutions. Berytech currently manages 3 business development centers, in addition to technology funds and a media cluster and is still growing, playing a major role in the economic revival of Lebanon, while organizing pioneering  programs, activities and initiatives for entrepreneurs.
For more information, kindly visit
www.berytech.org
Categories