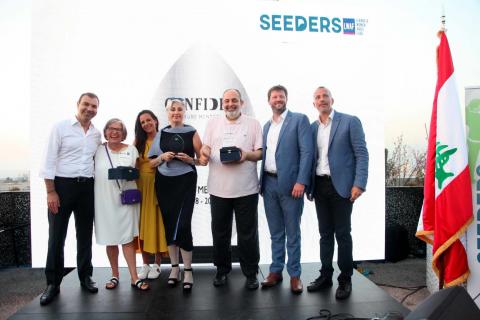 Insure & Match Capital (IM Capital), funded by the United States Agency for International Development (USAID) under the MENA Investment Initiative (MENA II), celebrated the graduation of its fourth batch of the Seeders - Lebanese Women Angel Fund (LWAF) Masterclass for Business Angels - MBA Class of 2018-2019. To-date, over 100 investors have graduated from the program, and have invested more than $1.5 million in startups. The event was held in the presence of USAID Economic Growth Office Director William M Butterfield, Minister of Investment and Technology HEM Adel Afiouni, Berytech Chairman Mr. Maroun Chammas, IM Capital General Manager Dr. Nicolas Rouhana, in addition to other officials, private sector representatives, universities, and media representatives.
Designed in partnership with Go Beyond Investing, the MBA class kicked off in September 2018, taking 33 enrolled novice business angels through a "learn & earn" methodology consisting of an education and an investment track in Micro and Small and Medium Enterprises (MSMEs). Each angel contributed $15K, which was pooled into a $495K fund, and matched by $742.5K by the iSME program by Kafalat to reach an aggregate amount of $1.2 million dollars.  50% of the capital was guaranteed by IM Capital, with 50% of funds allocated to women-led startups.
Maroun Chammas, MENA II Chief-of-Party, thanked USAID for its continuous support and stated: "I am extremely proud to witness the graduation of the new batch. This powerful group and community of business angels is growing and is becoming an important player in the Lebanese startup eco-system, filling both an equity and sector gap."
Acknowledging the importance of the program and the necessity to keep developing it, USAID Economic Growth Office Director William Butterfield addressed the graduates saying that "Today we celebrate individuals that through IM Capital are investing their own funds, and assisting entrepreneurs and local start-up firms to overcome their challenges."
HEM Afiouni stated "We praise such initiatives that contribute, not only to the development of the economy of Lebanon, but also to the mindset of individuals to stimulate the flow of capital into the ecosystem and move away from sole reliance on 331 and attract new investors including the diaspora. It should be supported and scaled."
In turn, IM Capital General Manager, Dr. Nicolas Rouhana added "The group committed $800,000 in 5 startups with a potential for follow-on rounds. A new Seeders - LWAF Class 2019-20 will launch in September 2019, onboarding new angels, following the 100+ graduates so far. Any individual who is interested in investing in Lebanese startups while becoming a certified investor and belonging to a unique diverse impactful group is encouraged to apply now."
Following the distribution of the MBA certificates, three trophies were awarded to Angel Investors and mentors who stood out in 2018-2019 within the IM Capital community: the "IM Capital Super Angel" trophy went to Mrs. Diane Fadel, the "Seeders LWAF Super Angel" trophy went to Mrs. Asmahein Zein, and the "Confideo Super Mentor" trophy went to Mr. Gabriel Deek.
Categories