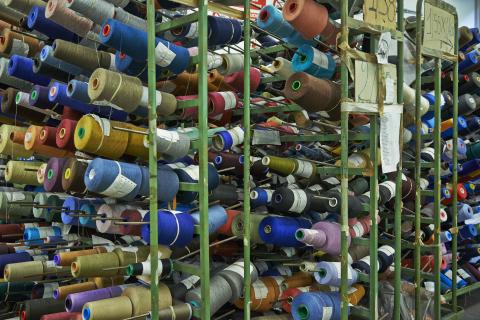 Suitsupply & the Woolmark Company recently collaborated to showcase the world-renowned mills by the Dutch suiting brand. Located at heart of Italy's famed weaving province Biella the premium mills provide a true sense of the origins of the fabrics used to craft its award-winning suits. As one of the world's most recognized names in wool for over 50 years, The Woolmark Company has become a definitive authority on global wool classification, licensing and marketing—thanks, in part, to their commitment to promoting the ethical, socially-conscious cultivation and development of wool from sheep to spool. Just like Suitsupply, its suppliers believe in the endless potential of patterns, yarns, and colours; they look to stand out.
Each mill offers an insight into how Suitsupply's suppliers do things differently when weaving the world's finest fabrics.
Vitale Barberis Canonico mill
The renowned Vitale Barberis Canonico mill, established in 1663, is a standout among its peers, not only because it has been family-run for 15 generations, but because their focus on environmental responsibility has pushed them to make use of the latest green technology developments; including cutting-edge air and water conservation efforts, unmatched health and safety standards, and even facilities development that ethically integrate into the surrounding area.
Ferla mill
For over a century, Lanificio Ferla has produced some of the world's most sought-after fabrics. Their focus on excellence and, above all, creativity, has made them a household name to both exclusive, high-end tailor shops, and the biggest names in the fashion industry alike; counting the likes of Chanel and Hermes among their roster of patrons—not surprising, given their signature collection of baby alpaca fabrics.
Reda fabric mill
For more than 150 years, Reda—located in Valle Mosso, Italy—has embraced the latest weaving techniques and technology to create premium, modern fabrics that are instantly recognizable and highly prized. Founded in 1863 by Carlo Reda, this famed Biella mill has remained a creative and innovative name in the fabric industry. From combing to dying, spinning and finishing, it's thanks in large part to their effort that the Made in Italy classification has become the standard of style and quality.
Lanificio Carlo Barbera mill
Finally, the tour came to an end with a visit to the family-owned Lanificio Carlo Barbera mill in Callabiana. Supplied with the pristine waters of Lago di Ponte Vittorio, this 50-year-old mill has made a name for itself by offering some of the purest, highest-grade fabrics on the market, thanks to that ever-essential natural resource. Now owned and operated by the founder's son, Luciano, the Barbera mill continues to uphold its philosophy of creating "Clothing for people who believe in individuality and intelligence".
For press inquiries, please contact:
Trishna Assandas, Senior Engagement Consultant, Katch International, +971 55 8863881,
trishna@katchthis.com
Haroon Tahir, Engagement Consultant, Katch International, +971 55 1621688,
haroon.tahir@katchthis.com
About Suitsupply
Suitsupply began in Europe in 2000. In an industry where fast fashion is the need of the hour and craftsmanship is fast disappearing, Suitsupply introduces a premium option – one where no attention to detail or quality is ever spared. They have received widespread accolades from the likes of GQ, Esquire, and, perhaps most notably, a Wall Street Journal blind test that saw a $600 Suitsupply suit draw into a first-place tie with a $3,600 Armani. Suitsupply has rapidly expanded its portfolio and boasts 70 international stores in cities such as Milan, London, Zurich, Amsterdam, New York, Toronto, Shanghai, Singapore and Hong Kong. In addition to their brick-and-mortar locations, it maintains a strong online presence as well. With its first location in the United Arab Emirates, Suitsupply hopes to make its mark in the Middle East's premiere hub and bring its high-quality tailoring and personal services to a new cadre of customers with taste to spare
Categories