Houston Refinery benefits from ConstructSimWork Package Server
In November 2014, a Houston-based refinery engaged Insight-WFP to implement advanced work packaging and deliver a stable construction environment with predictable project outcomes on one of its construction projects. A long-time user of ConstructSim, having implemented it on six previous projects, Insight-WFP was confident that WorkFace Planning would bring significant benefits to the project, but it needed the support of information management and the construction team. Additionally, the construction project was a fixed-price project exposing the contractor and the owner to risk through claims and schedule compliance.
Initially, the contractors were hesitant to implement a new process where schedulers produced work packages. But, the 3D images created using ConstructSim were so compelling, the team quickly realized that combining planning and information management was a win-win business proposition.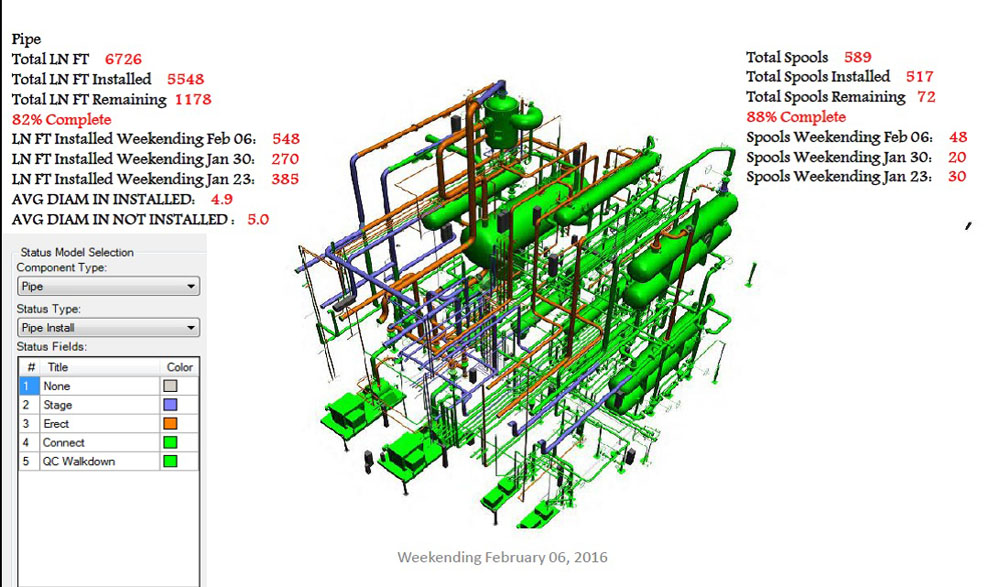 Construction progress was easily tracked using 3D models
Insight-WFP used ConstructSim Work Package Server as a single source for online documents where the contractors could search and pull electronic documents as needed, and revise them with near-zero lag time. This process avoided construction team members from using incorrect revisions of drawings.
Schedulers presented 4D simulations to the constructors during the daily onsite meetings to create a single understanding of the plan. These reviews also created conversations around constructability, which created the opportunity for the team to adjust the sequence of the schedule into a series of events that made better sense for the construction trades and led to improved safety.
The project completed 1.6 million work-hours without a single lost time incident, which is a unique outcome for this industry and recognized as world-class performance.
Overall, Insight-WFP estimated that through better material scheduling, improved management of craft labor, and more streamline use of other resources, such as scaffolding, it saved the owner approximately USD 36 million, which is 8 percent of the total installed cost, and reduced the project schedule by six weeks.
Geoff Ryan, P.M.P. AWP specialist, Insight-WFP, said, "One thing that is absolutely certain is we have a very happy owner. We also have contractors who have a new business model; a scaffold company that is selling the virtues of planning with ConstructSim to their other business partners; new hope in an industry that was hungry for change; and our company has a solid business case for information management to support advanced work packaging."
Categories