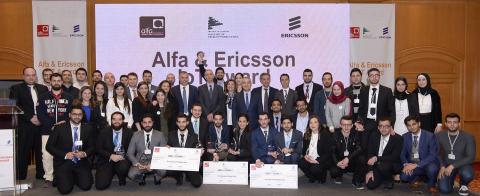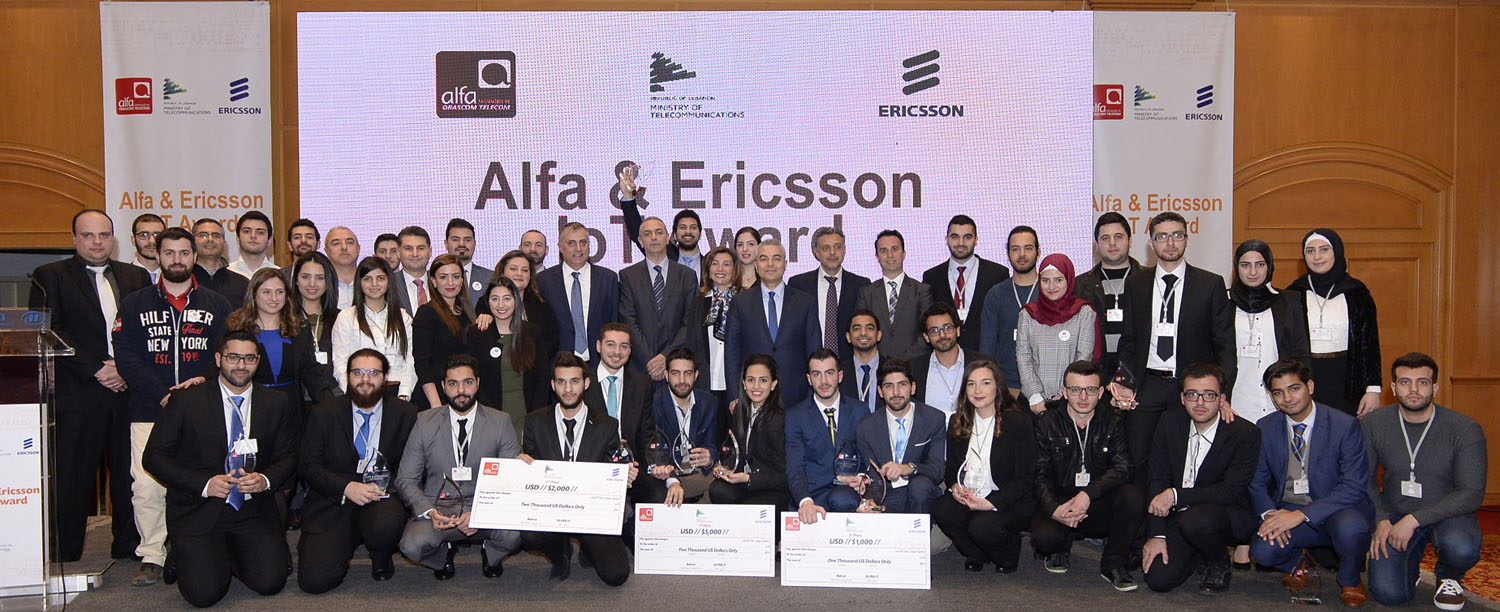 Under the auspices of His Excellency the Minister of Telecommunications Jamal Jarrah represented by his adviser Mr. Nabil Yamout, the awards ceremony of the Alfa & Ericsson IoT competition was held at the Hilton Metropolitan Hotel in Beirut where the three winning teams were announced and monetary prizes were disturbed. The event was attended by Alfa CEO and Chairman Marwan Hayek, the Head of Ericsson North Middle East region Mohamad Dergham, as well as officials from the Ministry of Telecommunications, Alfa, Ericsson, IEE Young Professionals Affinity Group. This is in addition to university representatives and students, and the media.
Alfa and Ericsson launched the competition in November 2016 in collaboration with the IEEE in Lebanon. Twenty teams constituted of students in telecom, computer, and electrical engineering in senior years from eleven universities took part in this multi-phase competition over eight weeks, presenting their Internet of things (IoT) projects before a jury of experts.
After five teams qualified for the final round, the winning team was AUST's IoTrust team, followed in the second place by BAU Brainiacs from Beirut Arab University, and in the third place by UNIT from the Holy Spirit University of Kaslik.
The closing ceremony jury was composed of Messrs. Yamout, Hayek and Dergham, who evaluated projects based on their creative and innovative development, their business case, and their implementation. The winning team received a $5000 prize, while the second and third teams received $2,000 and $1,000 respectively. Members of the winning team also received the opportunity to participate in training programs with Alfa and Ericsson, and certificates of appreciation were distributed to the participating teams.
Dergham
Following the Lebanese national anthem that opened the ceremony, Dergham said in his speech, "We are very honored to be here today with our long-standing partner Alfa for this innovative initiative encouraging Lebanese youth to showcase their innovation under the Internet of Things umbrella.  This generation is the driving force behind the Networked Society, where every person and industry is empowered to reach their full potential thanks to the Internet of Things, which is one of our key focus areas at Ericsson."
Tony Abboud, Country Manager Ericsson Lebanon said; "University students are the agents of change that will ultimately drive the transformation agenda of a connected future. We believe that by engaging with them and their provisional thinking through this initiative, we will be able to capitalize on an untapped reserve of the immense possibilities of a connected future."
Hayek
In his speech, Hayek said, "It took a hundred years for a billion places to be connected from 1875 (precisely with Alexander Graham Bell's invention of the telephone in 1876) to 1975. It then took 25 years to connect 5 billion people with each other thanks to the mobile phone revolution from 1975 to 2000. Estimates indicate that there will be 28 billion connected devices by 2021, i.e. within fifteen years. This means that we previously needed 100 years to connect the first billion devices, then 25 years to connect the next 5 billion, and today we need nearly 15 years to connect 28 billion device with each other, according to studies released by Ericsson". He added, "We live in a connected society with sensors everywhere. According to the latest consumer report issued by Ericsson, internables and sensing homes will be among the top ten consumer trends in 2017, which shows the importance of the Internet of things in our lives. This revolution is taking place now, and is not related to the future anymore".
Hayek also said, "Until the Internet of things becomes a reality, we need the appropriate infrastructure and network, more precisely 5G. In March 2016, we signed a memorandum of understanding with Ericsson to prepare our network to receive the first 5G station in mid-2018, which we hope will be completed earlier even". He added, "With 5G, we are talking about a latency five times less than what we experience today, and data rates a hundred times higher than today. This is in addition to data volumes that exceed the current ones by one thousand times. In short, this is everything the Internet of things revolution needs to thrive and spread quickly".
He pointed out, "Establishing the appropriate infrastructure is of paramount importance to us", adding that "the first step towards 5G is a 4G+ network, which is the ongoing and almost completed project on our network".  Hayek also said, "We do not have to wait for the 5G network to become ready to keep up with the Internet of things revolution, as we are now at full readiness with Alfa 4G+. This network covers more than 90 percent of the populated Lebanese territory and provides Internet speeds of up to 200-250 Mbits/sec. Available to everyone, it is a prerequisite for enabling the Internet of things revolution, especially since the devices and machines related to this revolution need an integrated network".
He added, "All this is happening in Lebanon, and more specifically at Alfa, and we promise to be the pioneers in technology innovation, as we have always been, in partnership with Ericsson and the Ministry of Telecommunications, which is providing all the necessary investments to move forward with the sector. This partnership is essential so we can be an example for the Lebanese economy as a whole. Indeed, the economy now depends on what we do both today and in the future".
Categories