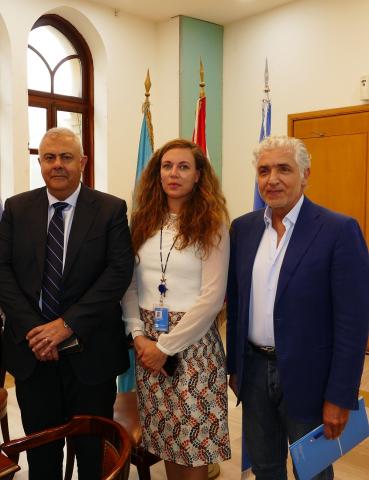 In line with its mandated role to empower and strengthen good governance, and enhance capacities of local authorities, the United Nations Human Settlements Programme (UN-Habitat) signed today a Memorandum of Understanding (MoU) with the Municipality of Beirut, to further expand their existing close partnership. The signing ceremony was held at the Municipality of Beirut and attended by the Governor of Beirut, Honourable Judge Marwan Abboud,  Mayor and members of the municipal council, as well as UN-Habitat Lebanon staff.
"The Beirut Municipality, deserves to be an advanced an modern especially when it comes to the data collection and sorting. This project with UN-Habitat will be the first step to put the Municipality of Beirut on the roadmap of digitalization and evolvement so we can better manage the assets and change the course of municipal work. We thank you for your collaboration and with our partnership we can achieve all tasks.'' Said Governor of Beirut, Honourable Judge Marwan Abboud.
"Our successful partnership with UN-Habitat has been ongoing for years, and together we completed many projects. Following the Beirut Port explosion, the UN-Habitat team were and are still an integral part of our efforts to help the city recover. With this MoU being signed today we will benefit more from the agency's global expertise that will guide our team work towards facing future challenges to make our city better" said Jamal Itani, Mayor of Beirut Municipality."
"As UN-Habitat, it is within the core of our mandate to support and empower local authorities and municipalities. Together with the Municipality of Beirut we will be able to further promote transformative change in cities and human settlements through knowledge, policy advice, technical assistance and collaborative action to leave no one and no place behind." said Taina Christiansen, Head of UN-Habitat Lebanon."With this MoU being signed today, we will be joining hands to help Beirut better recover and achieve a better urban future," she concluded.
This agreement will further allow UN-Habitat and the Municipality of Beirut to work strategically on planning, coordinating resources, and developing a common expertise through shared experiences, to construct a sustainable urban future for the city of Beirut. The MoU further focuses on streamlining ongoing recovery and development plans following the Beirut Port explosion and later extend it to other areas within the boundaries of the city of Beirut. To support these efforts a customized GIS tracking platform will be established to monitor and register the workflow of ongoing interventions by multiple actors and stakeholders across the boundaries of Beirut. This platform will be sustained by equipping relevant municipal staff with the necessary skills and capacities to observe active recovery projects in Beirut.