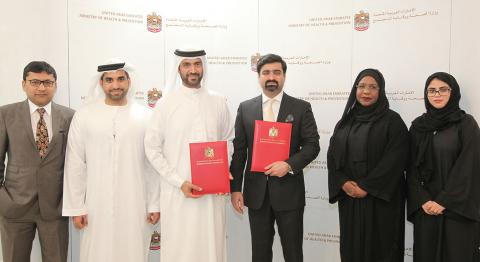 Collaboration to create a unified medical & health record system
The UAE Ministry of Health and Prevention (MOHAP) has signed a memorandum of understanding (MoU) with Purehealth, a market leading company for technology-driven solutions, to establish a unified medical and health record system. Both parties have entered a strategic future partnership with the aim of establishing a National Unified Medical Record (NUMR) for the UAE.
 The MoU was signed by H.E. Awad Sagher Al Ketbi, Assistant Undersecretary for the UAE Ministry of Health and Prevention's Support Services Sector, and Farhan Malik, General Manager of Purehealth. Also, present at the signing ceremony were Ali Al-Ajmi, Director of Information Technology, and Mubaraka Ibrahim Mubarak, Director of Health Information Management Systems from the Ministry.
Al Ketbi emphasized on the importance of the partnership with Purehealth for NUMR to store the health and medical data for citizens and expatriates in one unified record to improve healthcare services in line with UAE Vision 2021. He called for the coordination with the Health Authority Abu Dhabi (HAAD), the Dubai Health Authority (DHA), the Abu Dhabi Health Services (SEHA), the UAE Armed Forces Medical Services, Dubai Health Care City (DHCC), and the Emirates Identity Authority (EIDA) to develop the high quality of healthcare services to maintain the privacy of patients in accordance with the highest international standards. Furthermore, he stated that NUMR is one of the key strategic goals of the Ministry and strives to achieve it.
Both parties will also use NUMR to create the population health management system to improve health of the UAE population and promote their well-being and thereby reduce cost of healthcare services. They also consented for key contractual agreement for future strategic partnership in several areas such as the development and management of NUMR database in UAE, NUMR database hosting and information during the period of the agreement, the establishment of claims and electronic prescriptions system, creation of the cloud system based on eMR/HIS as the Ministry's product, the management of the revenue cycle, prepare teams for healthcare departments and consequent activities, and the establishment of Centre of Excellence for e-health and smart initiatives.
Categories