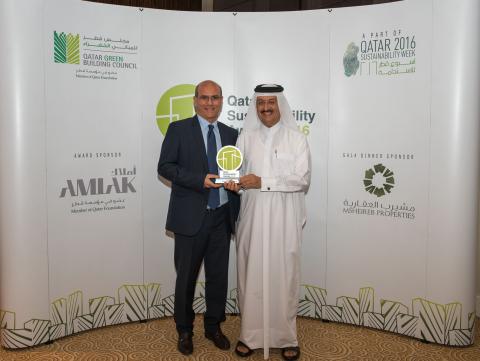 Leading transport research firm cited for its project on recycled aggregates in construction
 TRL, a global centre for innovation in transport and mobility, grabbed the 'Green Research' award at this year's edition of the Qatar Green Building Council's (QGBC) Qatar Sustainability Awards, which was held recently at the Qatar National Convention Center. The awarding ceremony was one of the many activities happening on the sidelines of the Qatar Green Building Conference and Qatar Sustainability Week. The company's win is attributed to the exemplary work rendered on its research project, 'Recycled Aggregate in Construction,' which has played a key role in the development of the first recycling standard and construction specification in Qatar and has been adopted by the GSO Standardization Organisation.
Between 2011 and 2015, TRL worked in close collaboration with Qatar Standards – Ministry of Municipality and Environment, Public Works Authority (Ashghal), Qatar University, and key stakeholders in the construction industry, with funding coming from the Qatar National Research Fund at Qatar Foundation. The result of the joint-cooperation was the release of a 225-page guidebook that provides comprehensive data on the construction industry in Qatar and the potential of recycling initiatives--supported by a set of statistical tables and charts, photographs and case studies.
The findings of the research have prompted Qatar Standards to publish the first Qatar Recycling Standard in 2012, and update the Qatar Construction Specification (QCS 2014) to permit the use of recycled aggregates in a range of applications, including structural concrete, non-structural concrete, concrete blocks, asphalt pavements, road sub-base materials and fill applications. The Qatar Standard and Specification was recently adopted by the GCC Standardization Organisation (GSO 2489/2015) – 'Specifications of Recycled Aggregates from Construction Waste to be used in Construction Work.'
Qatari Primary Materials Company (QPMC) signed a contract with TRL to recycle construction waste and cooperate in environmental studies.  The project is aimed at supporting the government strategy of sustainable development through implementing recycling in construction projects with the benefits of improving aggregate supply, reducing costs, and protecting the environment.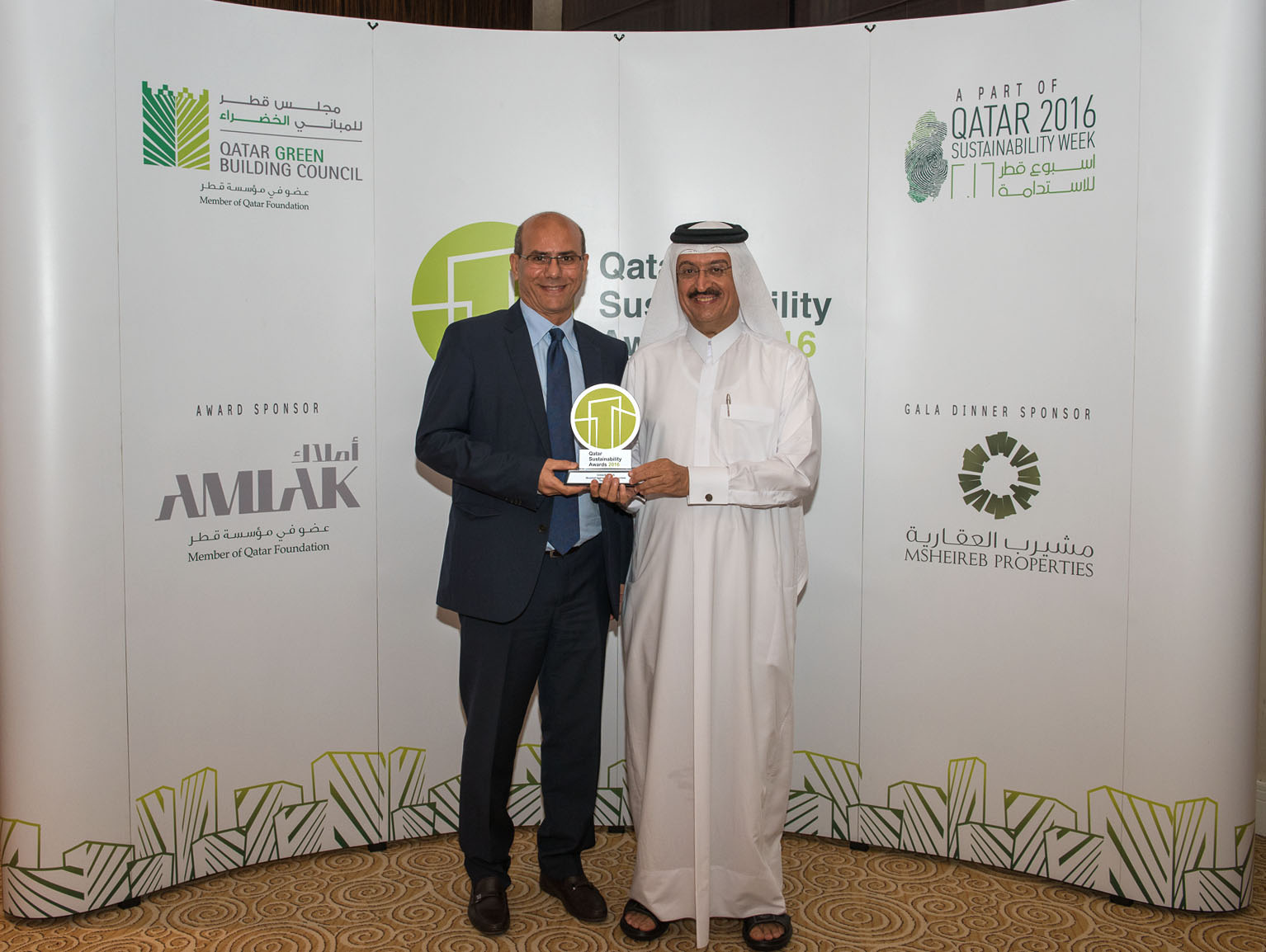 (from left to right) – Dr. Khaled Hassan, Country Director - Qatar, TRL; Dr. Mohammed bin Saif Al-Kuwari, Head of Environmental & Municipal Studies Institute – Ministry of Municipality & Environment
"We are both happy and humbled with this recognition from QGBC. This award reflects the key effort and dedication that TRL has placed in developing this study, which demonstrated and provided research evidence that recycled aggregates are significantly cheaper and can be effectively used with similar performance to that of imported aggregate. It has also allowed us to play a key role in increasing awareness about this and promoting the wider use of recycled aggregates across Qatar and the GCC. We thank the QGBC for this award and affirm our continuing support for Qatar's strategy towards achieving sustainable development and environmental protection," concluded Dr. Khaled Hassan, Country Director and Head of ME Infrastructure, TRL.
QGBC's Sustainability Awards aims to recognize the efforts, commitment, and contributions of individuals, institutions and organizations in furthering sustainable development and environmental protection in Qatar and beyond. The awards, which welcome nominations in various categories in line with the needs and trends of the green building and sustainability industries, include categories like green buildings, green hospitality, green service providers, building products and technologies, green research and sustainability initiatives. This year's edition received more than 100 nominations from various organizations across Qatar's public and private sectors. Winners were selected following a thorough reviewing process by an expert panel of judges, comprising senior sustainability experts and academics and other industry practitioners.
Categories