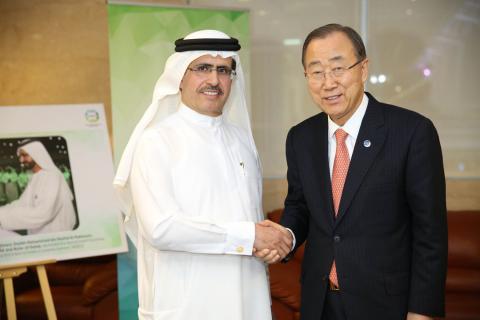 The Secretary-General of the United Nation, HE Ban Ki-Moon commended the insightful vision of HH Sheikh Mohammed bin Rashid Al Maktoum, Vice President and Prime Minister of the UAE and Ruler of Dubai for supporting sustainability and global green economy and launching the World Green Economy Organisation (WGEO) with its permanent headquarters in Dubai and praised the UAE for joining WGEO as its first member.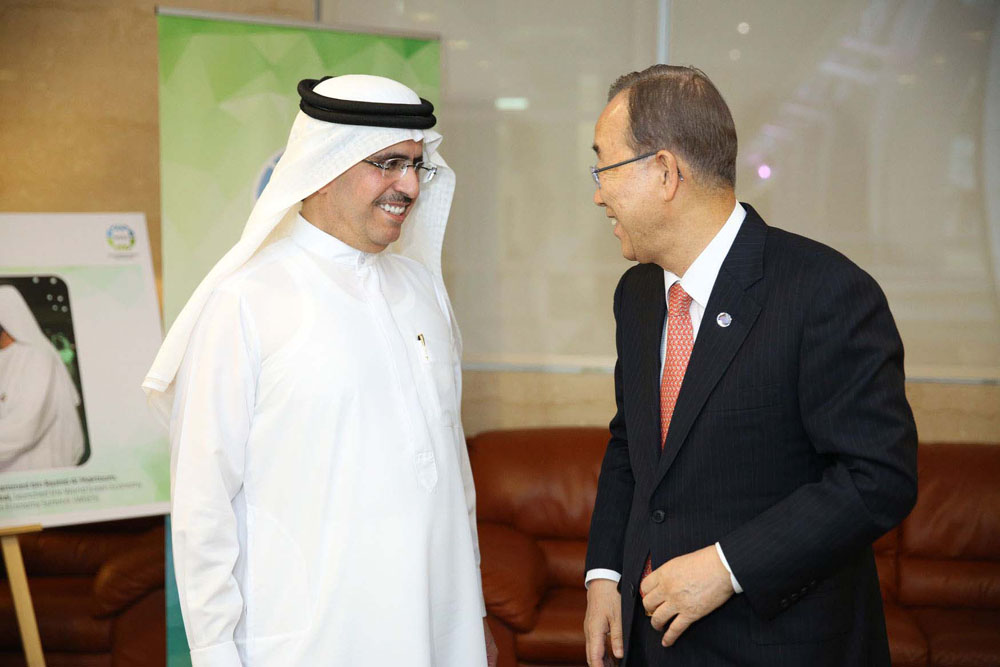 In a meeting with HE Saeed Mohammed Al Tayer, Chairman of World Green Economy Organisation (WGEO), the Secretary-General of the United Nations HE Ban Ki-Moon, was briefed on the key achievements and joint cooperation development between the United Nations and WGEO.
HE Saeed Mohammed Al Tayer has stated that WGEO which was launched by HH Sheikh Mohammed bin Rashid Al Maktoum at the 3rd World Green Economy Summit 2016 in Dubai, will support the UAE Vision 2021 to be among the best countries in the world by 2021,  the UAE Green Economy Strategy that was launched by HH under the theme 'A Green Economy for Sustainable Development' to enhance Dubai's position as a global capital for green economy as well as  the objectives of Dubai Plan 2021 to achieve further happiness in the society."
"Joined by the UAE as its first member country, WGEO will support the implementation of the Paris Agreement on climate, and increase global awareness on climate change to enhance the shift towards a green economy. WGEO will also have a leading and new role to promote the levels of green economy through dialogue, partnership and exchange of expertise among countries, public and private sectors, corporates, UN organisations, banking institutions and civil society institutions to achieve the objectives of green economy and act as a mechanism to introduce new solutions for climate change, sustainable energy and other challenges facing water and environment worldwide", he added.
"Launching WGEO at this time reflects the relentless efforts to achieve the Sustainable Development Goals outlined in the United Nations 2030 Agenda for Sustainable Development. WGEO will also play an instrumental role in mitigating climate change, as it serves as a mechanism for generating new solutions for sustainable energy, water and other environmental challenges, thereby lowering the risk of green economy investments, and supporting international cooperation in innovation, technology and finance. It will provide technical assistance to countries which can benefit from the UAE's and the other countries green economy model, as well as cooperating with other countries whose economies require development and diverse green strategies for the future," he explained.
"The fruitful collaboration with the United Nations is one of the key steps in our pursue to strengthen our march for sustainable development and exchange of expertise and experience with other countries to achieve our aspirations for a better future as our leadership has a wise vision to foresee the future through ambitious infrastructure projects in clean energy that is important in achieving balance between development and environment to ensure the generations to come a clean, healthy and safe environment. Energy is one of the key elements for sustainable development and the base for positive environment that encourages and enhances cooperation, engagement, innovation and creativity," he added.
HE Al Tayer has highlighted key achievements, initiatives and projects of Dubai. He added that Dubai has launched Dubai Clean Energy Strategy 2050 to provide 7% of Dubai's energy by 2020, 25% by 2030, and 75% by 2050. The strategy consists of many initiatives including Mohammed bin Rashid Al Maktoum Solar Park which is the largest single-site solar park in the world, with a planned capacity of 5,000 megawatts by 2030 and  an expected investment of USD13 billion.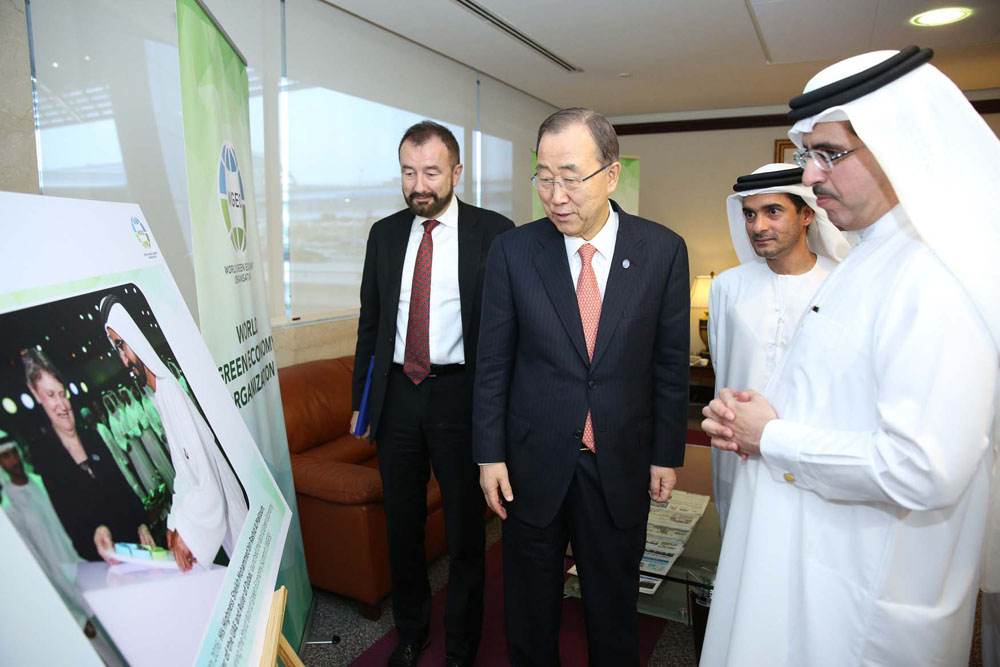 The Emirate of Dubai is working on the reduction of carbon emissions in line with Dubai Carbon Abatement Strategy to reduce carbon emissions by 16% by 2021 and the implementation of the energy and water demand side management strategy to enhance Dubai's position as the city with the lowest carbon fingerprint worldwide and to reduce demand to 30% by 2030. Furthermore, Etihad Energy Services (Etihad Esco) was established to optimise the use of energy and to develop a market for energy efficiency and to reinstate more than 30 thousand existing building in Dubai.
HE also emphasised on projects for  increasing efficiency and reliability in generating energy and desalinating water such as increasing productivity techniques without using additional fuel, increasing the efficiency of central cooling systems, energy conservation programmes, and water desalination using solar energy and Dubai smart initiatives including 'Shams Dubai' to encourage houses' and buildings' owners to install photovoltaic panels to generate power, and smart applications and meters  initiative to facilitate the connection of service and response time, consumption saving, the Green Charger to establish the infrastructure and build 100 electric vehicle charging stations all over Dubai.
"DEWA's Sustainable Building is the first UAE building and largest government building in the world to receive a platinum rating for green buildings from Leadership in Energy and Environmental Design (LEED). The building has a 660 KW solar power station and uses 66% less energy and 48% less water than other buildings. On the other hand, DEWA plans to build its new headquarters named Al-Sheraa (sail) which will be the tallest, largest, and smartest net Zero Energy government building in the world. The new building will have over a million square feet, over 200,000 square feet of land  in the heart of the Cultural Village in Al Jadaf", he concluded.
Categories