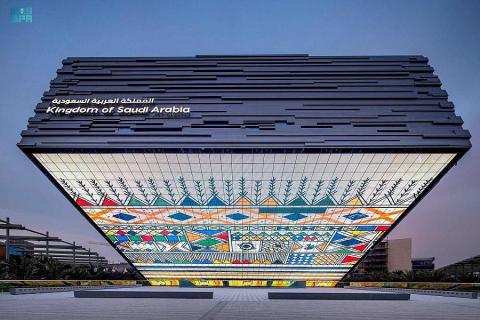 The finishing touches are being put on the Kingdom of Saudi Arabia's pavilion at the upcoming Expo 2020 Dubai, to be a platform showcasing the Kingdom's past, present and its ambitious Vision 2030.
Under the theme, "Connecting Minds and Creating the Future", Expo 2020 Dubai is scheduled to run from October 1, 2021 until March 31, 2022, with the participation of more than 190 countries.
The Kingdom of Saudi Arabia is set to present a distinctive 13,000-square-meter pavilion in the prestigious UAE-hosted global exhibition with an innovative architectural design that rises from the ground towards the sky, embodying the Kingdom's future aspirations and limitless ambitions.
The unique architectural design aligned with global standards of sustainable development. It has received the LEED (Leadership in Energy and Environmental Design) Platinum certification from the US Green Building Council (USGBC).
The vibrant Saudi community with deep roots and foundations, the ancient national heritage, natural wonders and abundant future opportunities are the main pillars upon which the content of the Kingdom's pavilion at Expo 2020 Dubai is rested. The pavilion also contains a huge TV screen that displays life in the Kingdom of Saudi Arabia.
By utilizing the latest technologies, the pavilion has broken three Guinness World Records, including the most extensive interactive light floor, the longest interactive water feature, and the largest interactive LED mirror screen with an area of more than 1,240 square meters.
The Saudi pavilion also provides a tangible embodiment and accurate simulation of 14 Saudi cultural sites over an area of 580 square meters. Visitors will see the sites inscribed in UNESCO World Heritage List, including At-Turaif District, Al-Hijr Archaeological Site (Madain Salih), Historic Jeddah (the Gate to Makkah), Rock Art in the Hail Region, Al-Ahsa Oasis and Masmak Palace in Riyadh. The national pavilion takes its visitors on an audio-visual journey through 23 sites that represent the great diversity of the Kingdom's various regions.
Through an electronic window topped with 2030 scenographic crystals symbolizing the Saudi Vision 2030, the pavilion displays the Kingdom's mega projects that are under implementation.
The pavilion has also a giant hall 30m in diameter that will house an art exhibition title, "Vision" with an interactive floor that takes visitors on an audiovisual journey around the essence of Saudi culture and is designed by Saudi artists.
The pavilion also includes the 'Discovery Center', a platform for building investment opportunities and partnerships.
Through its diverse content, the pavilion seeks to provide an enjoyable, creative journey for visitors that presents the Kingdom in the light of the Saudi Vision 2030, demonstrating pride in identity, history, heritage, development and the steps towards a prosperous future.
Source: www.spa.gov.sa