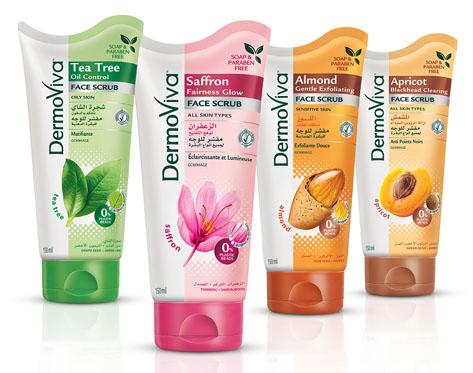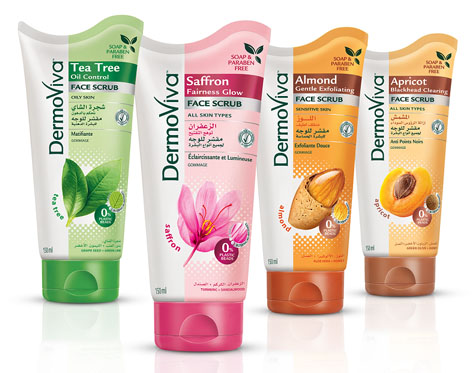 Sometimes, we need more than a face wash to remove grime and dirt deposited deep in the skin caused by environmental impurities and regular use of makeup. A face scrub or an exfoliator can effectively eliminate the build-up of sebum, dead skin cells, and black heads and helps control spots and blemishes, giving a clean and clear complexion. Scrubbing is recommended as where gentle exfoliation can help in clearing the flaky skin to reveal a fresh, hydrated and rejuvenated epidermal layer.
Dermoviva a leading skin care brand in the region has unveiled a new range of DermoViva Face Scrubs. The new range is available in four variants of Fairness Glow, Gentle Exfoliating, Oil Control, and Blackhead Clearing. Dermoviva face scrubs are free from any harmful plastic beads and have natural scrubbers. It is also soap and paraben free. It is fortified with natural, time-tested ingredients and mildly exfoliating natural microspheres. Regular use of DermoViva Face Scrub helps combat a number of skin problems such as acne, dark sports, dryness and flakiness.
DermoViva Fairness Glow Face Scrub is formulated with saffron, turmeric and sandalwood, herbal ingredients traditionally used to enhance skin complexion. Suitable for all skin types, its mild exfoliating formula results in a blemish-free, radiant and fairer tone. DermoViva Gentle Exfoliating Face Scrub, on the other hand, is a special formulation of skin-soothing aloe vera, almond oil and pure honey that gives gentle exfoliation to sensitive skin.
The third variant, DermoViva Oil Control Face Scrub, is made for oily skin to provide a matte finish and clear look. It has an infusion of oil-controlling ingredients – tea tree oil, grape seed oil and green lime – that are effective in regulating excess sebum. Lastly, DermoViva Blackhead Clearing Face Scrub is enriched with apricot kernels, green olive and honey. Suited for all skin types, its pore cleansing formula gives a revitalised and refreshing look.
DermoViva Face Scrub is available in an attractive 150 ml tube for AED 15 throughout leading supermarkets and beauty stores in the UAE.
Categories