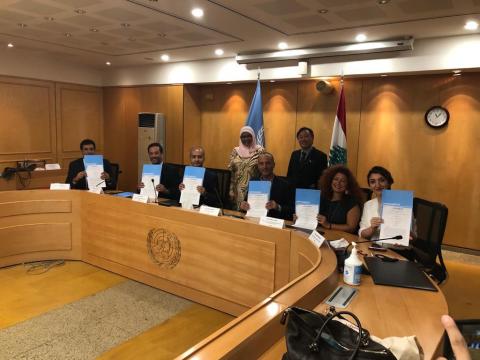 UN-Habitat joins forces with the private sector to reduce plastic and glass waste in the MENA region
In an effort to limit the environmental impact of plastic and glass waste in the Middle East and North Africa (MENA) region, UN-Habitat has signed a Memorandum of Understanding in July 2021 with Development Inc., Diageo, IBI Group, Nestlé Waters and PepsiCo, to jointly promote sustainable waste management and responsible production and consumption within the private sector and general public.
As it draws a clear roadmap for this collaboration, the project spans across Algeria, Egypt, Jordan, Lebanon, Morocco, Saudi Arabia, Tunisia and the United Arab Emirates. This project, which is technically led by Development Inc., aims to curve the linear economy mindset into a circular one, in which glass and plastic are recycled and reused, and where the value of used glass and plastics is monetized to support the local economy and incentivize recycling among consumers.
''Plan Zero'' will work on reducing the carbon footprint in the project's targeted countries by diverting packaging waste from landfills, water bodies and the environment, through retrieving most of the producers' recyclable and non-recyclable plastic, fiber, glass and metal packaging materials. That in turn supports the achievement of a stronger environmental, cost effective, operational and public impact. This initiative will not only keep cities cleaner, but create job opportunities, and enhance public spaces through the installation of various recycled public furniture.
In 2016, the MENA region generated 129 million tons of waste of which only 9% are being recycled and the vast majority disposed of in open fields and dumpsites. The region is expected to double its waste generation by 2050. Glass and plastic waste comprise almost 15 percent of the total waste generated in the region.     
Commenting on this milestone, Maimunah Mohd Sharif, Executive Director of the United Nations Human Settlements Programme said: "The private sector has taken the lead in providing innovative solutions for the sustainable and just development of societies. UN-Habitat would like to capitalize and complement such leadership, through its programmes and engagement platforms, to further promote and foster existing strong collaboration between the business community and local level actors to enhance the impact of global commitments and development agendas. Namely, the Agenda 2030 for Sustainable Development and its 17 goals, and UN-Habitat's own global commitments, as evidenced through our Strategic Plan 2020-2023."
"The MENA region is witnessing unprecedented rates of population growth and urbanization. Cities across the region are increasingly faced with the need to establish sustainable systems to manage their growing waste and ensure the health and well-being of their communities while keeping their urban spaces clean. UN-Habitat is committed to take transformational measures towards creating a circular economy and raising awareness on the socio-economic and environmental benefits of reducing, reusing and recycling plastic waste. Our collaboration with the private sector is a major step towards achieving our goal of improving the urban environment and promoting a recycling culture in the MENA region. " Said Dr. Erfan Ali, Un-Habitat Regional Representative For Arab States.
In a recent market analysis report published by the Grand View Research Center in December 2021, plastic and glass are two of the world's most used materials. While the first accounts for a yearly global production of 220 million tons, the glass manufacturing market size was valued at USD 120.3 billion in 2020 and is expected to grow at a compound annual growth rate (CAGR) of 3.7% from 2021 to 2028. The problem with plastic or glass lies not in their uses, as they suit a broad spectrum of production lines, but in managing the end-of-life of the products they are made of. They end up either in landfills or dumped in nature. In fact, 95% of the waste found in the open sea, and on the Mediterranean coast and beaches is composed of plastics. In other terms, we are still witnessing a linear 'take, make, waste' economy; yet such today presents a key environmental challenge globally, and more particularly in the Middle East and North Africa (MENA) region, where plastic and glass use is on the increase.
Moving forward, the ''Plan Zero'' actors will actively work with their communities and stakeholders including suppliers and partners, to promote a culture of environmental sustainability through tangible interventions that feature a circular economy model. With the overarching goal of evolving the way the MENA region produces and consumes goods and services in the sectors of construction, food and beverage.