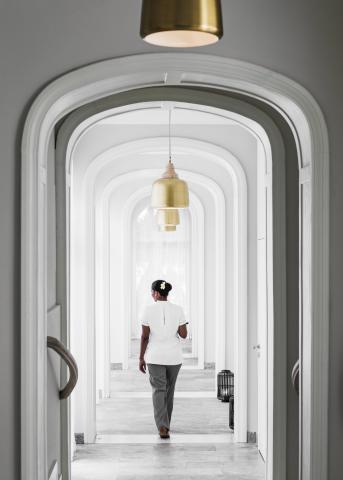 One&Only, the ultra-luxury resort brand, is completely redefining the resort well-being experience with the introduction of an exclusive global partnership with leading health wellness and beauty expert brand, Chenot. As the first resort brand to deliver a scientific approach to wellness in partnership with a brand that has over 50 years of experience in the medical spa, health and wellness field, Chenot is ideal to develop and implement various methods across the One&Only portfolio of resorts.  Both brands have been industry pioneers and this partnership will revolutionise the guest experience. 
Founder of Chenot Group, Henri Chenot, has always believed that "you need to live in harmony with yourself to be in good health," and has dedicated over 50 years of research and state-of-the-art medical spa programmes and products that promote wellness, successful ageing and optimal health. In the early seventies, his revolutionary approach to health wellness led to the development of Biontology - the science of living and his method of rebalancing the physiology of the body that is implemented in all Chenot Health wellness retreats as the core therapeutic approach.  The Chenot Group has not only become specialists in the health wellness sector, but has also developed their own line of skincare, teas, elixirs and supplements.
Delivering unprecedented experiences to guests across the globe, the new offering at One&Only will provide a complete holistic approach to wellness, with guests having the assurance that they will receive treatments based on in-depth scientific research, providing guests with the confidence that every experience is specifically for them. Two different wellness approaches will be introduced across the One&Only resort collection– the well-established Espace Chenot and the new One&Only Spa by Chenot, whichhas been created exclusively for the ultra-luxury resort portfolio. One&Only Spa by Chenot will open at One&Only Desaru Coast in Malaysia and Espace Chenot will be introduced at One&Only's new resort in Europe, One&Only Portonovi in Montenegro in 2020. As each and every One&Only resort celebrates each destination, both Espace Chenot and One&Only Spas by Chenot will craft experiences for guests bespoke to each location.  The Chenot experience across the One&Only portfolio will become a wellness destination from which guests can choose and combine between them, an international wellness journey.
"We are absolutely thrilled to be announcing a global partnership with the Chenot Group. Like One&Only, Chenot tailors every experience to the individual guests' needs. It is so important for us at One&Only, to seek out leaders in their field who truly value the guest experience. We pride ourselves in providing something different for our guests, from culinary to once-in-a lifetime excursions, and now to the ultimate in overall wellbeing," said Philippe Zuber, President and Chief Operating Officer, One&Only. "Wellbeing is a lifestyle and no longer optional whilst travelling on holiday, and because of this partnership, our guests will now have access to exclusive, immersive and most importantly a complete and distinct experience at our resorts that will extend far beyond the spa. The science behind Chenot combined with the One&Only lifestyle will lead to guests experiencing the absolute in wellness." 
Supporting Chenot's holistic approach, elements of the world-renowned Chenot Method® will be skillfully woven, in a non-intrusive way, through a guest's stay at a One&Only resort if guests choose, with a focus on wellness based in science at the One&Only Spas by Chenot where theChenot diagnostics and treatments will be customised for each One&Only resort, and each guest experience will be integrated and personalised. Resorts offering the Espace Chenot concept will focus on the medical wellness concept of Chenot, where the Chenot Method® will play the essential role for detoxing and resetting the body. From the initial stage of consultation and wellness screening by a Chenot trained specialist or medical doctor, guests will be offered bespoke programmes to tailored nutritional menus, fitness schedules, targeted spa treatments, stress relieving activities, to cosmetic beautification, and more. The new wellbeing experience at One&Only with offer a true 360° approach to wellbeing, with scientifically proven methods at its core. 
"We are very excited to partner with One&Only and we truly believe that together we will create an offering of true wellness value," commented Dr. George Gaitanos, Chief Operating Officer and Scientific Director, Chenot Group.
Categories