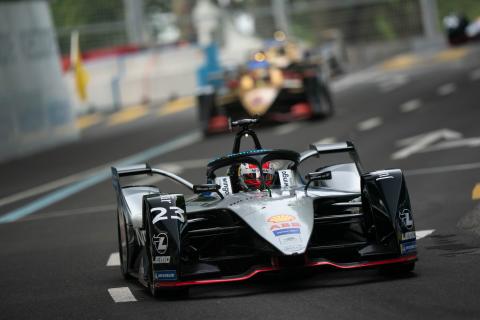 Nissan e.dams Swiss racer Sebastien Buemi scored a podium on home soil in the ABB FIA Formula E championship by finishing third on the streets of Bern.
Fresh from scoring his initial season five podium at the last race in Berlin, Buemi qualified third fastest and held that position to the checkered flag despite intense pressure and a dramatic late-race rain shower which threatened to jumble the results.
The podium finish by Buemi was the fourth for Nissan e.dams in its debut season in Formula E. Today's points haul has also lifted the Swiss driver to seventh in the championship with two races remaining, while Nissan e.dams are fourth in the team's championship.
Nissan is using Formula E to demonstrate the power and performance of its electric vehicle technology – a key part of the company's Nissan Intelligent Mobility vision.
The makers of the world's best-selling electric vehicle, Nissan's new LEAF e+ is now available in European markets and like the "Gen2" Formula E car – it has more power and more range than its predecessor.
Buemi was fourth fastest in his qualifying group and went through to Super Pole where he impressed to line up third on the grid. His teammate Oliver Rowland, unfortunately, did not make it through to the top six shootout and was subsequently caught up in an opening corner melee which red flagged the race and delayed the Swiss E-Prix by 45 minutes.
While Rowland's car was undamaged in the traffic jam, he later made slight contact with the wall and was forced to retire.
At the front of the pack, Buemi launched several attacks to try to move up to second using attack mode and #FANBOOST while also defending the pack from behind.
Rain began to fall in the final minutes of the race closing the margins at the front with the top four cars covered by a mere 1.1 seconds at the checkered flag.
"We've scored three podiums in a row. We knew coming in as the newest manufacturer to the championship that the challenge ahead was immense, but we are very happy with our progress," Nissan global motorsport director, Michael Carcamo said.
"We do have one final goal to get to victory lane, and we'll be giving it our utmost in New York."
New York will host the final rounds of the season five championship with a double-header weekend on July 13 and 14.
"We're thrilled for Sebastien to score a podium on home soil. He lives only an hour away, his family was here to see it and the Swiss fans were delighted with the result," said Nissan e.dams team principal, Jean-Paul Driot.
"Having his young son join him on the podium was a beautiful moment and capped off what was a great event. We've got two races to go in New York and everyone at Nissan e.dams is ready to finish the season on a high note."
DRIVER QUOTES
Sebastien Buemi
"To have a podium here in Switzerland is amazing. I could hear the fans saying my name while I was in the car. My family is here too, so it is an incredible feeling. Having my son join me on the podium is something that I'll keep as a special memory for a very long time.
"It was tough to pass out there, and I had good pace, but I didn't want to take too many risks. Qualifying was critical because it was tough to pass here, so just missing the front row made a bit of a difference.
"Berlin was quite easy to pass and New York is the same, so I'm looking forward to finishing off the year in the US with a couple of strong races."
Oliver Rowland
"Missing out on Super Pole made for a bit of a tough day because it was really hard to pass out there. The drama at the first chicane was a headache, but luckily, I was able to escape that one without any damage.
"I pushed as hard as I could in the race and was on the verge of the points but tapped the wall and suffered some damage to the suspension.
"It certainly wasn't how I wanted to finish the weekend, but I'm super keen to bounce back in New York and complete the season on a high note."
Categories