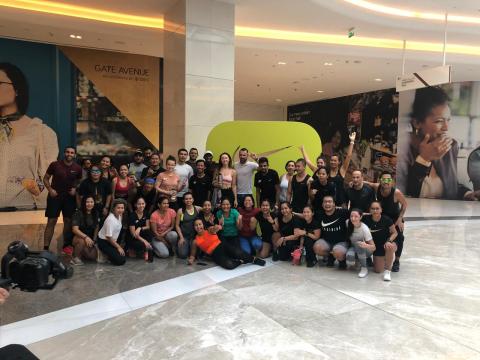 Dubai International Financial Centre (DIFC) has partnered with sports brand Nike to host weekly free Nike Training and Nike Run Club sessions from August to November. Led by an expert team of Nike Trainers, the 1-hour weekday/weekend sessions are meant to empower participants through their health and wellness journeys.
Participants will have the choice of partaking in two parallel sessions including HIIT/Yoga classes held in the North Zone of Gate Avenue, or a running club on the Promenade Level of Gate Avenue.
The HIIT and Yoga sessions during August and September will take place indoors at Gate Avenue. Whereas the Run sessions in October and November will be outdoors on the podium level at Gate Avenue.
Get up and get active this summer in the backdrop of DIFC's gleaming skyscrapers and join one of Dubai's most exciting communities. The sessions will be open to participant registration on the Nike NTC App for August and September sessions, and on the Nike NRC App for October and November sessions. For more details, visit https://www.difc.ae/events/nike-fitness-sessions/
| | | | |
| --- | --- | --- | --- |
| 1st Session   | 2nd Session   | 3rd Session   | 4th Session   |
| Date: 2 August, 2019 | Date: 6 August, 2019   | Date: 23 August, 2019   | Date: 27 August, 2019 |
| Time: 8:00am | Time: 5:00pm   | Time: 8:00am   | Time: 6:00pm |
| Session: HIIT | Session: Yoga   | Session: HIIT   | Session: Yoga   |
Categories