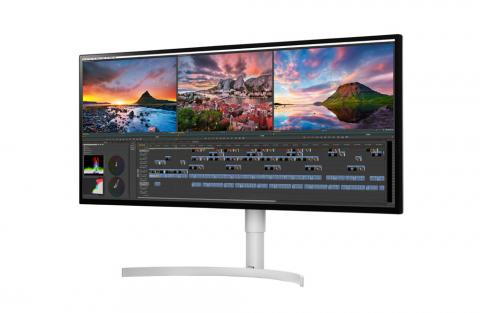 Unparalleled Viewing Experience with Vibrant
Nano IPS Technology and Thunderbolt 3 Connectivity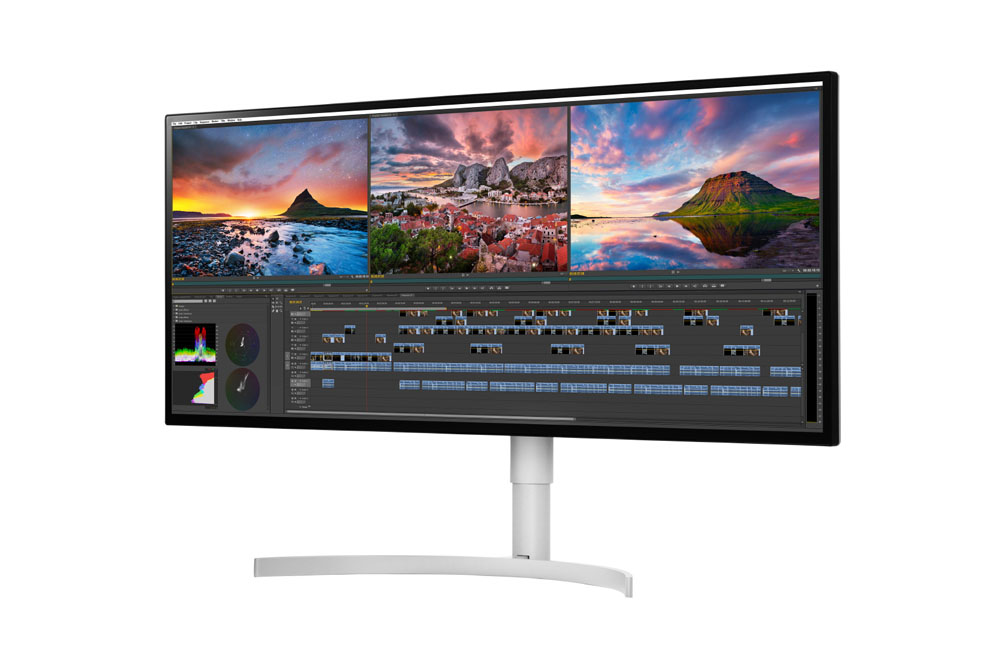 At CES 2018 in Las Vegas, LG introduced upgraded models of its popular monitor lineup with Nano IPS technology that take color reproduction capabilities to a new level. In response to customer feedback, LG added support for HDR600 with even higher dynamic range of peak brightness and new connectivity options with full Thunderbolt 3 compatibility.
LG's new 32-inch UHD 4K monitor (model 32UK950) is the first to offer LG's advanced Nano IPS technology. Nano IPS technology involves the application of nanometer-sized particles to the screen's LED to absorb excess light wavelengths. This greatly enhances the intensity and purity of on-screen colors for a more accurate and life-like viewing experience. This LG monitor can display 98 percent of the DCI-P3 color spectrum, comparable to monitors used to master Hollywood blockbusters. Ideal for media prosumers seeking superb color reproduction with its support for HDR 600 LG 32UK950 users will experience high dynamic range of peak brightness of 600 candela (cd/㎡).
LG model 32UK950 features the first Thunderbolt 3 display dock to support 4K daisy chaining, allowing a set-up of dual 4K monitors. This LG monitor can connect to Thunderbolt 3 notebooks like Macbook Pro via a single active Thunderbolt 3 cable – no charging adapter or unsightly USB cables required. This monitor's single Thunderbolt 3 cable transmits 4K content and sound while providing enough charge to power a 60W notebook, simplifying any work space. With its beautiful signature Edge-ArcLine Stand and stunning 4-Side Edge Borderless Design where the picture literally drops off the edge, there is no mistaking this LG monitor for anything else.
Another hot item at this year's CES, LG's 34-inch UltraWide monitor (model 34WK95U) delivers a broad range of accurate colors and viewing angles at a surreal 5K resolution (5120 x 2160 pixels). LG's very first 21:9 5K UltraWide monitor is loaded to the maximum with a hefty amount of screen real estate and eye-popping colors. This ultimate 5K viewing experience is geared towards users who multitask extensively, such as video editors, photographers, and software and app developers.
Model 34WK95U supports Nano IPS technology, fantastic color reproduction capabilities and HDR600. In addition, model 34WK95U features a Thunderbolt 3 port, which enables the transmission of 5K resolution images at 60Hz with a single cable. The Thunderbolt 3 interface is ideal for power laptop users who desire fast video, audio and data transfers without the need for a separate AC adapter. With its elegant, stunning profile, this LG monitor turns heads even when powered off, with its 4-Side Borderless screen design and gorgeous slim ArcLine stand addition to its refined image.
"Most of us spend hundreds of hours in front of monitors every month and yet it's one of the least likely products to get upgraded when higher productivity is desired," said Chang Ik-hwan, head of LG's IT business division. "With these latest premium monitors from LG, we wanted to communicate that LG is absolutely committed to delivering the best possible screen resolution and the best user experience on a desk or workspace."
Categories