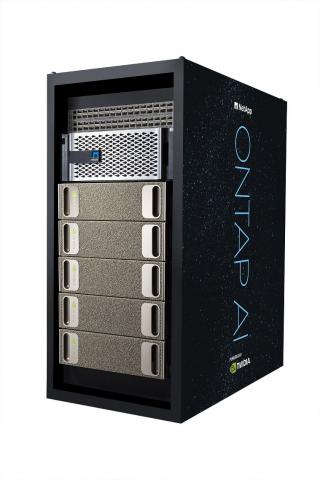 NetApp helps organizations achieve the promise of AI with:
Simplicity for data services that span edge, core, and cloud
Freedom of choice to consume AI on any cloud or on the premises
Scale to meet growing deep learning capacity and performance requirements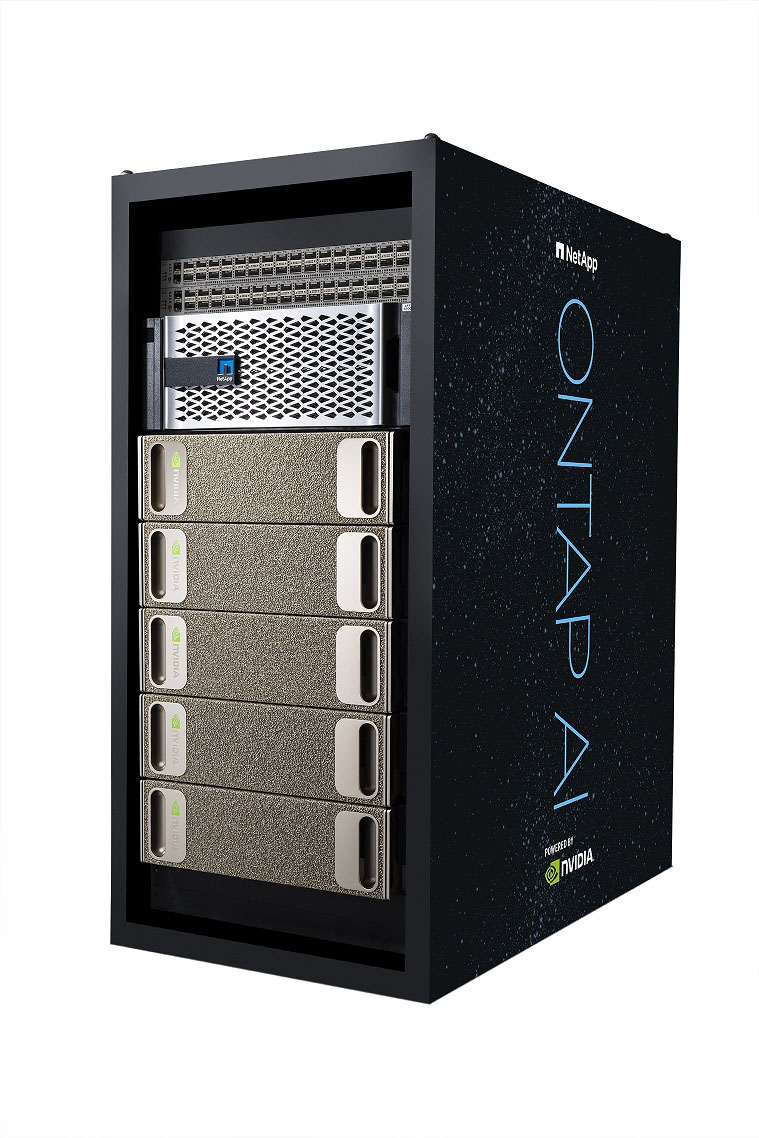 ONTAP AI
NetApp (NASDAQ: NTAP), the data authority for hybrid cloud, today announced ONTAP® 9.5, MAX Data, StorageGRID® SG6060, NetApp® Solution Support for FlexPod®, and Flash Performance Guarantee. These new data services and solutions further extend the NetApp Data Fabric across edge, core, and cloud and enable organizations to fully realize the promise of artificial intelligence.
Global business value derived from AI is projected to total $1.2 trillion in 2018, an increase of 70 percent from 2017, according to Gartner, Inc.1, 2. However, even though businesses plan to use AI to create new and innovative business opportunities fueled by diverse, distributed, and dynamic data, they often find that their most valuable data is trapped in siloes, hampered by complexity and too costly to harness for resource-intensive AI applications.
"With the speed and volume of data now generated and managed across IoT devices and sensors, on-premises data centers, and in hybrid cloud environments, having a Data Fabric that spans edge, core, and cloud is essential to AI success," said Joel Reich, EVP, Storage Systems & Software, NetApp. "With today's new data services and solutions, integrated through the NetApp Data Fabric, organizations can accelerate data pipelines across an entire enterprise to train deep learning models and power AI applications with the simplicity, choice, and scale necessary to achieve real impact." 
Modernize Storage to Enable Data Management for AI 
NetApp ONTAP 9.5 software helps companies modernize their data services with solutions that deliver leading cloud integration, the highest all-flash performance, and greater efficiency and simplicity.
NetApp ONTAP 9.5 software:
Delivers unmatched versatility that offers high performance and consistent low latency, accelerating critical workloads with industry-leading end-to-end NVMe capabilities.
Unifies data management across storage environments — flash, disk, and cloud.
Automates tiering of petabyte-scale datasets to object stores in the cloud or on the premises.
Reduces deployment costs for multisite business continuity solutions.
Accelerates read performance with cached data sets within a cluster and at remote sites.
Increases storage efficiency savings by up to 15% for relational database applications.
Radically increases performance by auto-tiering data between AFF systems and NetApp MAX Data on servers.
MAX Data allows customers to turbo charge their application performance without rewrites to application code. MAX Data is the industry's first solution to leverage persistent memory in servers to deliver memory-like ultra-low latency and flash-like capacity.
MAX Data:
Accelerates performance of application-level data, enabling faster processing of data for AI applications and real-time data analytics.
Speeds application data recovery with data protection services for persistent memory in servers.
Improves efficiency by using fewer servers to achieve similar or better performance.
Leverages all the data management capabilities of NetApp ONTAP.
Flash Performance Guarantee:
NetApp offers the industry's first latency guarantee that allows customers to consume AI applications with the confidence of predictable low latency. Unparalleled in the industry, the performance guarantee offers consistent latency of 0.5ms or less and enables businesses to reduce cost and risk by deploying flash with confidence.
Build a Hybrid Cloud Architecture for IoT​
NetApp provides industry-leading data management capabilities and solution support to tap into growing data sources with virtually unlimited scalability and performance to feed, train, and operate data-hungry AI, machine learning, and deep learning applications.
NetApp StorageGRID SG6060:
Flash-accelerated object storage addresses the needs of high-performance, high-concurrency workloads for IoT, big data analytics, and machine learning environments.
Combined with ONTAP FabricPool capabilities, customers now have best-in-class data management capabilities while harnessing the value of object storage economics.
NetApp Solution Support for FlexPod:
The single-point-of-contact support team has expertise across the key components of the entire solution — storage, storage network, compute, compute OS, LAN networking, and hypervisor.
NetApp Solution Support also includes NetApp Converged System Advisor (CSA) software, which simplifies the customer's operations and lifecycle management of FlexPod. The CSA superior monitoring and management with a single-pane view of the system's health helps reduce time to resolution for support incidents.
Additional Resources:
Read more about today's announcements on the NetApp blog.
For more information about NetApp Cloud Data Services solutions, visit here.
Learn more about NetApp Cloud Infrastructure solutions here.
More information about NetApp Storage Systems and Software solutions is here.
For information about NetApp Insight 2018, visit https://insight.netapp.com/.
Categories