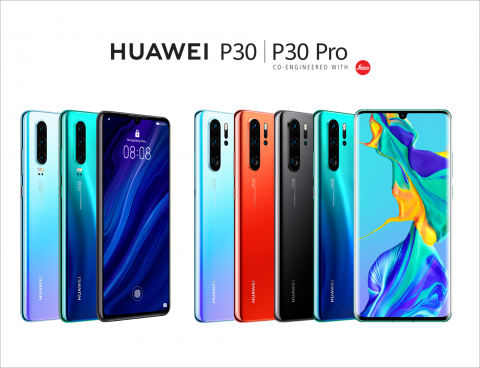 Huawei Consumer Business Group (CBG) announced today the arrival of the HUAWEI P30 and HUAWEI P30 Pro to the Lebanese market. The long-awaited HUAWEI P30 & P30 Pro, are the company's most advanced camera smartphones to date and are sold with a unique launch package including the Huawei VIP service from the Huawei Service centers.
Featuring the innovative HUAWEI SuperSpectrum Sensor, an optical SuperZoom Lens, a new HUAWEI Time of Flight (ToF) Camera, and enhanced optical and AI image stabilization technology, the Huawei P30 pro achieved a record-high DXOMark overall score of 112. The device was also recognized by TIPA General Assembly as one of the Best Products of 2019, as it awarded the device with "Best Photo Smartphone." accolade – a prestigious title that has been awarded to the flagship devices of HUAWEI P Series for three years in a row.
With its revolutionary technologies, the HUAWEI P30 and HUAWEI P30 Pro capture incredible photos and videos in every scenario and will change users' expectations of smartphone photography.
World's First Leica Quad Camera with Cutting-Edge SuperSpectrum Sensor and SuperZoom Lens
Taking mobile photography to a brand-new level the HUAWEI P30 Pro carries a new Leica Quad Camera on the back of the device, including a massive 40MP main camera with a revolutionary 1/1.7-inch SuperSpectrum sensor, a 20MP ultra-wide angle lens, 8MP telephoto camera and HUAWEI Time of Flight (ToF) Camera to unleash the imagination. Unique to the HUAWEI P30 Pro, HUAWEI ToF Camera captures depth-of-field information to deliver accurate image segmentation and uses precise distance measurement to allow for the simulation of multiple levels of bokeh. A 32MP selfie camera mounts the device front and produces AI-beautified pictures.
The 1/1.7-inch HUAWEI SuperSpectrum Sensor looks at light in a fundamentally new way. The RYYB HUAWEI SuperSpectrum Sensor deviates from the traditional RGGB Bayer filter by replacing green pixels with yellow pixels, yielding a high maximum ISO rating of 409,600 on the HUAWEI P30 Pro and 204,800 on the HUAWEI P30.
HUAWEI SuperZoom Lens:
The SuperZoom Lens takes smartphone zooming capabilities to unprecedented territories. The innovative periscope design enables Huawei to incorporate the telephoto camera into an extremely slim device. The periscope design uses a prism element to bend light at a 90-degree angle. By doing so, the sensor can be fitted in the chassis and support 5x optical zoom, 10x hybrid zoom and a never-before seen 50x digital zoom, bringing the farthest objects closer to the user's eyes.
Dual-View Video mode: Redefining Smartphone Videography
The HUAWEI P30 Pro brings a refreshing way to shoot and view videos. HUAWEI Dual-View Video¹ uses multiple cameras simultaneously to capture videos. While shooting, the screen splits into two halves: the lower half shows the wide-angle capture, while the half that's closer to the front camera shows a close-up shot. This mode, with its capability to capture dual perspectives, lends itself to capturing large-scale events such as sporting matches and concerts where users can adjust magnification levels as well.
[1] Feature will be enabled via HOTA update at a later date.
Super Night Mode: Taking the Beauty of Photography to the Next Level
The HUAWEI P30 Pro supports a newly-introduced Super Night Mode in shooting videos. Equipped with the HUAWEI 1/1.7-inch SuperSpectrum Sensor with a f/1.6 large aperture lens, ISP and Dual-NPU, and supported by the new HUAWEI AIS+OIS solution, the HUAWEI P30 Pro retains great vision at low light and every frame taken across the long exposure is better with superior colors, dynamic range and clarity. Combined, these processes enable an exposure of 3-8 seconds and produce the most stunning images in low-light settings. The "night vision" capability lets the HUAWEI P30 Pro capture videos even in the poorest of lighting conditions.
A Heritage of Stunning Design
Deriving inspiration from nature and technology to achieve a stunning design and beautiful colors. The HUAWEI P30 Series design, created with a nine-layer nano optical color finish, is inspired by the unique color palette and pristine look of salt flats. The 6.47-inch HUAWEI P30 Pro comes in Breathing Crystal, Amber Sunrise, Aurora, and Black while the 6.1-inch HUAWEI P30 comes in Breathing Crystal, Aurora, and Black. The FHD+ (2340x1080) Dewdrop Display features a tiny notch, providing maximum display area. The near bezel-less front glass houses an In-Screen Fingerprint sensor for quick and secure identity authentication. The HUAWEI P30 Pro also features HUAWEI Acoustic Display Technology that enables it to deliver high-quality audio through a sound emitting display. 
40W HUAWEI SuperCharge and 15W Wireless Quick Charging with Reverse Charge Support
The HUAWEI P30 Pro also houses a large, high-density 4,200mAh battery, and supports 40W HUAWEI SuperCharge, which gives the device 70 percent charge in 30 minutes. The safety of the technology is certified by TÜV Rheinland. Moreover, HUAWEI P30 Pro supports 15W HUAWEI Wireless Quick Charge, and Wireless Reverse Charge, which enables the device to work as a power bank for selected electronic devices supporting wireless charging.
VIP Service offer in Lebanon
The Huawei P30 Pro and P30 devices are offered with the Huawei VIP service from the Huawei Service centers which includes: screen damage warranty for the first six month after purchase, free Screen Protector offered in case of any repair, One hour repair service as well as loan phone offering should the repair service require a longer duration. The VIP service includes a premium dedicated care line for them to get directly connected to a customer care assistant by dialing the hotline 1279.
The Huawei P30 Pro will be available at a retail price of USD999 while the Huawei P30 at USD719 and sold at Huawei Experience stores in Beirut souks, Tripoli and Nabatiyeh as well as Huawei service centers in Sin El Fil and Saida and selected retail stores.
Categories