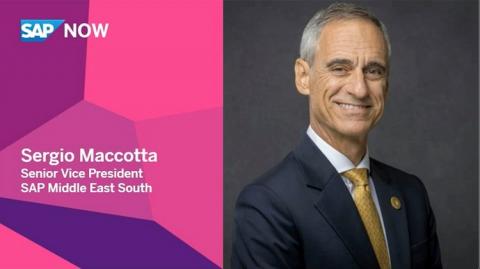 Expo 2020 Dubai, Crescent Petroleum, and Egypt's Ministry of Finance are helping to drive the Middle East's post-COVID-19 digital transformation in logistics, oil and gas, government and events, industry experts announced during one of the region's largest technology events, hosted by SAP, Innovative Enterprise Software Partner of Expo 2020.
Digital transformation is accelerating amid the pandemic, with the IT market in the wider Middle East, Africa, and Turkey  set to top USD 77 billion in 2021, according to a recent report by IDC. The region's IT spend on digital transformation is set to grow from 25 percent in 2020 to 37 percent by 2024.
Supporting the Middle East's digital transformation, regional business, IT, and industry thought leaders exchanged best practices at the recent SAP Middle East South NOW virtual live event. SAP highlighted its RISE with SAP solution, a bundle of business transformation as a service.
"As the Middle East's IT market rebounds post-pandemic, SAP ME South NOW's strong attendance shows the imperative for organizations to invest in their digital transformation to drive business competitiveness," said Sergio Maccotta, Senior Vice President, SAP Middle East South. "Expo 2020, Crescent Petroleum, and Egypt's Ministry of Finance are showing how industry leaders can digitally transform into Intelligent Enterprises to optimize decision-making, customer experiences, and future growth."
"With the invaluable support of our partners, we are committed to harnessing and showcasing real-time technologies that are digitally transforming our World Expo – from financial operations and procurement to retail and customer experience," said Iman Al-Omrani, Deputy Chief Technology Officer, Expo 2020 Dubai. "SAP's cutting-edge solutions are representative of our efforts to host one of the most digitally advanced World Expos ever, leveraging technology to create entirely new experiences, and help to ensure every visit to Expo 2020 is special – be it physical or virtual – when we open our doors to the world on 1 October this year."
 
Crescent Petroleum, the Middle East's first and largest privately held oil and gas company, is digitally transforming its 22 companies in the UAE, Iraq, and UK on SAP S/4HANA.
"With the dramatic changes that the energy industry is undergoing globally, Crescent Petroleum needed to standardize and integrate business processes, gain flexibility, and scale up," said Jayakrishnan Ramaswamy, Director Business Process and Systems, Crescent Petroleum. "Our digital transformation journey reflects senior management's strategic commitment to the adoption of industry best practices, as well as a proactive partner in SAP, effective change management, and strong project management."
Egypt's Ministry of Finance, with channel partner IBM, is fully automating its core taxation system with SAP solutions.
"Automating the core taxation processes and availing them online to taxpayers, using the SAP platform, will streamline tax management, improve tax administration performance, transform ETA into the digital arena, and foster Egypt's economic growth," said Eng. Yasser Taymour, Advisor to the Ministry of Finance for the Egyptian Tax Authority Reform Program. "Egypt's organizations and residents can more easily manage their taxes activities online, gain real-time insights on their accounts, which should reflect on enhancing tax compliance, reducing tax evasion, and increasing tax revenue."
Visit the SAP News Center. Follow SAP on Twitter: @SAPMENA and @SAPNews.