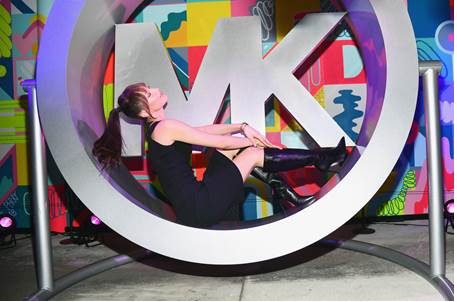 A digitally led experiential event that celebrated the launch of the new MICHAEL Michael Kors Spring 2019 ad campaign starring modern-day jet-setter Bella Hadid.
Spread across multiple exhibits at the Dolby Soho space in downtown New York, the high-energy event immersed guests in the videos, images and music of the MICHAEL Michael Kors Spring 2019 campaign using Dolby's most advanced audio and visual technologies.
The campaign, shot by legendary photographer David Sims, reflects a modern interpretation of jet set—one that focuses on speed, energy and optimism. Shot in studio, the images convey a sense of movement in a bold new way. Each room in the Dolby space was reimagined to bring these campaign tenets to life, including: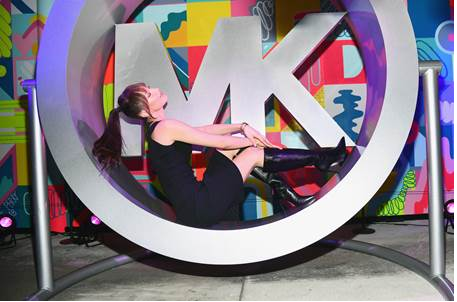 The Infinity Space: Upon entering, guests were immediately welcomed with a unique experience that featured bright, graphic treatments of the Michael Kors charm displayed on an infinite wall of Dolby Vision-enabled televisions. Hypno BODY cameras were available to help guests capture and share videos of themselves in this space in real time. 
The Experience Room: This 1,000-square-foot fully projection-mapped room paired with Dolby Atmos audio provided a visceral experience that captivated guests and transported them into the world of  Michael Kors like never before. Guests were invited to capture their own unique perspectives of the space as they were surrounded by alternating Michael Kors campaign and graphic visuals, each set to their own beat.
The Studio: A recreated set encouraged guests to star in their very own MICHAEL Michael Kors Spring 2019 ad campaign. Trampolines, clothing and accessories from the campaign as well as other props helped fans channel the energy and attitude of the campaign while Hypno AIR cameras captured shareable videos and images.
The Downstairs: One floor down, the party continued with playful takes on the MK charm. Exaggerated, life-size charms were reimagined in the form of a swing and see-saw, allowing guests to interact with the brand's iconic logo and underscoring the joy and movement found in the campaign. The bottom floor also featured the Hypno ICON—a reactive video booth that produced a specially edited video by traceing guests' movements, generating neon-hued shadows in real time. Throughout the night, guests were treated to musical entertainment via DJ Francois K and the Dolby DJ Lab.
The Virtual Forest: Nestled in the back of the first floor, guests were treated to another content moment via a stylized set-up of 18 free-standing Dolby screens, enhanced with additional 3D elements. 
The MICHAEL Michael Kors takeover of Dolby Soho will be open to the public on Wednesday, February 6.
Who:   Bella Hadid
Michael Kors
Lance LePere
Camilla Belle
Mafalda
Olivia Palermo
Mayowa Nicholas
Emily DiDonato
Matilde Ollivier
Sohyun Jung
Kelsey Merritt
Amanda Murphy
Kate Bock
May Kwok
Zhengyang Zhang
Don Lee
When: February 5, 2019
 VIP Launch Event: 7:00PM – 9:00PM
Where:   Dolby Soho, 477 Broadway
Categories