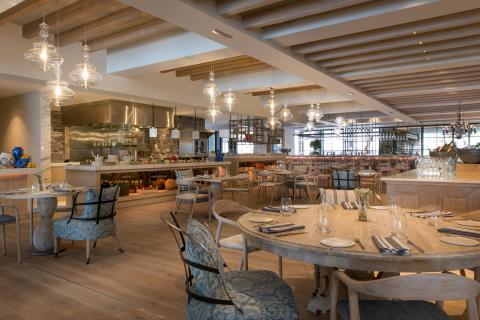 A Southern French farmhouse-style bistro in the heart of Downtown Dubai at Renaissance Downtown Hotel, Bleu Blanc Oysters & Grill provides a sensory culinary experience that appeals to even the most discerning palates. Complete with rustic blue doors, a floor-to-ceiling lavender garden and vintage-inspired décor – Bleu Blanc's true art can be found in its wood-fired hearth, where the real essence of cooking is embraced and only the finest meat cuts and seafood flavours are grilled.    
A unique culinary haven that brings the true romance of cooking to the plate, Bleu Blanc Oysters & Grill is the ideal setting for a laidback weekday escape or an unforgettable weekend treat. The bistro is ready to redefine the Friday brunch scene with the launch of its all-new La Belle Vie Brunch, every Friday from 1pm to 4pm.
For those who prefer to embrace their joie de vivre before the weekend sets in, Bleu Blanc has a real treat in store with the launch of Grill & Grape Wednesdays, from 6pm to 11pm. Guests are encouraged to reserve a table in advance to avoid missing out on an unforgettable experience at this Downtown Dubai dining favourite, which is now open on select days (Tuesday to Friday).
A brunch that blends exquisite cuisine with mixology masterpieces and an effortlessly inviting atmosphere, La Belle Vie is a celebration of flavour, offering a mouth-watering array of premium meat cuts straight from the wood-fired grill, the finest delicacies from the sea and the freshest vegetables. From Oysters, Mussel Pots and Charred King Prawns, to Beef Tenderloin Tartare, Celery & Apple Salad, and Wagyu Cheeseburger – La Belle Vie's carefully curated menu features dishes designed to delight, right from the start.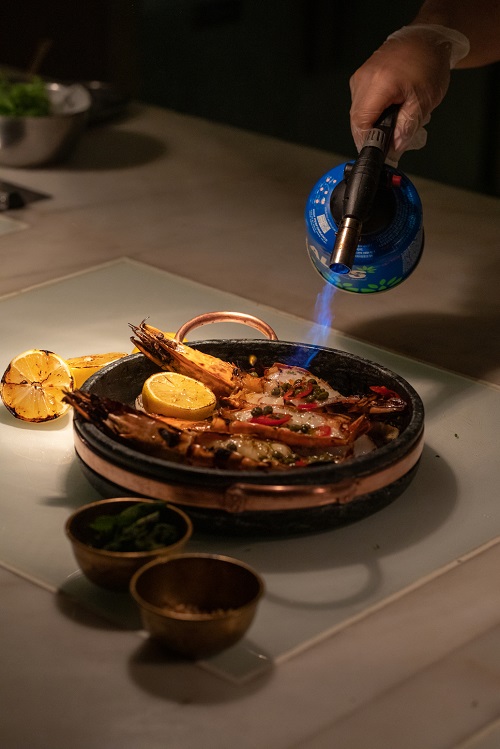 Guests are then invited to discover the true meaning of farmhouse flair, with a choice of Prime Rib, Corn-fed Baby Chicken or Wood Roasted Salmon, along with an inspired selection of side dishes such as Chargrilled Broccolini, Roasted Potato and Roasted Mushrooms. A delectable dessert offering of Chocolate Tart and Crème Glacee is the perfect sweet indulgence to top off this captivating culinary experience.     
For those who love to sip on liquid gold, the Live Cocktail Station immerses guests in a spot of mixology magic, with the option to create their own drinks, as Bleu Blanc's expert mixologist guides the way. In addition to Bellini De Fraise, Bloody Mary and French 75 Summer Punch, guests can pour their own choice of Punch on tap, while raising a toast to La Belle Vie.
An extensive variety of red, white and sparkling grape, house pours, and hops is on offer to guests enjoying the House Beverage Package, with an add-on option of bubbles also available. The experience is enhanced even further by resident DJ Julien Noma, who spins the ideal live soundtrack and adds an alluring energy to an already exceptional atmosphere.
Unique culinary experiences aren't limited to the weekends at Bleu Blanc Oysters & Grill, though, and, with the launch of Grill & Grape Wednesdays, guests are encouraged to elevate their weekday expectations and treat themselves to an amazing pairing. Every Wednesday, from 6pm to 11pm, enjoy a melt-in-mouth 3-course meal for AED 185 or AED 245 with grape pairing.
Categories