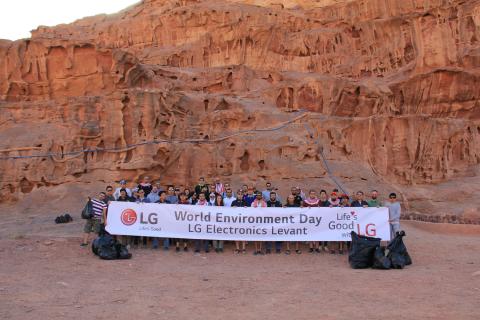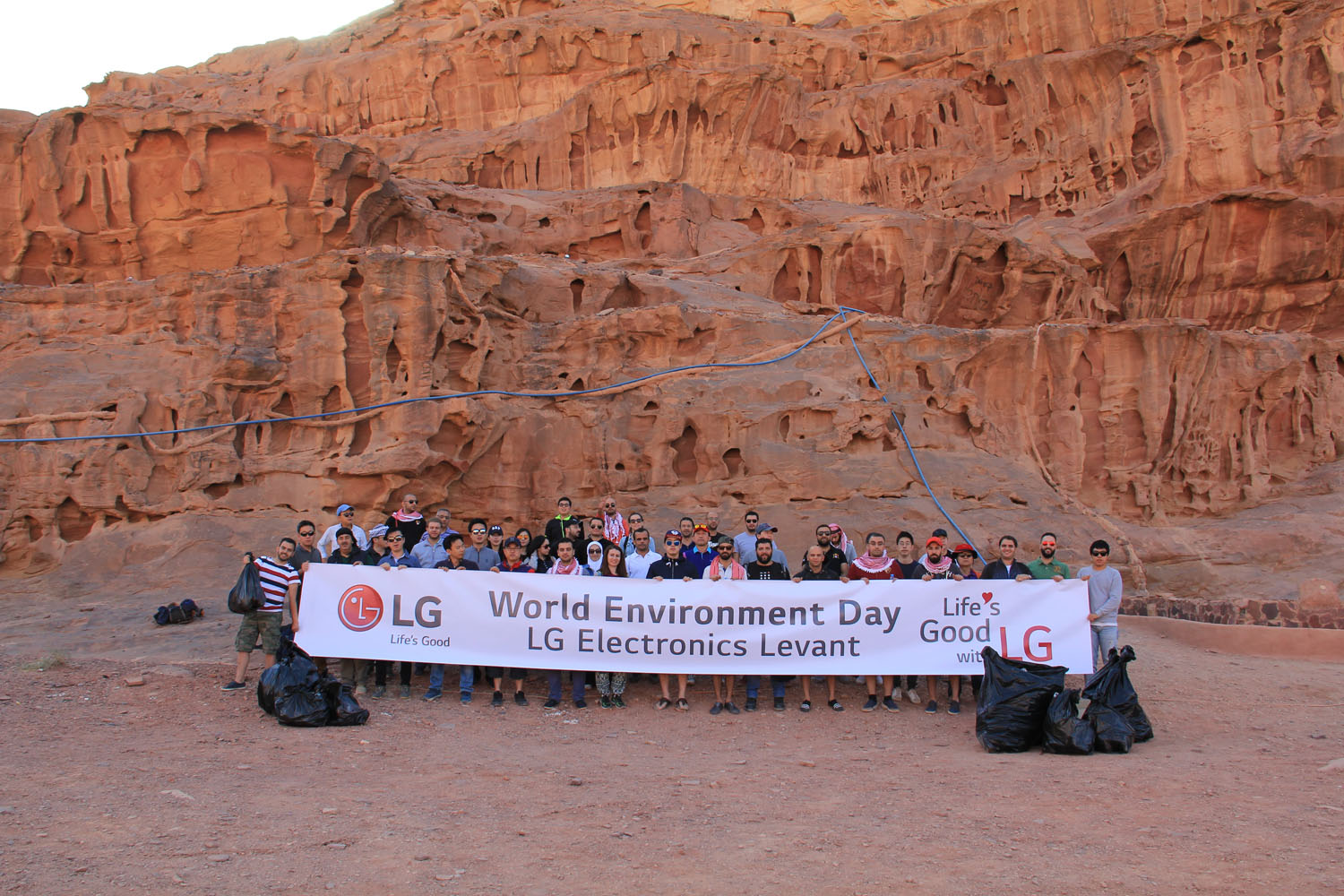 As part of an ongoing effort to support environmental initiatives and while reiterating its continuous support towards ensuring that "Life's Good," LG Electronics (LG) recommitted to supporting environmental conservation programs across the region on the occasion of the United Nation's World Environment Day, which is celebrated every year on June 5.
Being the biggest annual event for positive environmental action, World Environment Day creates an ideal opportunity for robust CSR activation programs to understand the importance of world heritage and environmental protection. While maintaining the momentum across the region and supporting this year's theme and the spirit of coming together for a common cause, LG employees across the region connected through various environmental and group activities that positively impact the communities in which they operate.
To celebrate World Environment Day 2017, LG employees conducted numerous environmental activations across the region. In Jordan, LG held a clean-up session of the vast, iconic desert area in the southern part of the country called Wadi Rum, a key part of the Kingdom's cultural and geographical identity known around the world. Additionally, LG carried out e-waste clean-ups and awareness campaigns in the Gulf region and across Egypt. In Algeria, a clean-up of a world heritage site engaged employees and the community. Various other activities also tok place, including cleaning up beaches in Nigeria, national parks in Kenya, a number of areas in Ethiopia, and much more.
Kevin Cha, President of LG Electronics Middle East and Africa, said, "Global companies like LG need to remain at the forefront of social and environmental contribution, and they must lead as examples with authenticity within the global community. LG strongly believes in responsible environmental stewardship and in line with this has identified environmental conservation as one among many global CSR pillars. With World Environment Day bringing together the international community to make a global impact, we are certain that our ongoing efforts not only support the environment but make lasting changes among our employees to become forever agents of positive social change."
Cha went on to say that "LG is fully committed to enriching its employees to become responsible citizens and advocates of social and environmental change. LG will continue to ensure it invests in corporate social responsibility initiatives that support environmental sustainability and create meaningful impact for regional as well as global communities at a time when it is needed most."
Staying true to its corporate social responsibility slogan, "Life's Good with LG," the company aims to continue to actively contribute and sustain its integrated CSR initiatives in 2017 by continuing to support and engage with various community initiatives across the Middle East and Africa region.
Launching its strategic vision for environmental conservation in 1995, LG actively participates and contributes to global initiatives like World Environment Day, with over 41 business sites in 24 countries participating in the initiative last year. In 2016, more than 90,000 LG employees from 89 business sites in 48 countries volunteered for social contribution initiatives, and employees actively contribute to socially and environmentally responsible causes along the way.
LG Electronics, Inc.
LG Electronics, Inc. (KSE: 066570.KS) is a global leader and technology innovator in consumer electronics, mobile communications and home appliances, employing 83,000 people working in 119 locations around the world. With 2014 global sales of USD 55.91 billion (KRW 59.04 trillion), LG comprises four business units ― Home Entertainment, Mobile Communications, Home Appliance & Air Solution, and Vehicle Components ― and is one of the world's leading producers of flat panel TVs, mobile devices, air conditioners, washing machines and refrigerators. LG Electronics is a 2014 ENERGY STAR Partner of the Year. For more news and information on LG Electronics, please visit www.LGnewsroom.com. 
LG Electronics Middle East & Africa
LG Electronics Middle East & Africa (MEA) is the regional headquarters for LG Electronics based in Dubai responsible for the vast area from Western Sahara to Pakistan and from Turkey to South Africa. The MEA headquarters oversees operations in 23 countries comprised of 12 subsidiaries, 11 branch offices and 3 manufacturing facilities, covering sales across 35 countries. Employing more than 2,000 local workers, LG's MEA headquarters is the hub for strategic governance of the company's business in the region and provides support to country offices in the areas of marketing, human resources, training and procurement, among others. For more information about LG Electronics, please visit www.LGnewsroom.com.
For more information, please contact:
 Padma Venu
Regional PR Manager
LG Electronics Middle East & Africa
Email: Padma.venu@lge.com
Categories